Two Girls. Three Cancers. One Goal.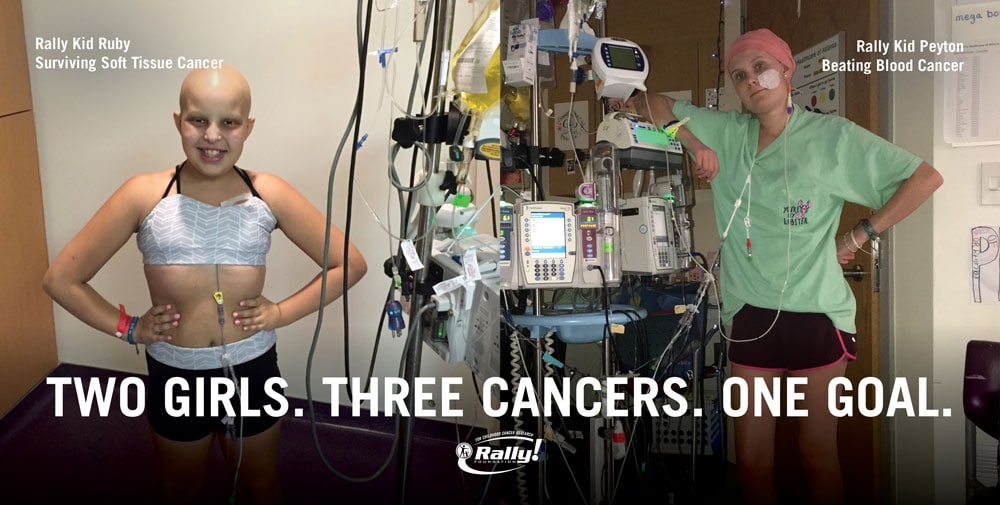 When Rally Kid Peyton was 15, her life was going as planned. She filled her time with rigorous academics, cross country and lacrosse. Nearing the winter of her sophomore year, Peyton's quick feet began holding out and persistent headaches became unbearable. To Peyton's "utter disappointment" she was diagnosed with two types of leukemia.
Peyton soon began a five-month treatment plan, receiving chemotherapy, full-body radiation and a bone marrow transplant. Sadly, she relapsed almost immediately. Peyton had to start treatment again, including a clinical trial and another bone marrow transplant. Her chances of survival were slim.
But Peyton—being the strong and relentless fighter she is—persevered through her second battle against leukemia. A year and a half following her initial diagnosis, Peyton was finally cancer-free!
I too was a normal kid before cancer. I spent my days dancing at my local studio, attending elementary school and playing with Barbie dolls.
At the ripe age of 10, headaches began to keep me up all through the night, and my ears were constantly filled with pain. Months after these pains began—to my great annoyance—I was diagnosed with a soft tissue cancer called rhabdomyosarcoma that was found in my sinuses.
I spent the next year of my life in treatment, receiving 12 rounds of brutal chemotherapy and undergoing 30 days of proton radiation. There were many disruptions along the way, such as high fevers and a feeding tube, but I was finally declared cancer-free 11 months following my diagnosis.
Peyton and I are both thriving today, but our cancer journeys were vastly different and affected us in distinct ways.
"They say everything happens for a reason. Sometimes it would be nice to know that reason." —Anonymous
Fear. Agony. Hurt. All of those are common reactions to hearing the words "You have cancer." While most kids likely face despair along with a cancer diagnosis, everyone's reaction is different. Peyton and I are no exception.
When Peyton was diagnosed with cancer, she asked, "Am I going to die?" She was not thinking of the lacrosse game she would miss or the math test she would have to make up. She was contemplating something much bigger—life.
I had a far more absurd reaction when I was diagnosed. Ten-year-old me just did not have the time for cancer. Honestly, I believed it was ridiculous that these doctors expected me to put my life on hold to lie in a hospital bed and endure horrendous amounts of pain. AS IF!
"A rainbow is a promise of sunshine after rain. Of calm after storms." —Anonymous

Cancer is complicated. Peyton and I should hate our cancers for the many painful nights and tear-filled days it puts us through. Yet, our cancers shaped us into who we are today.
Peyton and I both have found the good in cancer, but our definition of "good" is different.
Peyton considers her cancer battle a blessing for all it taught her about who she is, what is truly important to her and what she wants for her future. Her positive attitude comes from the role faith plays in her life. Peyton's cancer gave her the opportunity to learn a lot about herself and the Lord; despite the many ways the disease has plagued her, she is grateful for the lessons and opportunities.
For me, cancer is a blessing and a curse. It has introduced me to amazing people, taught me beautiful lessons and led me to be a compassionate person. But it has also taken so much from me and my family—so much time and joy that we will never get back.
Cancer will forever be a terrible part of my life. Even though it brought me to good, I will never be able to see cancer itself as good.
"Turn your wounds into wisdom." —Oprah Winfrey
As a child with cancer, we often feel like we are defined by the disease rather than by who we truly are. Cancer changed Peyton and me, and it impacted what we wish to do in the future. We both want to help the greater good—just in very different ways.
Peyton's nurses had a very positive impact on her treatment experience. They went out of their way to provide excellent care, while making her feel loved and known despite her circumstances.
After forming many "deep and selfless relationships" with her nurses and seeing the first-hand impact of their work, Peyton was inspired to pursue a similar career.  She was recently admitted to the University of North Carolina Chapel Hill's nursing program and plans to become an oncology nurse!
I also loved my nurses and appreciated their vast impact on my cancer journey. But rather than making me want to become a nurse, my experience has done quite the opposite. I can't imagine voluntarily re-immersing myself in that devastating environment.
While nursing is not for me, following treatment I knew I needed to make an impact on the greater good—not just for kids with cancer, but for anyone facing injustice and pain.
I want to be a journalist and write about politics and justice in order to help the world become a more loving place. Through the art of writing, I will discover pockets of peace in the world and aim to spread them.
In years to come I will continue working with Rally Foundation through storytelling and fundraising. So far, I have funded two research grants that have helped make huge strides in rhabdomyosarcoma treatment!
I will continue using my voice to contribute to justice in the world and the childhood cancer community—one incredible story at a time.
"Nothing shows more strength than finding a particle of goodness in the worst of situations." —Anonymous
Today, Peyton and I are several years out of treatment and doing great! Now that it's been five years since my diagnosis, I am officially labeled a cancer survivor. Peyton will hit that milestone in January 2022.
Cancer transformed both our lives. It brought us endless amounts of love and lessons about who we wish to be. But this joy came at the expense of severe emotional and physical pain.
Peyton and I have both risen above this terrible illness and found our own good. While our stories are very different, we will always be linked by one thing—our mission to transform our pain into beauty through helping other children.
You can help too! When you donate to Rally Foundation, you are directly supporting and funding the best childhood cancer research in the world.
I hope you will join Peyton and me in our mission to do good. Together, we will find better treatments with fewer long-term side effects and, ultimately, cures for childhood cancer.
Rally On!