Rushing to Beat Childhood Cancer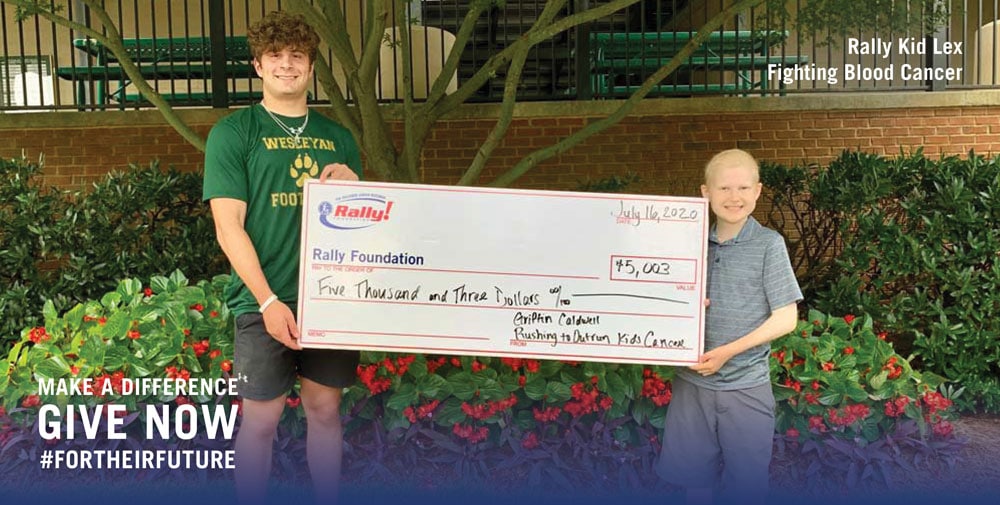 It takes a village to beat childhood cancer and anyone, anywhere, can make a difference in the fight against the #1 disease killer of children in our country. From simple Facebook fundraisers to outside-the-box ideas, Rally will help you get started!
Griffin Caldwell dedicated his 2019 football season to raise funds for Rally in honor of Rally Kid Lex, an 11-year-old who is fighting Acute Lymphoblastic Leukemia (ALL).
Below Griffin shares his experience. He hopes to inspire you to set up your own Facebook fundraiser for Giving Tuesday, when your donations will be doubled!
---
Last football season, I dedicated my rushing yards to raise money for Rally Foundation in honor of Rally Kid Lex. Lex is a great kid and a friend of my younger brother.  
When I first learned of Lex's leukemia diagnosis, I wanted to do something to help. Being able to give back while doing something I love—playing football—was the perfect combination! It was also a way to bring awareness to the cause.
No child should have to face this battle, but to see how Lex has fought this disease has been an inspiration. His upbeat attitude and positive outlook continued to motivate me all season.
I am proud that with the support of my community, we were able to meet my goal and raise $5,000 to fight childhood cancer!
---
Inspired and want to help? This year on #GivingTuesday, you have the chance to DOUBLE your impact for brave young cancer fighters like Lex!
The Kugelman Family Foundation is generously matching donations—up to $15,000—on Tuesday, December 1.
You, like Griffin, can make a difference #ForTheirFuture. If you are on Facebook, please create your own Facebook fundraiser today. It's so easy. Facebook is also providing a #GivingTuesday match which starts at 8:00 AM EST on December 1.
Not on Facebook but still want your donation doubled? You can give online at https://bit.ly/2HCVrLJ or Venmo @RallyFoundation #ForTheirFuture. 
No child fights alone—we're all in this village together.
If you have additional ideas for raising awareness and funds for childhood cancer research, please contact the Rally team. We'd love to work with you.
Rally On!