Helping Childhood Cancer Families Carry The Weight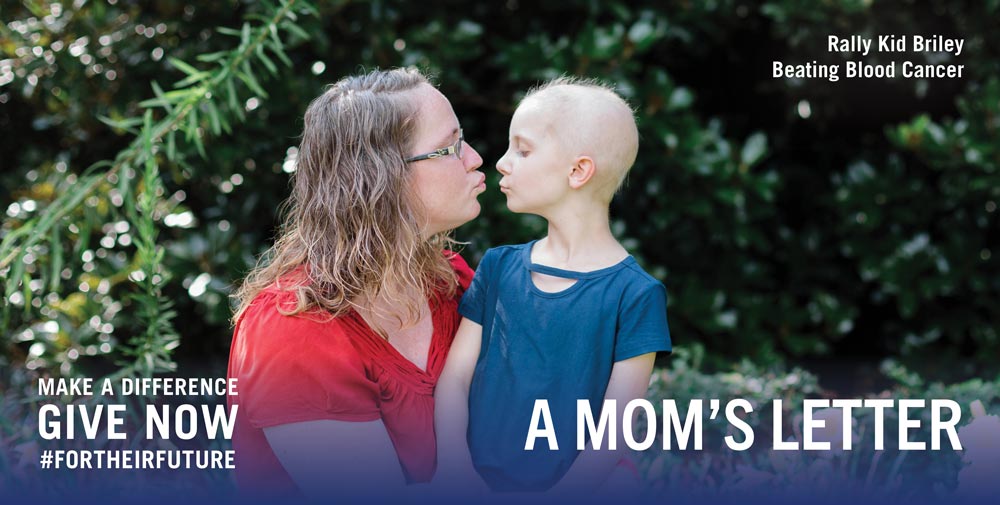 When you donate to Rally, you fund much-needed childhood cancer research—but there's more to it.
Childhood cancer changes EVERYTHING. It affects the entire family dynamic. It also changes the family's support system. When your "new normal" includes multiple hospital stays and isolation to protect immune systems, relationships will naturally suffer.
By giving to Rally, you help us stand beside families when they can no longer stand on their own.
Brigitte is mom to Rally Kid Briley, who is beating acute lymphoblastic leukemia after 2.5 years of harsh treatment. Brigitte shared how childhood cancer affected their family—both personally and socially—and how Rally helped them carry the weight.
---
Walking through a childhood cancer diagnosis feels like an invasion. If asked to describe it in a few words, I would say HEAVY, LIFE-CHANGING and HEARTBREAKING.
Without our Rally family by our side, the long journey would've been impossible. 
Childhood cancer was not something that had ever crossed our minds. We were already a medical family in the "congenital heart defect" world, but our hardest journey began when Briley was diagnosed with leukemia in April 2018.
We met staff from Rally a few months after Briley's diagnosis, and our cancer journey immediately changed direction. We went from living in a fog to being surrounded by people who understood exactly what we were going through.
We were navigating a new disease, treatment plan and medical team. We were watching our beautiful little girl deteriorate. We were connecting with other cancer families, but we were losing touch with those who could no longer relate.
So many times, this aspect of the childhood cancer journey is lost.
It is easy for those on the "outside" to focus on the child in treatment. In reality, the entire family is fighting the disease. It became a life-changing, day-by-day struggle for each of us.
The cancer journey is full of medical visits and long hospital stays. It's isolating. Even if you are still connected to the outside world and have people to stand beside you, there are challenges.
Life with childhood cancer is heavy. Many parents fear putting this weight onto friends or family.
There is a time in every childhood cancer journey when the newness of your diagnosis wears off. The calls slow and then stop—often because people just don't know what to say. They don't understand all the medical terms. They can't identify with the difficult choices you're having to face. 
"No one fights alone" is a common saying in the childhood cancer world. Rally became these words in action for our family. They saw us as a whole unit—not just a child with cancer.
After most became silent, Rally continued to call, check-in and visit (sometimes for hours during hospital clinic appointments!) while offering fun events to help us all relax and reconnect. They were there for our family as much, or as little, as we needed them. They're still there for us now!
We are forever grateful for the time, effort and compassion that was shown to us.
As I think back over our last few years—and the weight that was laid in our family's lap—it is hard to wrap my mind around all we have been through. Briley's diagnosis affected each of us in different, lasting ways.
We are forever thankful that Rally sees this difference. Because of Rally, our family was able to make it through our long childhood cancer journey a little less broken.
---
It is true that no one fights childhood cancer alone. When you give to Rally, you join the fight too. You become part of the support system holding up our families during the toughest battle of their lives.
Please donate today to help us fund cutting-edge childhood cancer research. Help us carry these families through their fight. Help us make a difference #ForTheirFuture.