My View Looking Forward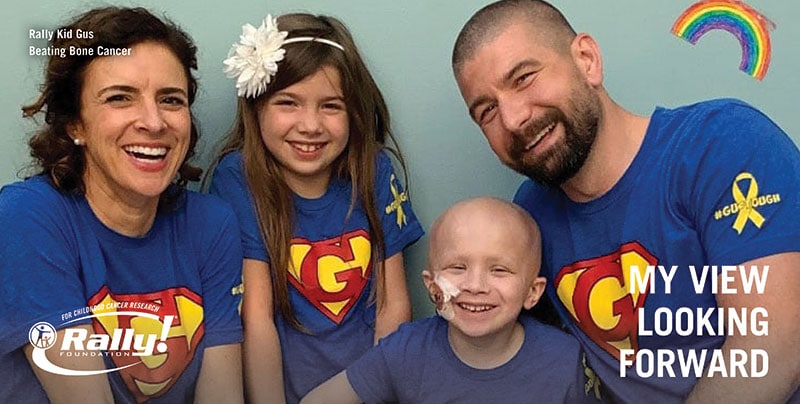 Before cancer, I was never a morning person, but now I love waking up in my home with the entire family under one roof.
Most nights, I wake up around 3 am in a panic. Did I dream up this terrible nightmare that my 4-year-old son had cancer and had four inches of his leg cut off?
I rush to Gus's room to check on him and sometimes lay next to him. I tell him I love him to the moon and back and that I am so proud of him. I know these moments are what matter most in life.
Right now, it is easy to get sidetracked by arguments over vaccine hesitancy or mask mandates that are still in place. I wish everyone would slow down and view this as an opportunity to help their neighbor. Believe me, it could be so much worse.
I have watched a handful of families lose their children to childhood cancer and have been humbled and blessed by their friendship.  We share the common bond of childhood cancer.
One of the most difficult aspects of this journey was watching Ian, a beloved young man, go through hell as he and his family battled Ewing's, relapse after relapse. Just last month, I served as a pallbearer at his funeral.
I am seeking answers for my son, for Ian, and all the pediatric cancer kids like them. Over the past 30-month odyssey, I believe Heidi and I have made the best, albeit difficult, decisions for our son.
Yet I have not been successful in making the difference I so desperately want to achieve. I dream of a 50 percent long-term survival or better for metastatic or relapsed Ewing's sarcoma patients. 
After Rally nominated me, I was accepted as a Consumer Reviewer to the Department of Defense Peer-Review Cancer Research Program. I have the opportunity to be a voice for kids and parents fighting this horrid disease.
I am full of so much anger, heartache and fear, but I also have profound gratitude and hope. Of all these emotions, the most important are GRATITUDE and HOPE.
I am GRATEFUL that I have a bond with so many incredible pediatric cancer families.
I am GRATEFUL that I learned so much from so many brilliant scientists and doctors over the past 30 months. With this base of knowledge, I was able to help my father, who was recently diagnosed with stage 3 skin cancer, receive the best treatment available.
I am forever GRATEFUL to Dean and her team at Rally. They are truly doing God's work. Over the next decade, I hope our village of pediatric cancer parents and supporters will continue to grow and that our voices will be heard.
I HOPE that people in our community will get more involved. We greatly appreciate all the prayers, but we need you to truly get involved with Rally or a foundation like Rally to make a difference.
I HOPE people will spend less time being angry about things in life that do not matter and I HOPE they become angry about things that do matter—like pediatric cancer, the number one disease killer of our kids in America! And I HOPE they will act on that anger to make a difference.
I am going to continue this odyssey and HOPE that some of you reading will join me; I would be incredibly GRATEFUL if you did. I know I will continue to navigate this pediatric cancer world and strive to make at least a small difference for a child. Together we can change the future for children fighting cancer.
Rally On!!