A Letter from Dean – December 2020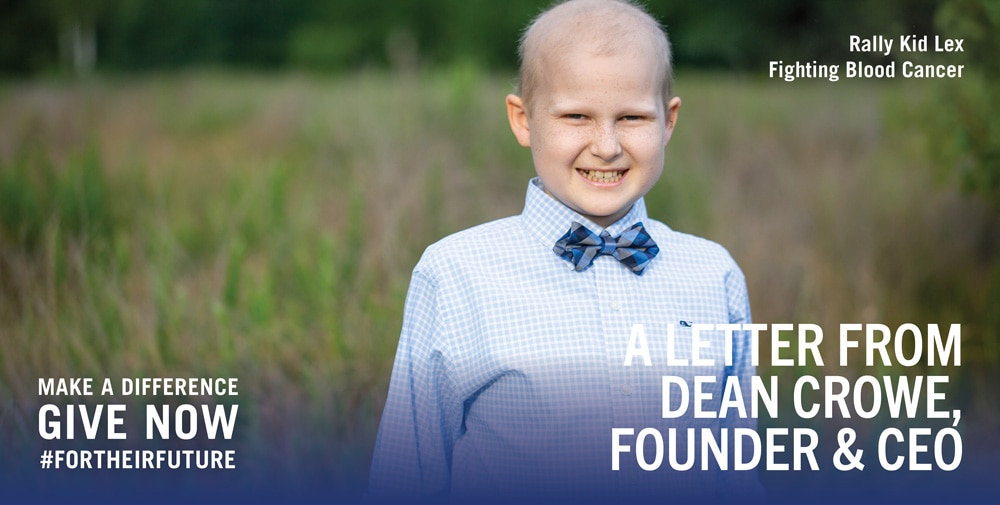 Thank you for opening this letter. And for caring about kids fighting cancer.
What a year. We can all agree that 2020 is not a year we will soon forget. When the pandemic struck, I thought about the Rally Kids and their families.
Their "normal" is living with an immunocompromised child, yet I have always been inspired and in awe of their ability to adjust and readjust. So personally, and at Rally, I took my cue from them.
Our theme became adjust and readjust. And that is what we did.
Like many businesses and non-profits, when 2020 started, we were projected to have a record-breaking year. In March, when we sheltered in place to flatten the COVID-19 curve, Rally had to cancel four major fundraising events that were projected to raise $1.5 million.
In spite of all that was going on, the Rally Board of Directors stayed committed to our mission and voted to award $3.3 million to 59 childhood cancer research projects—bringing our total to $20 million. This was an amazing accomplishment, and your generous donations made it possible. Thank you!
Your support this year will be the only way we can continue to help families and continue to fund life-saving childhood cancer research.
In April, we saw a need for meals to be served in the hospitals because only one parent was allowed in the hospital room. Parents were scared to go the cafeteria. Since the pandemic began, Rally has served many meals and will continue to meet this need with your help.
Economically the pandemic hit our cancer families hard. Parents were furloughed or lost their jobs. To help meet this need, we doubled our Rally Family Emergency Fund assisting 206 families in 24 states pay their rent, mortgage, utilities, car payments and cell phone bills.
And we watched in awe as, despite all they were going through, the Rally families persevered.
Rally Kid Lex is in a three-year battle against leukemia. He was in the first year of treatment, which is really intense, when COVID-19 happened. Despite his personal battle, he works closely with Rally to inspire others to give big and generously to Rally #ForTheirFuture. Lex has big plans for his future and your donations allow his dreams to become reality.
Rally Kid Amanda lost her good friend, Catherine. They both had osteosarcoma. Amanda raised $30,000 and Rally did a match day. Together, we raised $62,596 and are now funding a promising osteosarcoma grant.
I attended my first Zoom wedding this year. Rally Kid Madeline beat cancer in middle school, graduated from Georgia Tech, has been working a few years and had a big wedding planned. Adjust and readjust.
Rally Kid Ethan and other Rally Kids finished treatment. Instead of having big end-of-chemo parties, they had drive-by celebrations. Adjust and readjust.
And of course, we had several Rally Kids earn their angel wings. Imagine not being able to have a celebration of life service for your child. Heartbreaking on so many levels.
All these families are strong supporters of our mission—to fund childhood cancer research to find better treatments with fewer long-term side effects and, ultimately, cures. Your generous donations give hope to those families who have endured the unimaginable.
Rally continued our work on the Hill in Washington, D.C., albeit through Zoom, advocating for more funding for cancers in children, adolescents and young adults. Congresswoman Ann Kirkpatrick of Arizona, who sits on the Department of Defense (DoD) Subcommittee, became our champion.
To date—because of your generous support that allows us to advocate on a national level—we have secured $17 million from the DoD Congressionally Directed Medical Research Program resulting in 27 new awards for cancers in children, adolescents and young adults.
Rally continues to fulfill its mission, helping families fighting cancer, advocating and funding promising, life-saving research. Your support makes this possible.
Yes, it's been a tough year. Our revenue is down by 40%. By the end of May, when Rally's Payroll Protection money was exhausted, we laid off three talented staff members, furloughed two others and cut the senior leadership salaries. It was a very sad day filled with many tears.
We have talented Rally-funded researchers making huge strides, yet they must be funded to continue.
Your generous donations at year-end will allow this to happen. Please give today.
I would love to see this year-end campaign raise the $1.5 million we lost in March because of COVID. I know that is a big ask, but every dollar helps bring us closer to filling the gap.
It is For Their Future that I ask for your generous support.
Rally On!

Dean Crowe, Founder and CEO