Happiness & Heartbreak: Life as a Pediatric Oncology Nurse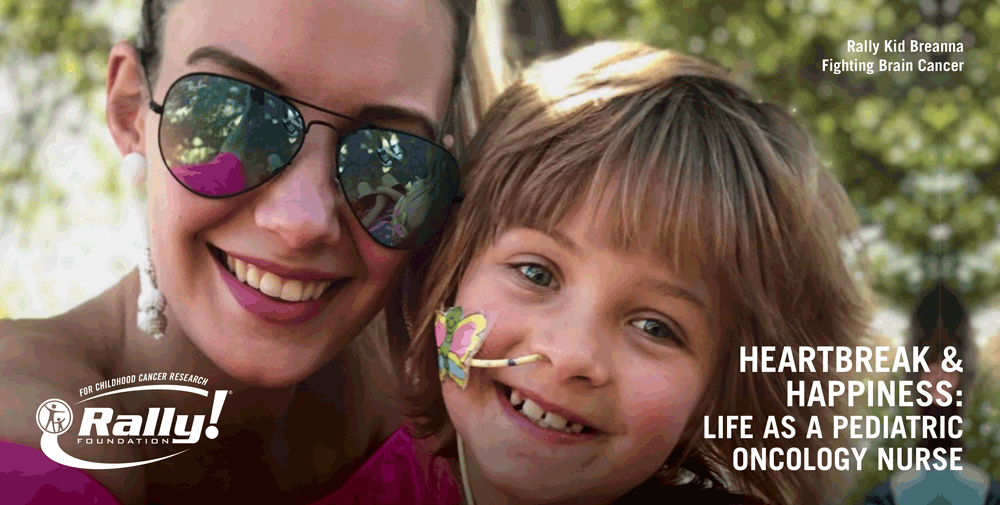 FINDING A HOME IN NURSING
For as long as I can remember, I have wanted to work in pediatric oncology and help kids with cancer.
When I started my freshman year of college, I had my sights set on becoming a pediatric oncologist. My head was filled with visions of helping little warriors fight big battles. It wasn't long before I realized those visions and dreams in my head were more focused on the job a nurse does rather than a doctor.
So, I found my home in nursing and still dreamed of working with the same population. Fast forward to present day and I'm doing just that!
HEARTBREAK AND HAPPINESS
In honor of National Nurses Day, I was asked to write this blog about what it's like to be a pediatric oncology nurse.
Most people would say my job is sad. They would be right some days. Others would say it's inspiring. They would also be right some days. I would say, if you ever felt heartbreak and happiness at the same time, that would be a pretty accurate description.
I have celebrated more transplant birthdays than I can count, and those days are filled with hopes of a fresh start. I've also transferred many patients to the ICU only to never see them return. Sometimes all within the same 12-hour shift.
I've cheered with patients for the days they engraft and moved to the next room to replace an NG tube on a patient who just threw up for the fifth time that morning. I've played grocery store with a 5-year-old while they have high dose chemotherapy running through them. My job is heartbreak and happiness.
A HAND TO HOLD
Now, to put myself through all of that, you would assume I have some level of insanity. Maybe I do. But being a hand to hold in any situation—joyous or sad—is an honor. It gives me so much pride to play a part in these kids' and their families' journey through cancer.
When you work with a population like this, you always want more for them. You want treatments without such harsh side effects. You want the National Cancer Institute to give them more than 4% of funding. You want a cure.
GETTING INVOLVED WITH RALLY
When I moved to Nashville, I knew I needed to align myself with an organization with those same goals. Insert Rally Foundation.
I found myself reaching out to Elaine, the director of Rally Nashville, to see what I could do to help. I found myself face to face with a woman so passionate about these kids that you could see it emanating from her. Elaine told me all about the fun events that Rally plans and how I could be an integral part of them.
Rally has allowed me to find even more pride in my job because I know I'm helping these kids out beyond my work at the hospital. I'm sure I could ramble on and on about how much I love my job—and Rally—but I'll end it here.
TO CHILDHOOD CANCER FAMILIES
If you're a family that is currently battling childhood cancer, please know my heart is with you and I'll be praying for a smooth recovery.
If you're a family that has lost a child to cancer, my heart is with you, and I pray for your peace. I want you to know that every single nurse remembers your child. We talk about the joy they brought us frequently.
If you're someone who is just reading this out of curiosity, please consider taking a minute to pray for these families and all families affected by childhood cancer. Share their stories to raise awareness. And if you can, please donate to much-needed research to find better treatments with fewer long-term side effects and, ultimately, cures.
Thank you, Rally, for giving me this opportunity to let everyone have a glimpse of my life as a pediatric oncology nurse. Rally On!
Karli
---
The Big Payback is a 24-hour online event that kicks off Wednesday, May 5 at 6:00 PM CST and ends Thursday, May 6 at 6:00 PM CST.
This community-wide giving event, hosted by The Community Foundation of Middle Tennessee, helps local organizations like Rally Nashville raise important funds. Every gift you make to our Big Payback page could be boosted by cash prizes!
Please donate at the link below to help us fund critical childhood cancer research and provide hope to local kids fighting cancer.