The Gift of Tomorrow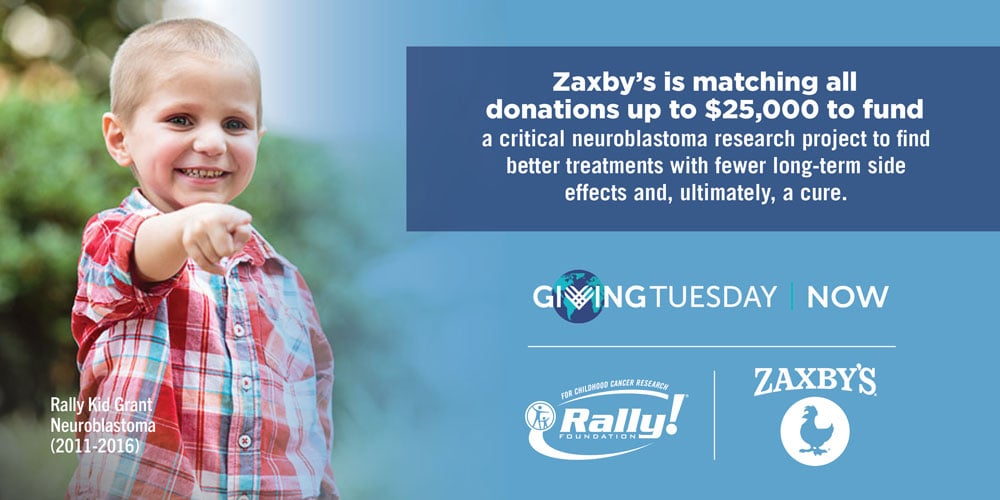 By June Gossling
The gift of tomorrow. This phrase echoes in my mind as I attempt to put thoughts to paper about this week's Giving Tuesday Now. My husband, Michael, and I are often given the opportunity to share with others the story of our son, Grant, who battled neuroblastoma, an aggressive childhood cancer. The research grant that Rally is trying to fund today has special meaning to us.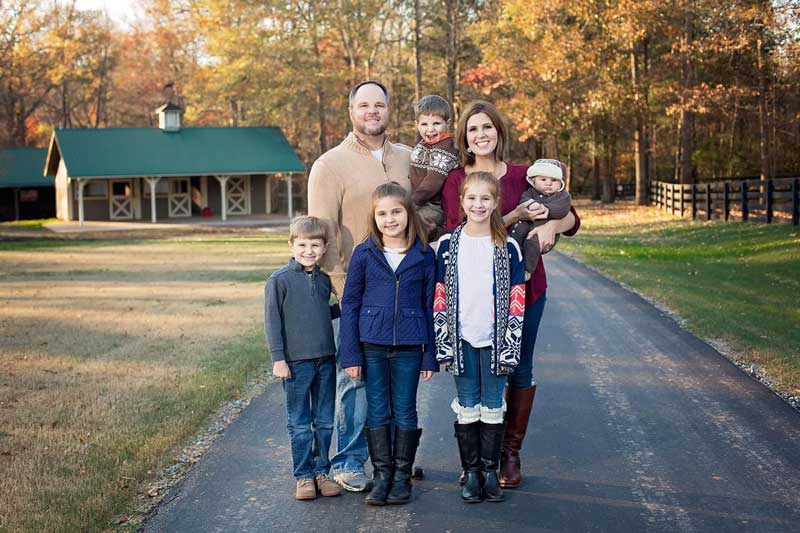 Just a few days ago we were able to share Grant's story via Zoom with a team of researchers from Children's Hospital of Philadelphia (CHOP). It is always a joyous call to let a scientist know that their ideas, their research, their hopes for the future of childhood cancer are being funded.
Rally's fiscal year has just closed and although over $3 million of research is being funded, there are researchers with incredible scores who received notice that, even though their project scored well, Rally did not have enough to fund it. Unfortunately, it is going to be "left on the table" and we often wonder if the cure is left on the table.
Giving Tuesday Now can change that for one of these promising projects that was left on the table.
The Zoom call that Michael and I were on started hesitantly. The research team at CHOP has a scientist, Dr. Smita Matkar, who applied for a grant but got the email expressing how promising her research is, but because of funding shortages it could not be awarded a grant.
Much to my surprise, this call took me to a place where other emotions and events suddenly came pouring into my heart.
A few years ago, I was asked to speak at a spring luncheon for Rally. I had planned on Grant being at the luncheon with me. What is more moving than seeing a 4-year-old cancer warrior who loves Spiderman? But Grant was having a very rough time with his treatment. He was in the hospital with no counts and a fever. He had just been given chemo in an effort to continue to fight the cancer while we were waiting for a new trial to open up.
We were more than a year and a half into this battle of throwing everything, including the kitchen sink, at his cancer.
Shortly after diagnosis, the doctors discovered not one, but two mutations within Grant's cancer—one that made it more aggressive and likely to reoccur, and an even rarer mutation called ALK, making Grant's whole diagnosis even worse. Grant went through months of brutal chemo, MIBG therapy, a grueling stem cell transplant and radiation. Sometimes we could knock back his disease, but it always returned.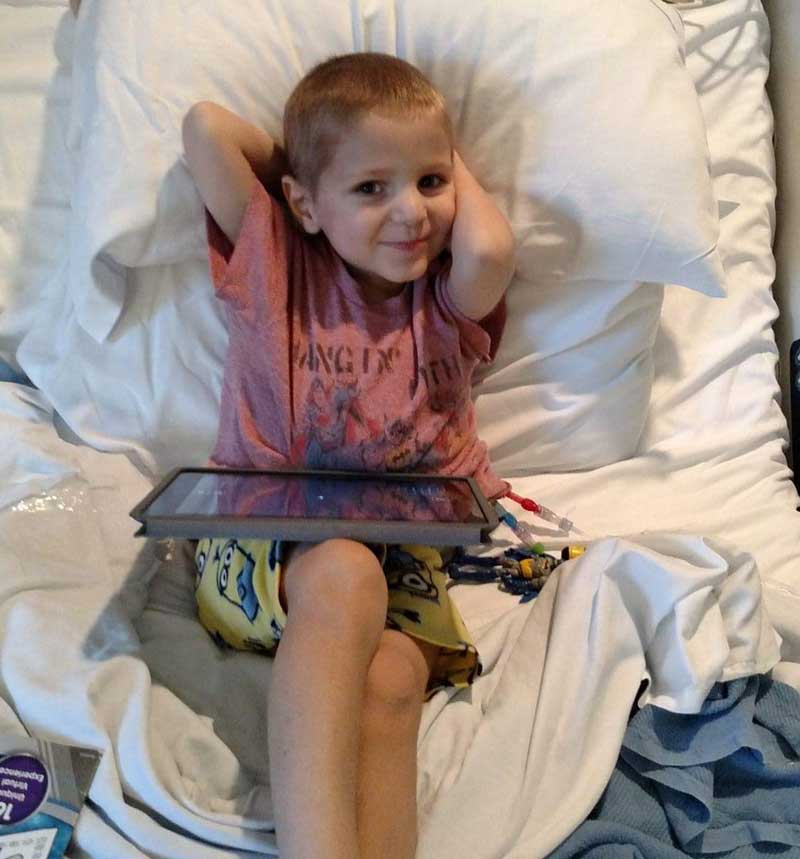 We were running out of options. Our hope became finding something to target this ALK mutation in his cancer—the elusive treatment that would stick.
The leaders in the study of ALK were the researchers at CHOP. With their help, Grant was able to gain compassionate use for the only ALK inhibitor available, an adult ALK inhibitor known as Crizotinib. Treatment continued with the new addition of Crizotinib, the drug we would call Grant's "Iron Man medicine."
But a compassionate use isn't ideal and we all felt hope for Grant would only continue if we had a new drug for this specific ALK mutation.
In early 2016, we took a trip up to CHOP to meet Dr. Yael Mosse, to finally meet face-to-face the doctor whose team was working on ALK. We discussed Grant's case, Crizotinib, ALK and the hope of what her lab was working on—a newer, better ALK inhibitor called Lorlatinib. Dr. Mosse felt Grant, our Spidey, was a great candidate for this drug and was hopeful that it would be available soon.
Shortly after that trip to CHOP, the Rally luncheon occurred. Although Grant wasn't with me, I poured out my heart to strangers whose passion was funding childhood cancer research. This is the essence of what I shared:
We are waiting. Waiting for new drugs that we know are in the works to be approved, but will Grant be able to keep fighting until they are available? You see, we, like so many other families fighting the childhood cancer beast, are running out of chemo drugs to try. What these children need are targeted drugs that treat the genetics within their own cancer.  
The experimental drug Grant is taking has helped slow the growth of his disease, but as parents we desire more than just a miracle for our children. We desire hope, real hope, for a cure for their disease.  
I told this room of strangers:
If Grant were here today, he would want to be on my phone pulling up pictures of his birthday parties to show you. He is 4 years old and he would have told everyone about how he had a Spiderman/Minion/Halloween birthday party. And that when he turns 5 he is going to have a Turtle/Minion party. He would even show you the cake he picked out on Pinterest. Grant turns 5 on November 2. November is a long way away for a child waiting for hope.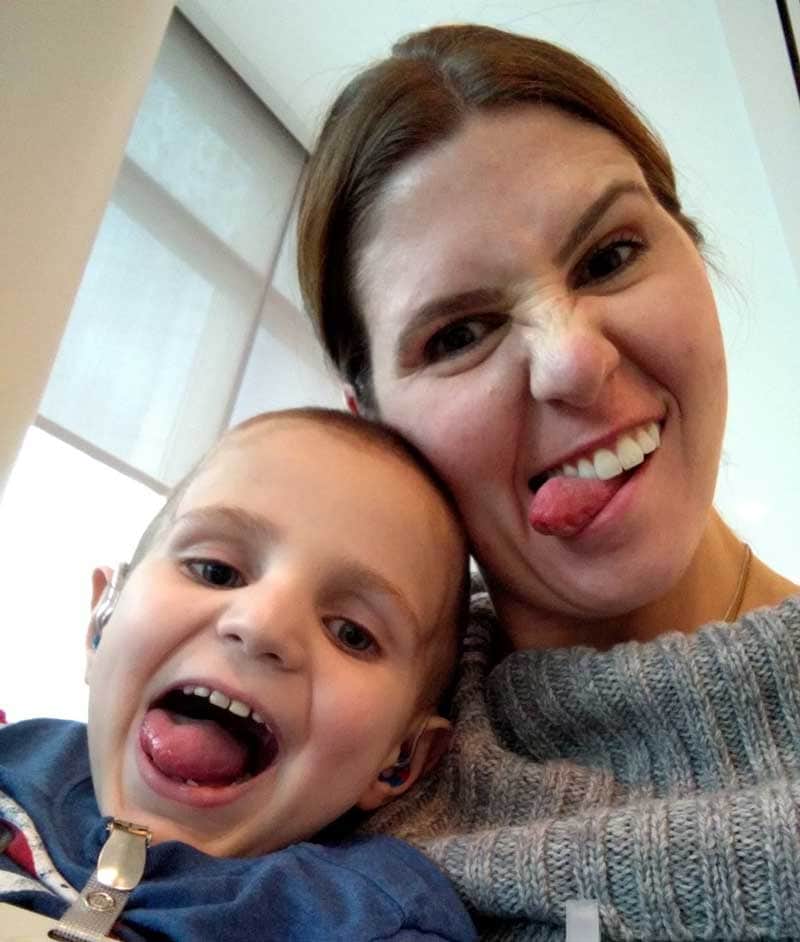 We saw hope when we met with Dr. Mosse, but it was just out of our fingertips' reach…
Grant never left the hospital after that spring luncheon; less than two weeks after I shared my heart, Grant passed on from this life. The side effects of treatment had become too much on his little body. We would celebrate his 5th birthday that year, with his Turtle Minion Cake, but without him.
The drug that held our hope will always have been just out of our reach.
So why share these words from that luncheon? Why share this phone call to a researcher and her team whose grant application was "left on the table"? Why did this phone call stir up so many emotions inside of me?
Rally knew where our story had ended, so why have us on this call?
Because Rally knows how passionate Michael and I are about childhood cancer research and how we don't want another family to go through what we have been through, and continue to go through. This grant application was for the drug our Grant was waiting on—for Lorlatinib, which was our hope, our son's future and the future for every little cancer warrior with that dreaded ALK mutation.
In the fall of 2017, CHOP opened a Phase 1 study for Lorlatinib and by the end of this year they hope to open a Phase 3 study that will also be in Europe. Lorlatinib is showing great success but Dr. Matkar at CHOP is asking the very important question: how can we improve the efficacy of Lorlatinib and prevent relapse in very high-risk neuroblastoma patients?
The Zoom call may have started hesitantly but it turned into excitement, and anticipation, and the reason we continue to fight despite the outcome of our child's fight against cancer. We were able to share with Dr. Matkar, her team, and even Dr. Mosse who had last seen us with Grant, that Zaxby's is providing a dollar for dollar match up to $25,000.
So, if we raise $25,000 on Giving Tuesday Now, we can fully fund Dr. Matkar's grant.
Our son's life may have ended here on Earth, but this Tuesday his story continues. Giving Tuesday Now offers the opportunity to fully fund this grant, the opportunity for hope.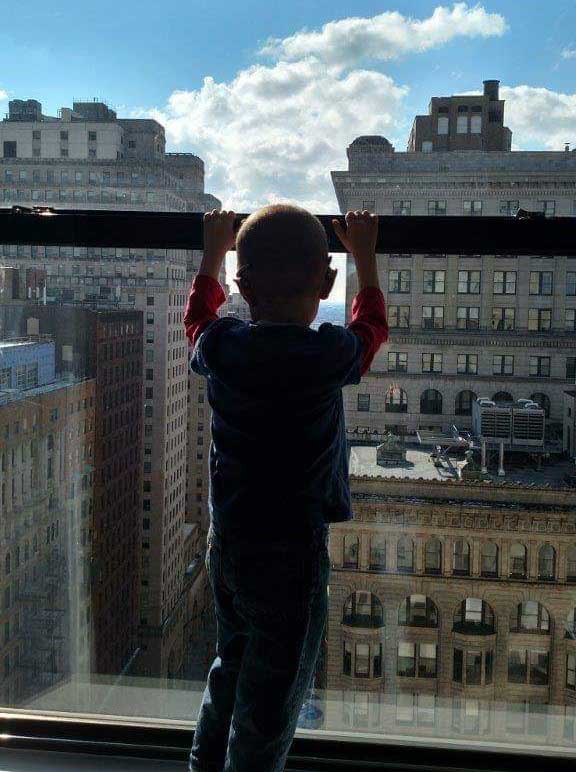 A gift of tomorrow—that  phrase echoing in my mind and now I hope in yours. What we would have done for the gift of a tomorrow for our son.
This is your chance, our chance, to be that gift for another child.
How much is giving kids fighting cancer a chance at tomorrow worth to you?