Community Partner Spotlight: Two Pitchers Brewing Company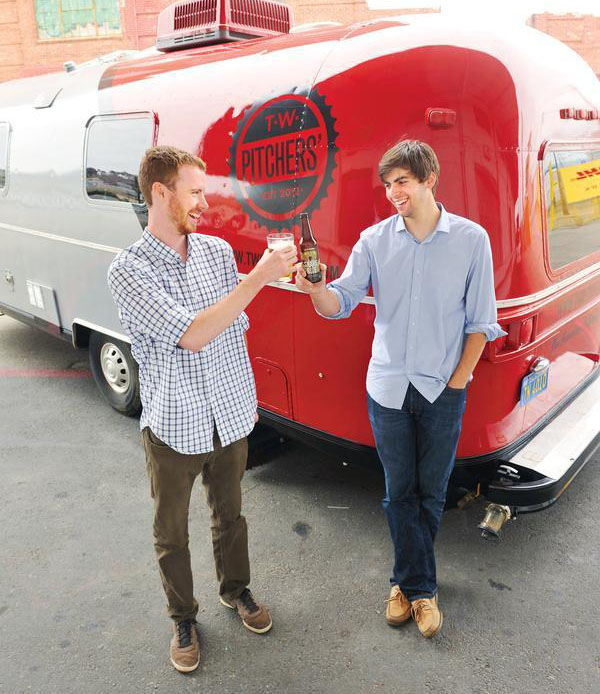 Rally Foundation for Childhood Research is fortunate to partner with a number of community groups and businesses to help further our mission of raising funds and awareness for childhood cancer research to find better treatments with fewer long-term side effects and, ultimately, cures.
This month, we're shining the spotlight on Two Pitchers Brewing Company, a San Francisco-based brewery specializing in small batch beer blended with quality ingredients. Over the years, Two Pitchers has been incredibly supportive of Rally's mission, and we wanted to honor and highlight that support by sharing their story.
We spoke with the brewery's co-founder, Tommy Hester, about how the partnership took shape and what it means to be able to support a cause that's near and dear to their hearts.
How did your company first hear about Rally Foundation for Childhood Cancer?
When Wilson (co-founder) and I first started Two Pitchers Brewing Company, we wanted to partner with a charity so that we could give back to the community in some way. We were combing through lists of top-rated charities in the country, and Rally Foundation immediately stuck out to us. For every dollar Rally raises, 93 cents goes directly towards funding childhood cancer research and they have earned a 4-star rating from Charity Navigator, as well as a platinum Guidestar Rating, which made us confident in donating to their organization.
What inspired Two Pitchers to become a supporter and partner of Rally?
Just like pretty much everyone else, cancer has had a profound impact on our lives. Fighting childhood cancer is particularly important to me, as one of my best friends died of brain cancer when he was 20 years old. Giving back to such a great cause and being able to help people in a similar situation gives us both a tremendous sense of joy.
On top of our goal to help support a cancer-fighting organization, Wilson and I met as pitchers on the baseball team at Williams College. When we read Rally's origin story and the baseball ties, we knew that it was the perfect fit.
How has Two Pitchers partnered with and supported Rally?
We began our partnership with Rally in 2015 and each year we donate a portion of our profits. In total we have donated $10,000 to Rally over the course of our partnership. As we grow, we are looking to increase our support and work on new programs that will bring more critical research dollars and awareness towards this great cause.
Does Two Pitchers have any upcoming fundraising campaigns planned for Rally?
Yes, we are going to start a new program this year where one dollar for every case of beer that we sell during September (Childhood Cancer Awareness Month) will be donated to Rally. We are extremely excited about this new campaign and are looking forward to launching it this fall. Now that we sell our beer in Georgia, we are also able to donate beer for Rally's events, which is a lot of fun.
How has supporting Rally impacted your business and staff?
All of our distributor and retailer partners are aware of our partnership with Rally, and they all appreciate that we are looking to support a great cause as much as we can while we continue to grow our business. Our staff also takes this partnership as a point of pride, and it helps us define our company culture. We try to stay grounded as much as possible and recognize that, while making beer is great, the most important things in life are being kind and helping others whenever possible.
—
Tommy's friend who passed away from brain cancer, Brenden Ogg, had a book of poetry published shortly before he passed and Tommy has been kind enough to share one of these poems with us, below. His full book is available for purchase here.
A Leaf of Knowledge
I don't know
what the doctor means by "mostly"
within the radiation field
I don't know
for how long I will need this cane
I don't know
what the scan will look like one month,
four months,
four years from now.
All I know is the air that I breathe in this instant—
spring's sweet whisper—
into my lungs,
my friend at my side,
his broad hand between my shoulder-blades,
the living God,
the love of my friends and family,
and the warm skin of her knee,
onto which I lay my cheek, to sleep.
Thank you to our friends at Two Pitchers Brewing Company for choosing to support Rally to raise awareness and funds for childhood cancer research. We wouldn't be where we are today without the support of all of our amazing community partners and we are so grateful to have you as members of the Rally Family.
CLICK HERE to find out how you or business can become involved in our Community Partners program, or email our Development Manager, Megan Janus, at [email protected].