It's been fifteen and a half years since a malignant tumor the size of a grapefruit was removed from the left kidney of our son, James. The feelings of despair and the fear of losing our eleven-year-old constantly gnawed at our hearts. Every time I meet a parent of a child faced with cancer, I empathize deeply with them.
As James's treatment progressed, we muddled through the pains and disruption of surgeries, tests and multiple days and nights in the hospital. It dawned on us that, while this chapter in our lives was difficult, there were many families on the oncology floor going through much worse.
First, James had the benefit of being a part of a research trial, which gave us added hope that he could beat this dreadful disease. Many parents are told the only protocol available for their child is the same old treatment that has been around for decades. (Childhood cancer research is terribly underfunded in comparison to most adult cancer research.)
Second, James's treatment would be completed within one year. Many children face treatment plans of three, four or more years. And lastly, we were fortunate enough not to face financial hardships during our experience with childhood cancer. This is not the case for many.
More than ever before, families are faced with both the devastation of a child fighting cancer and the extreme financial stress that comes along with a cancer diagnosis. In response to these dire needs, our Nashville extension of Rally Foundation is highly motivated to help local families by establishing a Tennessee Family Emergency Fund.
The existing Family Emergency Fund, operated from Rally's Atlanta headquarters, supports childhood cancer families all across the country. Sadly, each year, the money quickly runs out after a few months.
By having our own local Tennessee fund, we will be able to work with child-life services in children's hospitals across our state to pay essential bills—up to $1,500 per family each year. Our efforts will not only service families in Tennessee, but it will also help to free up the main Family Emergency Fund to help additional families across the nation.
Our plan is to kick off September (Childhood Cancer Awareness Month) with a bang! Our goal is to raise enough funds in 24 hours to establish our own Tennessee Family Emergency Fund so we can begin helping local families right away.
When deciding to take on this project, we started by reaching out to a short list of local supporters who previously joined Rally Foundation in the fight against childhood cancer. I am very happy to share that we have three generous Power Hour hosts who each will be matching donations up to $5,000!

Jimmy Hiller and his Happy Hiller team at Hiller Plumbing, Heating, Cooling & Electrical have been sponsoring Rally Nashville events for almost ten years. They share our enthusiasm for funding research and helping children fighting cancer in any way possible. This is right up their alley to give help to struggling families.
I have been a member of the Kiwanis Club of Nashville for seven years. It has been an honor to get to know and serve beside so many big-hearted people in town. When I reached out to the Nashville Kiwanis Foundation about the Rally Family Emergency Fund, they did not hesitate to say YES to host a Power Hour.
During a catch-up phone call with our Rally On the Runway event chairs, Clarke and Kevin Byard of the Tennessee Titans, Clarke expressed their frustration about not being able to help out Rally Kids because of COVID-19. The topic of the Family Emergency Fund came up. Without being asked, Clarke interrupted the conversation with, "Our Byard Family Legacy Fund would love to host a Power Hour!"
And now, we reach out to YOU to help local families who have children fighting cancer and who are also struggling financially. The Tennessee hospitals' oncology childcare services will work with these families in need to submit a simple application. Once the application is received and approved, Rally will pay their bills directly—whether it be a house note, electric bill, car payment, etc.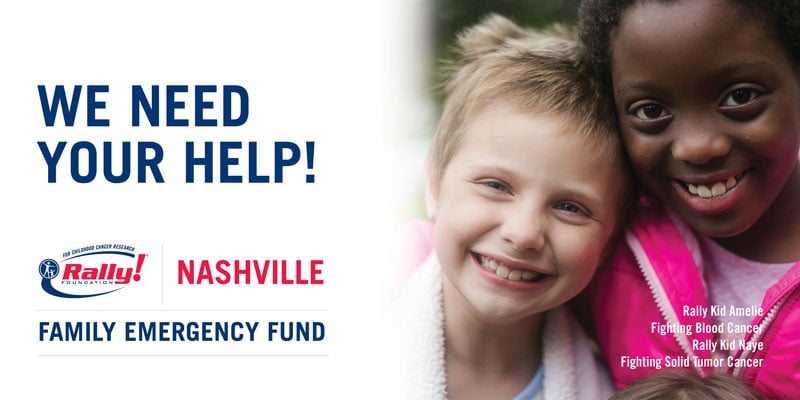 On September 1, we ask for your help in establishing the Tennessee Family Emergency Fund. We ask for your donations—big or small—and for your help in spreading the word about our campaign. Our goal is to raise $30,000 in 24 hours and max out all three power hours with matching donations.
Together, we know we can reach this goal.
Together, we will help local families alleviate financial struggles so they can focus on what's most important—their child.
Together, we are #GOLDSTRONG United Against Childhood Cancer!
Elaine Kay
Rally Nashville Director
Mom to Rally Kid James