You Above ALL: Rally Kid Ava Paige's Songwriting Story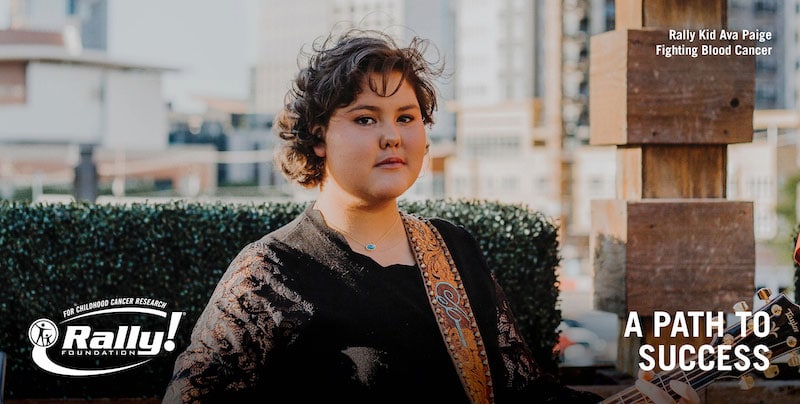 A PATH TO SUCCESS
Rally Kid Ava Paige has been writing songs and playing guitar for most of her life. She always dreamed of becoming a successful songwriter, and her natural talents put her well on her way at a young age.
Ava has played live shows in Nashville for many years, even holding a standing gig at The George Jones since age 13. She has played iconic venues such as The Listening Room and The Bluebird Cafe and frequently participates in songwriter shows around town that include some major hitmakers. She earned several music industry awards and was named Best Singer/Songwriter in the 2019 Nashville Scene Readers Poll.
A SHOCKING DIAGNOSIS
With her music career traveling in the fast lane, Ava was delivered a blow just before her 15th birthday—she was diagnosed with acute lymphoblastic leukemia, or ALL for short. Gigs and songwriting were put on hold and replaced by hospital stays and chemotherapy. The Nashville music community rallied behind Ava, holding benefits and visiting her in the hospital with guitars in tow.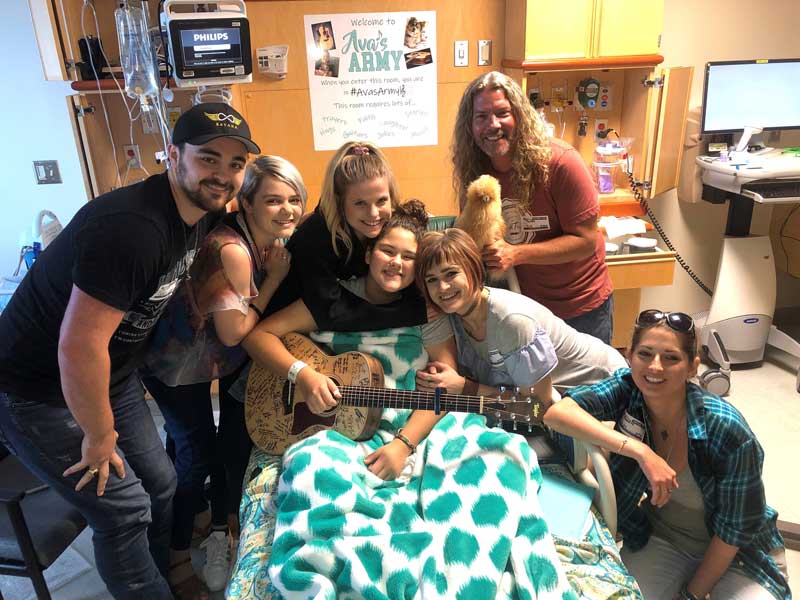 Thankfully, Ava's leukemia is now in remission. Though she will remain in treatment until December 2021, her career is moving full steam ahead. Ava continues to collaborate with industry professionals on her own music as well as co-writing projects.
A SPECIAL SONG
Ava was recently featured on the single and video for "You Above All" by Kathryn Shipley, a Christian contemporary and country artist. Ava not only performed on the track, she also co-wrote the song!
Ava remembers this song emerging from a "special write" on the final day of a songwriting retreat back in May 2019. She played a guitar riff for Mary Haller, Michaela Clarke and Riley Bria—three fellow songwriters—and her idea came to life soon after.
"It truly felt like Ava was channeling God that day," said cowriter Mary Haller. "I think we all knew that we were witnessing and assisting in the birth of something special. A song driven by the passion and talent of an extraordinarily talented 15-year-old. A 15-year-old who already knew God as a source of love, hope and strength. A 15-year-old who seemed to have not only a natural talent for lyric and melody, but a deep faith and confidence that belied her age."
Ava feels the same way about this songwriting experience. She shared, "The song just kind of fell out of our hearts and was finished incredibly quickly. When we were singing it through, I think all of us knew it was a special song. Looking back, it's crazy how much I relate to some of the lines now that I have cancer."
A ROLLERCOASTER RIDE
Less than two months after that retreat, Ava embarked on a rollercoaster ride of hospital stays, chemotherapy, blood transfusions, lumbar punctures and a serious infection.
Mary said, "We have seen Ava move through the ups and downs of her three-year treatment and recovery process with remarkable grace, determination and a selfless generosity toward others. And, with a deep faith. The same faith that had guided Ava in our writing room that Sunday afternoon, and which continues to sustain and strengthen her in her journey back to a cancer-free life."
A MUSIC VIDEO
When Kathryn Shipley reached out to Ava last year seeking new songs, Ava thought "You Above All" would be a perfect fit. Kathryn agreed! She decided to cut the track with Ava featured on guitar and background harmonies. After Kathryn released the song—even promoting it on a billboard—the pair recorded the music video at several locations around Nashville.
Ava is forever grateful that this song found its way to Kathryn, whom Mary calls "an extraordinary, faith-filled artist" and credits for recognizing Ava's unique gifts. Both Ava and Mary are honored to have played a role in this very special project to bring joy, comfort and inspiration to others.
A RISING STAR
Our Rally Kids never cease to amaze us with their strength and resiliency—and Ava Paige is no exception. We cannot wait to watch her star rise higher and higher.
Ava Paige is giving back to help other kids fight cancer by performing at our Rally In the Round songwriters night. This special event is hosted by Rally Nashville to raise critical funds for childhood cancer research and provide hope to local families battling this terrible disease. Click below to learn more!