What a Difference a Decade Makes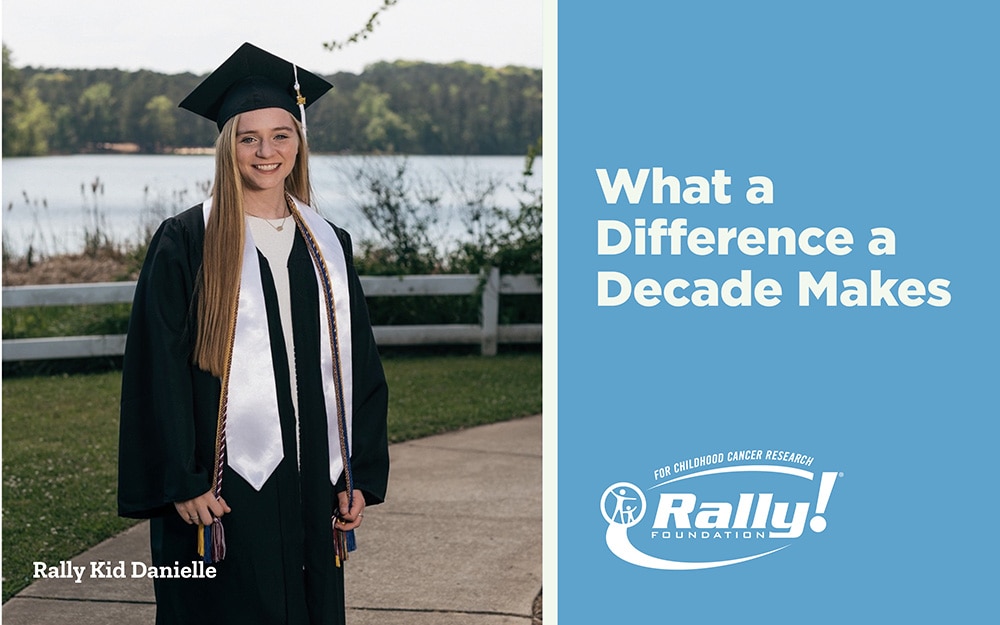 May of 2013 brought the last dose of chemo for my daughter, Danielle. Back then it was hard to see or even think about what life would be like ten years down the road. Honestly, I wouldn't even allow myself to look that far ahead.
Danielle was diagnosed with high-risk acute lymphoblastic leukemia in January of 2011. When the genetic testing came back on her leukemia about a month after diagnosis, it was not good news. She had all the bad markers and none of the good ones. I chose to focus on the fact that, one month in, she was responding well to treatment and was technically in remission.
We just kept marching on. But it never left my mind that this unfavorable genetic news was lurking in the background. Her treatment had five phases with names…induction, consolidation, interim maintenance, delayed intensification and maintenance. As I lived in this world and watched other families battle, in my mind, I added a sixth phase to her treatment…relapse.
I tried to deny it to myself, but it was always there.
I remember taking her picture with that last dose of chemo and wondering how long we would get before it came back into our lives.
Here we are, a whole decade removed from chemo. Every day I am in awe of who my daughter has become and the woman she is still becoming. When she finished chemo, she was an overweight (thanks steroids!) 4th grader who struggled with schoolwork and had no confidence when it came to things she loved like sports.
I watched her go from that questioning little girl, to one who played four years of varsity volleyball and basketball and graduated from high school with honors. She's now pursing her dreams and excelling in her studies at Marshall University.
I'm so proud of her for those things, but I am even more proud and appreciative of her heart. She loves passionately, seeks meaningful relationships, and makes the most of every day she has. She knows how quickly it can all be taken away. Instead of living in fear, she chooses to live in joy. I mean just read these words she wrote on the anniversary of her diagnosis this year: "1/15/2011 A day that changed what my life would look like moving forward. Today is a day filled with too many emotions to convey, but one that is easy to capture is gratitude. 12 years past what could've been the end of a story. He is good & He is faithful. May my life reflect that for how ever many days I have."
Ten years post chemo…all I can see are the gifts this cancer journey has brought. Gifts of joy, of friendships, of time, and so many moments that I wasn't sure would ever be.
Rally On, friends! There are more kids and their moms that need our help to get to the point they can reflect on a decade without chemo!