Rally Awards Outside the Box Grants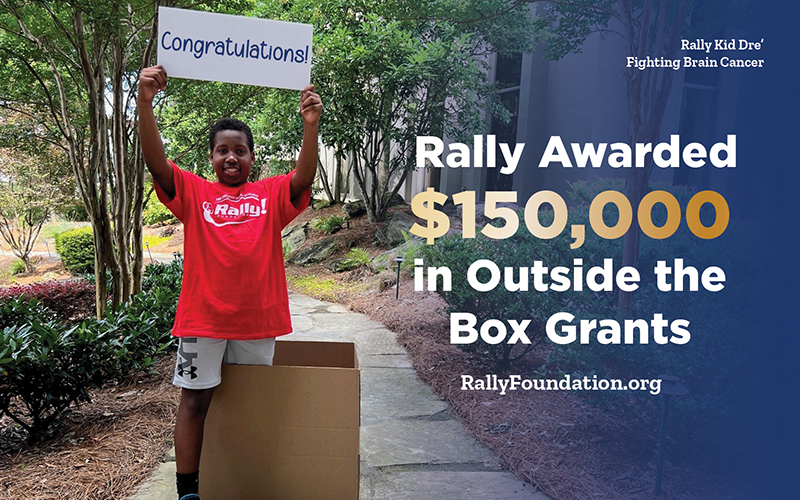 Rally Awards Novel Grants to Three Childhood Cancer Researchers
Rally Foundation for Childhood Cancer Research ("Rally") awarded $150,000 to three researchers at three different institutions for Outside the Box novel childhood cancer research ideas.
"Rally sees itself as philanthropic seed investors in the next great discovery — we like to invest early and are willing to take risks because these Outside the Box ideas may pave the way to finding better treatments and cures," says Dean Crowe, Founder and CEO. Each grant was dual peer-reviewed and only the highest scoring applications received funding.
Rally is pleased to partner with Kids Join The Fight and cureMEC for this year's competition. These Outside the Box Grants provide seed funding to three researchers for brand new ideas that directly address pediatric, adolescent and young adult brain cancer or myoepithelial carcinoma. 
OUTSIDE THE BOX GRANTS
Co-Funded by Rally Foundation and Kids Join The Fight
Baylor College of Medicine: Dr. Tamra Werbowetski-Ogilvie for therapeutic targeting of alternatively spliced genes in medulloblastoma
Johns Hopkins School of Medicine: Dr. Challice Bonifant for Anti-B7H3 CAR-NK cells for atypical teratoid rhabdoid tumors
Co-Funded by Rally Foundation and cureMEC
Children's Cancer Therapy Development Institute: Dr. Charles Keller for genetically-engineered mouse model of EWSR1-KLF15 myoepithelial carcinoma
PREVIOUS OUTSIDE THE BOX GRANTS
In 2017, Rally launched a similar initiative for outside the box thinking related to rhabdomyosarcoma. From that seed funding, two projects have made incredible progress.
Samuel Volchenboum's project, the INSTRuCT Data Commons, allows for the collection and provision of critical data for soft tissue sarcomas, including rhabdomyosarcoma. Currently, with data from over 9,000 children, INSTRuCT represents the largest collection of data from kids with rhabdomyosarcoma.
Adam Durbin's project resulted in a compound that specifically targets EP300 for degradation, a protein target showing promising results in rhabdomyosarcoma as well as neuroblastoma, called "JQAD1". Further studies will explore how it works in multiple tumors and improve the compound using chemistry.