Durbin Keeps Asking New Questions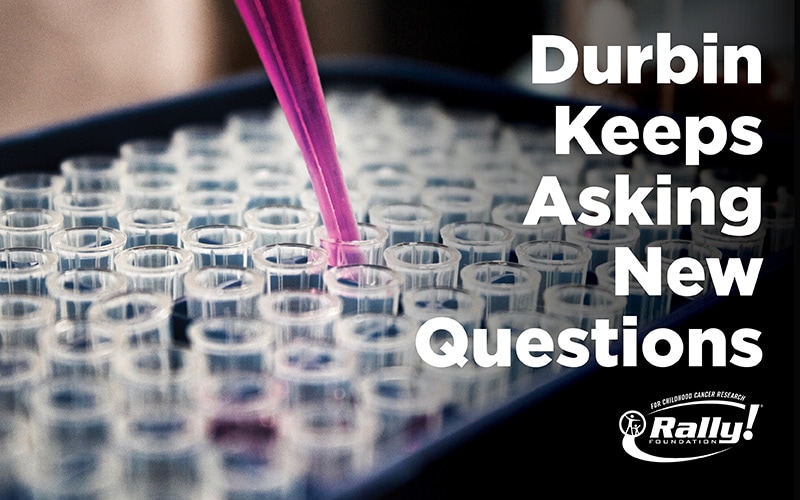 Passion for Pediatric Cancer Patients and Research Drives Meaningful Discovery
"Every day, I'm motivated to discover more through research that will enable us to better treat children with cancer and improve outcomes with fewer side effects."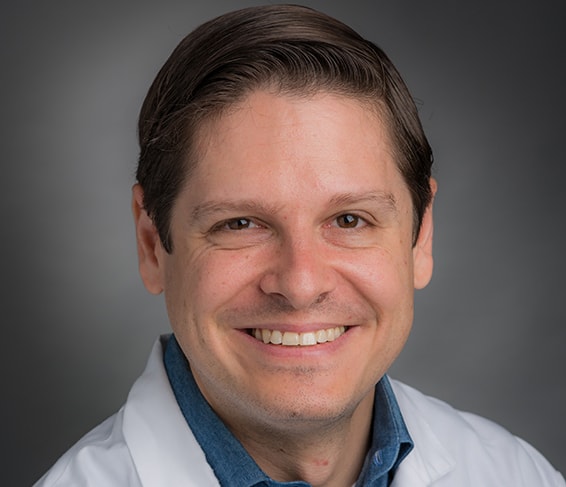 Since his first lab job in the summer between his freshman and sophomore year in college, Adam D. Durbin, MD, PhD, of the Division of Molecular Oncology, Department of Oncology, St. Jude Children's Research Hospital, has been fascinated by medical research.
"I couldn't believe that I was getting paid to work in Dr. Avrum Gotlieb's lab. I learned so much that summer and the following ones. I found that this experience really put me ahead in my studies," Durbin said in a recent interview. "I thought it was so cool that I was working on new research and able to publish papers. It really made me question my direction after undergraduate school: Should I be a researcher or go to medical school?"
Gotlieb, a cardiovascular pathologist at the University of Toronto, suggested, "Why not do both?" This "eureka" moment set Durbin on his career path. He earned his BSc in biology from York University in Toronto and his medical degree and PhD from the University of Toronto.
"I thought that I wanted to be a cardiologist," Durbin said, "but then I attended a lecture while in medical school about blood cell development given by a pediatric oncologist, David Malkin, MD, FRCPC. David and I started talking about his research, and ultimately this led to me joining his laboratory at the University of Toronto and SickKids Research Institute, to study how rhabdomyosarcoma cells grow and divide. I spent five years in Dr. Malkin's lab and did my PhD thesis with him. I was always looking for different approaches to this disease, and David allowed me to build an entire project on my own."
After finishing medical school and his PhD, Durbin then began training as a resident in general pediatrics at Boston Children's Hospital and Boston Medical Center. He went on to complete his fellowship training in pediatric hematology/oncology and bone marrow transplantation under the co-mentorship of A. Thomas Look, MD, and Kimberly Stegmaier, MD, both at Dana-Farber Cancer Institute and Boston Children's Hospital. Later, Durbin worked as an instructor at Dana-Farber and staff physician at Boston Children's before joining the Division of Molecular Oncology at St. Jude Children's Research Hospital in 2020.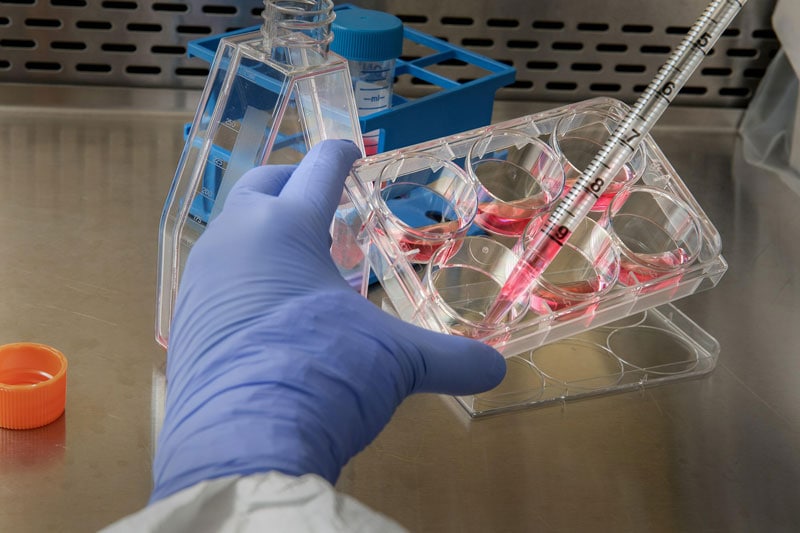 "During my residency in general pediatrics, I was able to spend 10 months in Tom Look's lab," Durbin said. "During this time, I studied neuroblastoma, and in particular, the mechanisms that control neuroblastoma growth. In pediatric cancers, these control mechanisms are often broken in different ways. The master regulators of cell growth can be dysfunctional and lead to cancer. As a result, we wanted to know which genes were important to neuroblastoma growth and which were not. So, with Kim Stegmaier's group and individuals at the Broad Institute of MIT and Harvard, we asked, 'What are the genes that drive neuroblastoma growth?'"
Every cell has the same DNA. There are about 30,000 genes in the genome of every cell. Researchers started studying DNA before the 1960s, and even though it has been over 60 years, we're still figuring out the function of many those 30,000 genes.
"I wanted to focus on the genes that had not been studied in neuroblastoma," Durbin said. "This was made easier by the development of CRISPR technology, which is a technique that allows you to deactivate any specific gene you want to better understand.
"In a huge collaborative effort, we worked with researchers at the Broad Institute who had developed methods to look at various cancer cell lines and delete every gene to figure out which ones make neuroblastoma cells die. Together, we created a map of about 150 genes. On the basis of this, in 2018 I received my first Rally Foundation grant to do this in different childhood cancers. We have been studying many of these genes since then, to figure out new ways to target them. Most exciting is that we have found some genes that are involved in neuroblastoma and other cancers, but which aren't always required in normal cells. These make great targets since they are more specific to neuroblastoma and so aren't likely to cause much toxicity if we target them with drugs. We performed this kind of testing in many more cell lines, including rhabdomyosarcoma, again in collaboration with many others at the Broad. This is really a massive undertaking and is the work of many, many dedicated researchers. As a result of this work, we have started to develop new chemicals that target these proteins that are selectively required in neuroblastoma, and not in normal cells."
Scientific research has real impact on the practice of medicine. In 2008, three separate articles appeared in Nature, the prestigious global science research journal, about neuroblastoma mutations in the ALK gene.
"These articles prompted a change in the approach to neuroblastoma and now there is a drug targeted to the ALK gene," Durbin said. "So, in a little less than 10 years we have gone from research articles to treatment."
As a physician as well as a research scientist, Durbin is familiar with the side effects caused by certain cancer treatments, especially for neuroblastoma.
"We as physicians and researchers need to think of creative new ways to understand and target these diseases," he said. "Every day, I'm motivated to discover more through research that will enable us to better treat children with cancer and improve outcomes with fewer side effects."
In 2020, Durbin and his wife, Ellie, moved to Memphis, where St. Jude Children's Research Hospital invited him to start his own research lab.
"I am blown away by the scientists here who understand the challenges physicians face," he said. "Similarly, the physicians speak the language of science. I have met so many passionate people here who have a similar focus, energy, drive and intellectual curiosity."
"At St. Jude, I am thrilled by the synergy and possibilities for breakthroughs. The level of scientific excellence is remarkable. St. Jude is unique. It's like a small city, with its hospital, research institute, screening capabilities, and many other facilities such as a library of compounds accessible to researchers, and places that manufacture clinical-grade drugs. This is truly special in academia. St. Jude embodies the whole ethos of treating cancer."
The Durbin Research Lab is an environment characterized by high-quality science, mutual respect and professional integrity. The lab's areas of investigation are designed to drive meaningful discovery and clinical impact for patients with difficult-to-treat malignancies. Research interests include:
• Epigenetic and transcriptional regulation of high-risk pediatric cancers, including neuroblastoma and rhabdomyosarcoma
• Chemical biology and functional genomic perturbation of cancer systems biology
drug discovery for pediatric high-risk tumors
"Some childhood solid tumors are aggressive and unfortunately are challenging to treat clinically," Durbin said. "Moreover, the treatments we have are also associated with a lot of side effects. So, our laboratory is developing new approaches to treat these tumors by deciphering the complex transcriptional circuits that drive their biology. These circuits play a role in cell-fate determination and tumor heterogeneity. We use a combination of chemical modeling, epigenetic profiling and CRISPR screening to interrogate them. We hope our discoveries will lead to new and improved therapeutic options for children with solid tumors."
Moving to Memphis at the start of the COVID-19 pandemic was a bold move for the couple. Ellie has started her own virtual wedding and event planning service called The Aisle Assistant. They have found new friends and adopted Lou Myles, a Cavalier King Charles Spaniel puppy. And, Durbin has joined a 'somewhat fanatical' group of fellow ice hockey players, including several other researchers, physicians and scientists at St. Jude. "Being Canadian, ice hockey is in my blood," he said. "We play every Sunday in the Ice House in South Haven, Mississippi. Who would have known that you could play ice hockey year-round in the mid-South?"
In addition to being a Rally Researcher, Durbin has also joined Rally's Medical Advisory Board. "This has been a wonderful opportunity to serve the scientific community," he said. "The quality and quantity of science that Rally funds is exceptional, and it is exciting to be a part of peer review to help some wonderful and impactful science get done. Rally funds the next generation of leaders in childhood cancer research, and it is an honor to be a part of it."
Since joining St. Jude, Durbin has received funding from a variety of foundation and federal resources, including the National Institutes of Health. His ongoing work has established new chemical probes which he hopes, once ready, will positively affect the lives of children with challenging cancers.
Rally On, Dr. Durbin!