Why I Chose Pediatric Oncology and Research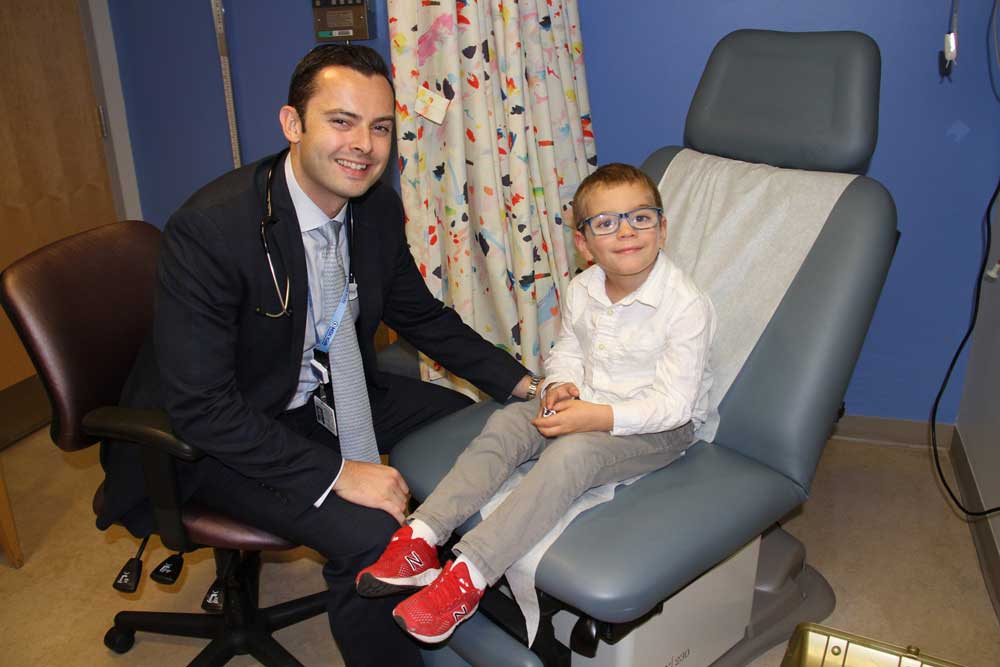 Rally Researcher and pediatric oncologist Dr. Michael Kinnaman received a Rally Postdoctoral and Clinical Research Fellow Grant. In part one of this two-part series, Dr. Kinnaman shares his story and why he was drawn to pediatric oncology and research.
Have you ever wondered about the career path of a pediatric oncologist and clinical researcher? Dr. Kinnaman's journey began with a decision made during his sophomore year in college.
Having dual passions for law and science, Dr. Kinnaman majored in both political science and biology. He had envisioned earning a law degree after graduation and working for a biotechnology or pharmaceutical company. However, this vision began to change after a foray into clinical research, as well as a brief hospital stay.
The following is part one of our two-part blog series:
Dr. Kinnaman Shares How He Discovered His Passion For Medicine
My journey to becoming a pediatric oncologist and researcher started with a decision made during my sophomore year at the University of Michigan. I entered college with dual passions for law and science, leading me to major in both political science and biology. I envisioned myself earning a law degree after graduation and working for a biotechnology or pharmaceutical company. I began doubting my plan after I started oncology outcome research with Dr. Cheryl Lee, a urologic oncologist.
Through my experiences with Dr. Lee, I gained firsthand knowledge on oncology care at a major cancer center. This included observing initial consultations, chemotherapy infusions, and coming face to face with patients' tumors as they were removed in the operating room. I also enjoyed my first foray into clinical research. It was exciting to know our research could improve the quality of life or overall prognosis for patients with bladder cancer.
Midway through my sophomore year, I was hospitalized for a post-operative infection after an orthopedic procedure. During that brief hospital stay, I was overwhelmed by the compassionate care I received from the nurses, residents, and doctors. In particular, the residents had a profound impact on me. I asked them numerous questions about their experiences as residents and about what they most enjoyed about medicine.
When I asked them how they handled working eighty-hour workweeks, they replied that it's easy when you are passionate about the work you are doing, and you enjoy doing it. By the time I was discharged on Christmas Eve, I was certain of my choice to pursue a career in medicine.
Oncology Research: A Passion Uncovered
After completing my undergraduate studies, I accepted a position at Beth Israel Deaconess Medical Center as a clinical research assistant (CRA), working with melanoma patients. Through this experience, I developed an appreciation and understanding of the complexity and organization required to facilitate multi-center trials for new and exciting therapeutics.
I attended cooperative oncology group meetings and saw new ideas for research born out of passionate academic discussion. I was also fortunate enough to be the CRA for one of the first studies involving immunotherapy to be offered to patients with melanoma. Oncology research was becoming a passion of mine before even starting medical school!
I enrolled at Stony Brook University School of Medicine in the fall of 2009. Before medical school, most of my experiences in medicine had been with adults; however, after my clerkship on the pediatric ward, I knew I found my calling. I loved pediatrics and when people would ask me why, I would give them a simple but truthful reply: kids are hilarious! On top of that, there was a heightened sense of passion and purpose among the staff who cared for these children that I had not experienced on my adult rotations.
What inspired me the most was the resiliency of children in the face of life-threatening illnesses. Throughout the multiple procedures, needle sticks, and toxic treatments they endured, they rarely skipped a beat or made excuses to not participate in their planned therapies, school lessons, or child life activities.
The Path That Lead to Pediatric Oncology
Pediatric oncology became a primary interest of mine during an elective rotation with the pediatric hematology-oncology team at Stony Brook University. While on my elective, I realized that pediatric oncology satisfied my desire for a career focused on research, teaching, managing both acute and chronic medical problems, and long-lasting patient relationships.
Pediatric oncology offered a diverse patient population, with complex and fascinating pathophysiology, and an extensive amount of both basic science and clinical research opportunities. This desire to pursue a career in pediatric oncology was confirmed during my pediatric residency at the Children's Hospital at Montefiore, where I was able to immerse myself deeper into the field through my rotations and electives.
To realize my dream of becoming a pediatric oncologist, I applied for pediatric hematology/oncology fellowships across the country, but I felt most at home at the joint New York Presbyterian Weill Cornell Medical Center/Memorial Sloan Kettering Cancer Center (MSK) program. MSK had always held a special place in my heart. My mother worked there for 15 years as an administrative assistant to Dr. Pramod Sogani, a surgical urologic oncologist.
I did summer research at MSK as an undergraduate and would dream of someday walking the wards as an attending oncologist. It was an incredibly surreal moment when I received the email informing me I had matched at MSK.
Stay tuned to read part 2 of Dr. Kinnaman's story.