One step at a time, one prayer at a time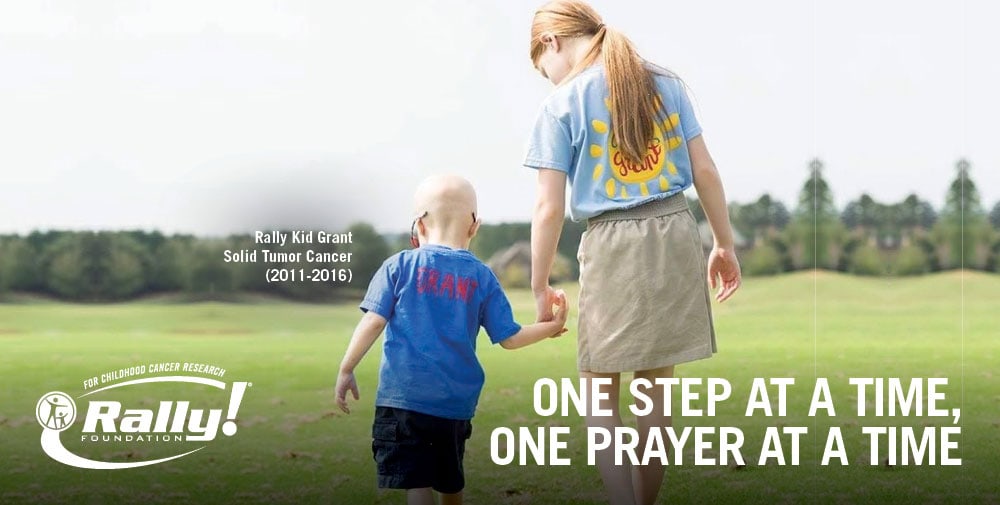 Normal is defined as conforming to a standard; usual, typical or expected. My name is Sarah Gossling and I am one of Rally Kid Grant's older sisters. Almost eight years ago, on June 18, 2014, my brother was diagnosed with stage 4 neuroblastoma. My world was shattered. I was about to go into third grade when Grant was diagnosed, and I can remember trying to keep any bit of the normalcy that I had before I learned the word cancer.
Before Grant was diagnosed, we were your average family. Four kids (and one addition later on), a whole lot of crazy, and not a care in the world. We loved traveling and going on adventures. We loved to swim together, play together and drive mom and dad crazy. If you caught us on a good day and the house was clean, it wouldn't be long before my brothers Grant and James were making messes. We were just kids being kids.
Once Grant was diagnosed, it was harder to do things as a family. Something as simple as a family movie night or telling my parents goodnight changed. Instead of saying goodnight in person, we had to say goodnight over the phone since one or both of my parents were at the hospital with Grant. My parents would have to split up to come to most of our activities. I quickly learned it's not normal for everybody to have one or both parents at the hospital with your brother all the time. It's also not normal to have a brother with cancer. So as time went on, I found myself missing the joy and normal before Grant's diagnosis, especially us all home. Now, even our simplest moments had strings attached.
Cancer was a beast that we all fought alongside Grant. Once I stopped fighting for the old normal, I was able to enjoy being in the moment. Through our fight, we held tight to the simple joys like having us all at home. Even though Grant needed a special swimsuit, and looked like a scuba diver, we were able to swim together. One year, we missed our annual ski trip because Grant was still radioactive from MIBG therapy, but the next year we were able to go again! This time we all got to ski together, even Grant in his ski sled.
During our fight with cancer, we tried to find joy in everyday life. We even went to Disney for Grant's third and fourth birthdays. Grant always wanted to be a big brother and even though it looked different, he got to be just that. Grant was the best big brother to Hudson even if it was from his hospital room. We did what we could to do things as a whole family and find joy. Even though life looked different, all we wanted was to be together.
On March 28, 2016, Grant passed away from the side effects of his treatment. Cancer is an injustice that I have seen firsthand and one that I cannot ignore. I know Grant's fight was difficult and unfair and that I want to do something about it. When I was 13 years old, I attended my first CureFest for Childhood Cancer in Washington, D.C. with Rally. I'm not sure if I would be the same person I am today without this experience. Rally taught me the importance of community and that cancer is a road you don't have to walk alone. Rally taught me that I can and do have a voice through advocacy.
I have made lifelong friends and met some of the most amazing people through Rally and other organizations like them. I remember what my brother taught me from the young age of 4 and I advocate, and I volunteer to help defeat the childhood cancer beast. I am only a junior in high school, but I hope to pursue a nursing career. I remember the difference the nurses made in my life and in Grant's life. So, as I step into my next phase of life, I remember to take it one step at a time, one prayer at a time.