Rally Good Meals: Feeding Childhood Cancer Families on Their Journey to the Bell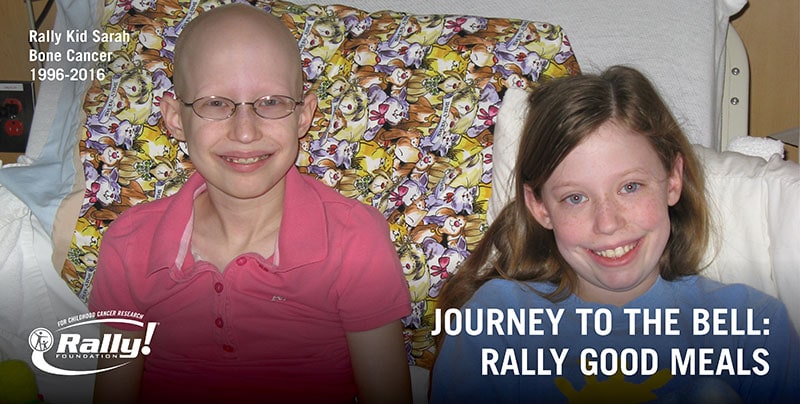 Rally not only impacts the lives of children with cancer, but the lives of their whole families. I know this because I am the sister of a Rally Kid.
My name is Catherine Barr. My sister, Sarah, was diagnosed with Ewing's sarcoma—a type of bone cancer—in 2009 at the age of 12. I was 11 at the time. Sarah fought bravely for seven and a half years. She passed away in 2016.
Sarah was so gentle and kind, all while being the biggest nerd. She excelled in school and wanted to pursue a career in the medical field. Her family and her faith were the most important things to her. Despite the hardships she endured, Sarah remained joyful and selfless. She is my hero and inspiration.
I am currently in my last semester at Georgia College & State University. When I found out I could select a nonprofit to work with for my senior capstone project, I knew it had to be Rally! I was thrilled to have the opportunity to come full circle and give back to an organization that gave so much to my family. Rally played a big role in supporting us during my sister's cancer journey.
I am working with the Rally team on a fundraising campaign called Journey to the Bell.
From the moment a family hears that their child has cancer, all sense of normalcy is lost. Life becomes a whirlwind of appointments and hospital stays. Families can spend anywhere from a few days to several months at a time in the hospital—separated from family members and the security and comfort of their homes.
Families go through this long cancer journey with one goal in mind: Get to the bell.
Once a child finishes their cancer treatment, they get to ring a bell—signifying hope for a bright and healthy future. So much goes into ringing that bell, and Rally provides support throughout the entire journey.
One way Rally assists families like mine on their journey to the bell is through the Rally Good Meal program, which provides meal deliveries to local children's hospitals. Each delivery includes about 60 meals and costs about $500.
These meals have meaning, in addition to feeding kids and their families while they fight childhood cancer together. They bring something familiar to the unfamiliar hospital environment. The volunteers who deliver the meals offer friendly smiles and comforting words. Ultimately, these meals give families one less thing to worry about.
My family was always so excited to receive a donated meal—something special we could not get in the hospital. My mom, Heather, said, "These meals are like getting a hug from a friend. They cheer you up and help you feel remembered on the rough days."
I'll never forget how much my family appreciated receiving a warm meal in the hospital. I am so thankful to the Rally team for providing me with this rewarding opportunity to give back after being blessed so much by this organization. 
You can join Rally in providing these meaningful meals. By giving to this fundraising campaign, you are bringing joy to families while they are in the hospital. Please support their journey to the bell by making a donation today.