Rally Kid Keren Shares Her Journey with Cancer and How She Stays Positive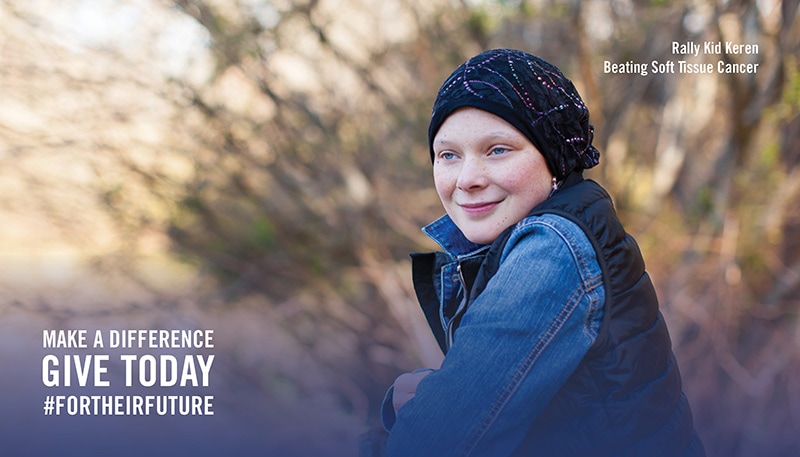 "It was the worst day of my life," Rally Kid Keren said of the day she was diagnosed with rhabdomyosarcoma, a cancerous tumor that occurs in soft tissue. And in the days, weeks, and months that followed, her journey with cancer wasn't going to get any easier.
It all started when Keren developed a growth on her foot. After numerous doctor visits, she finally received the news no child or family wants to hear: It was cancer. The following Monday after her diagnosis, she began the long journey of treatment, which included chemotherapy, surgeries, and ultimately, the amputation of her leg.
Cancer impacted Keren's life in countless ways. As an active young girl, she could no longer swim and play soccer. Countless days spent in the hospital meant missing out on school and friends. But she never expected cancer to impact her family in such a life-altering way.
"I never thought I'd get cancer or that it would affect my family as much as it has," Keren said, as her two siblings have definitely felt the effects of her diagnosis. Her older brother, Jacob, thought their home felt different when Keren was at the hospital getting treatment, and he didn't like it. Her younger sister, Lyla, misses Keren when she's gone and found the experience stressful and sad.
As for Keren's parents Kelly and Jonathan, they were shocked when they discovered how little is known about certain childhood cancers. "There are no answers to anything, and so many childhood cancers have such a bleak outlook," they said. "Intense treatments with harsh side effects. Nothing can capture the despair that families can feel."
Through it all, Keren's advice to other kids and families facing childhood cancer is to "live every day to the fullest and enjoy every minute you have with your family (even the trying ones)."
As 2019 comes to an end, our goal at Rally is to make a difference for kids like Keren and their families who are facing childhood cancer. When you donate to Rally Foundation, you're helping fund research for better treatments with fewer longterm side effects, and hopefully one day, a cure.
To learn more about Keren, visit our blog post: Strong, Kind & Determined to Beat Soft Tissue Cancer: Meet Rally Kid Keren