Childhood Cancer Awareness Month 2023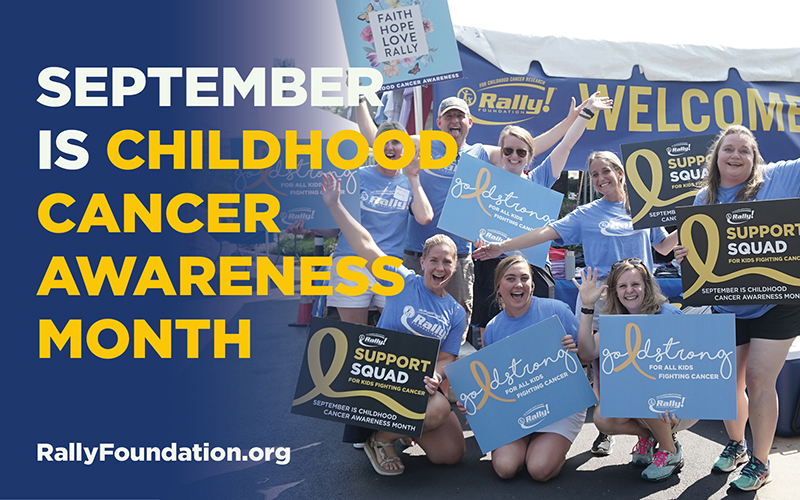 September is Childhood Cancer Awareness Month – and this September, Rally Foundation for Childhood Cancer Research has so many amazing things planned!  Please join us as we raise awareness and funds for childhood cancer research. Keep checking back to see what new events are added throughout the month. Click on the buttons below to see what is happening nationwide and in specific cities.
Nationwide:
All through September:
Friday, September 1
Light your state gold

Light a candle and post a picture on your social media using the # of your state (for example: #lightGAgold, #lightTNgold, #lightFLgold, #lightVAgold).
Wednesday, September 13
Fight for the 47

Social media push to fund one $50,000 childhood cancer research grant in one day
To double your donation watch Rally's social media outlets for power hours with matching funds
Washington, DC  Events- Starts Wednesday, September 20
Thursday, September 21
Congressional Childhood Cancer Caucus hosted by Congressman McCaul

9:45-11:45 a.m., 2168 Rayburn House Office Building

Brain Storm Summit – September 21-23
Friday, September 22
Climb the Hill Youth Advocacy Day

Middle school, high school and college-aged advocates will meet with congressional offices to share their stories and talk about current legislative initiatives. Email [email protected] for more information

CureFest Welcome Night at Freedom Plaza – 5–7 p.m.  For more information or to register visit www.curefestusa.org
The CureFest Collective a special night for teens and young adults — registration required at www.curefestusa.org/collective

For fighters, survivors and siblings ages 13-29
6 – 8:30 p.m. Trolley sightseeing tour
8 – 10 p.m. Food, music, and games at the JW Marriott
Saturday, September 23
2 p.m. Rally to the Capital on the National Mall—Hosted by Rally Foundation
5 – 6:45 p.m. CureFest Meet and Greet on Freedom Plaza
6:45 – 8:30 p.m. Night of Golden Lights at Freedom Plaza
8:30 -9 p.m. Candlelight Vigil at Freedom Plaza
Sunday, September 24
11 a.m. Festival at National Sylvan Theater

Performances, speeches, and tributes

12:30 p.m. Childhood Cancer Shoe Memorial Ceremony on the Washington Monument Grounds
12:45 p.m. CureFest Walk on the Washington Monument Grounds
Rally Atlanta:
Wednesday, August 30
Georgia Proclamation in Governor Kemp's Office (not a public event due to construction at the Georgia Capitol)
Smyrna Proclamation, 10 a.m. at Smyrna City Hall
Roswell Proclamation 4 p.m. at Heart of Roswell Park, Canton Street
Thursday, August 31
Marietta Proclamation, 10 a.m. at Marietta Square
All through September:
YourPie

Bucket give back all month at the Smyrna, GA and McDonough, GA locations
Freedom Nutrition (Canton, GA)

Give back of $1 per #GoldStrong Tea sold all month long
Tuesday, September 5
Kennesaw Proclamation 6:30 p.m. at Kennesaw City Hall
Wednesday, September 6
Milton Proclamation 6 p.m. at Milton City Hall
Monday, September 18
Woodstock Proclamation 7 p.m. at Woodstock City Hall
September 19 -23
The Atlanta Airport Lights Canopies Gold

The Hartsfield-Jackson Atlanta International Airport is #GOLDSTRONG and is lighting up their canopies gold in honor of children fighting cancer.
Wednesday, September 27
The Atlanta King and Queen Buildings Light Buildings Gold
Rally Gulf Coast:
KIA Autosport, Pensacola, FL

Throughout September, the dealership will be #GOLDSTRONG and Rally branded, place coin collection jars in the showroom service center and waiting area, and donate a percentage of all car sales during September to Rally. Plus there will be gold balloons on all the cars in the lot.
Friday, September 1
Graffiti Bridge Painting, 5 a.m.
Rally Kid Toni's Lemonade Stand and Hope on Wheels, 10 a.m.-12:30 p.m

Allen Turner Hyundai Dealership
Saturday, September 2
American Legion Cancer Rally & Ride, 11 a.m.

Begin and end at American Legion Post 378, 2712 Gulf Breeze Parkway, Gulf Breeze, FL. Ride will stop by the graffiti bridge to do a memorial on the way to the hospital with the motorcycles by 12-12:15 p.m.; 1 Bubba Watson Drive, Pensacola, FL 32504. Open to the public.
Monday, September 4
Innerlight Surf and Skate Give Back Day – percentage of sales will be donated to Rally Foundation

203 Gulf Breeze Parkway, Gulf Breeze, FL 32561 
Tuesday, September 5
Okaloosa County Proclamation, 3 p.m.

302 N. Wilson Street, Suite 302, Crestview, FL 32536 
Wednesday, September 6
Annual Candlelight Vigil, 6:30 p.m.

Studer Family Children's Hospital at Ascension Sacred Heart
Thursday, September 7
Escambia County Proclamation, 5:30 p.m.

Escambia County Governmental Complex, 221 Palafox Place
Friday, September 8
Bam's Snoballs, 1–9 p.m. Rally families and staff can get a free treat
Rian Thomas Cookin/Dinner—fundraiser for the Phinley Phund 
Saturday, September 9
Rally On Tennis Tournament

8 a.m.-3 p.m.
Set up on September 8 at 5 p.m.
Shoreline Park, Gulf Breeze, FL
Monday, September 11
Santa Rosa County Proclamation, 5:30 p.m.
6495 Caroline Street Boardroom, Milton, FL 32570
Tuesday, September 12
Bay County Proclamation, 8 a.m.

840 West 11th Street, Panama City, Bay County Government Building
Thursday, September 14
City of Pensacola Proclamation, 5:30 p.m.
222 W. Main Street, Pensacola FL 32502
Friday, September 22
Coffee with a Cop, 7 a.m.
Turtle Conference Room
Ascension Sacred Heart Pensacola
1 Bubba Watson Dr, Pensacola, FL 32504 
Saturday, September 23
Sportsmen Givin' Back Charity Banquet, 5 p.m.

Immanuel Baptist Church, 4187 US-90, Pace, FL 
Monday, September 25
Okaloosa County School District Proclamation, 6 p.m.

School Board Central Administrative Complex, in the Training Room, 202 Highway 85 North,
Rally Tennessee:
Tuesday, August 29
Orange Theory (TN)

Each class participant will make a donation 
All through September:
M Street-Nashville

Each of the four M Street restaurants will have special cocktail with portion of proceeds going to Rally.

Waldo's Chicken and Beer Give Back Nights (Nashville)

Every Tuesday (September 5, 12, 19 and 26) from 5-8 p.m.

Zaxby's on Charlotte Avenue Give Back Nights

Every Tuesday (September 5, 12, 19 and 26) from 5-8 p.m.
Saturday, September 2
Korean War Veterans Memorial Bridge Will Light the Bridge Gold
Wednesday, September 6
Dress Up Night, 4–7 p.m.

15% of sales from 4-7 p.m. will be donated to Rally Tennessee
Thursday, September 7
Jeni's Ice Cream Give Back, 4-7 p.m.

Must mention Rally at checkout
Friday-Sunday, September 8-10
The Tennessee State Capital will be light Gold from September 8th-September 10th
Saturday, September 9
Rally #GOLDSTRONG Day, 4–7 p.m.
Centennial Park (Bandshell Greenspace)
Bounce house, face painting, games, food trucks, music and crafts
Night will end with Rally Kid speaker and candlelight vigil
Friday-Saturday, September 15-16
Nashville Toys & Books will donate 10% of sales

This fundraiser will run all day on September 15th and 16th
Saturday, September 16
Alli's Rally at Spring Hill High School

Rally Kid Alli Bob's fundraiser
Food trucks, bounce house, face painting and silent auction