Dean's Letter – December 2021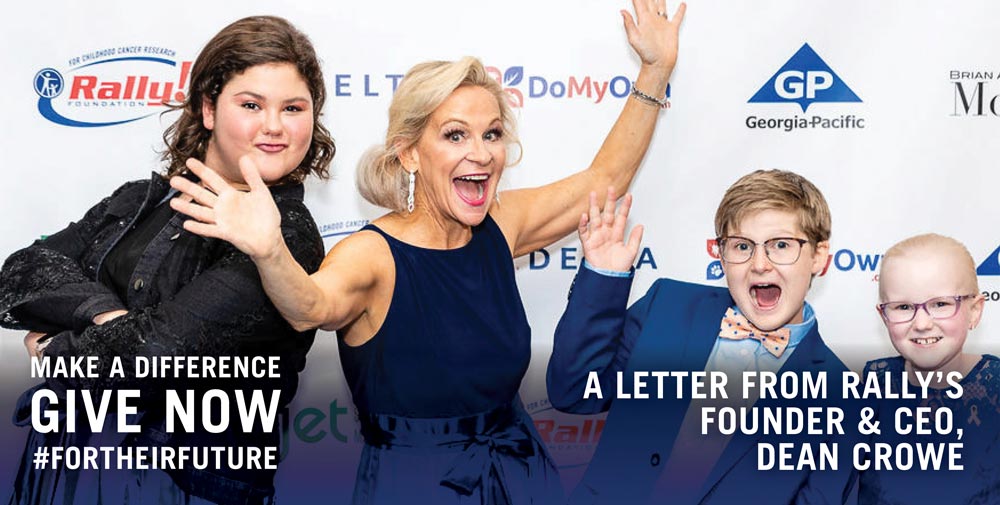 Thank you for caring about kids fighting cancer.
It was 16 years ago that I walked to my mailbox and inside was a letter from the IRS saying that the Rally Foundation for Childhood Cancer Research had been approved as a 501(c)(3). I remember holding that letter in my hand and thinking that God had way bigger plans than I could ask for or imagine.
Today, I stand in amazement at all we have done together. And I say we, because without you, without your hearts, hands and financial support, all that we have accomplished and are accomplishing would not be possible. Thank you!
To date, we have given more than $22M, funding more than 400 childhood cancer research projects across the country and worldwide.
When I held that letter, I certainly never imagined guiding Rally through a global pandemic. It was a challenging time, but through the unwavering support of donors like you, we were able to give over $2.2M, funding 55 research grants. We also increased our family emergency fund to help 332 Rally families pay their bills and provided 9,000 meals to hospitals this year. Over the past year, we successfully advocated with D.C. via Zoom and secured $10M in new federal funding for research supporting cancers in children, adolescents and young adults bringing the total of new government funding to $29M.
You made all of this possible. Together, we are #GOLDSTRONG for all kids fighting cancer, the #1 disease killer of kids in America. Thank you!
I am sharing this picture with you because it speaks volumes about Rally. It represents our reality. Today, Rally Kid Ethan is doing great. He is now a full-on teenager living life without chemo pills and steroids. Rally Kid Grace's impact in her short life remains an inspiration every single day and is a reminder that we have much more work to do. You allow us to do that work with your generous donations. Thank you!
This picture rounds out our reality. Rally Kid Caroline is fighting a brain tumor for the fifth time. She is here today because of Dr. Ted Johnson's research that your donations allowed us to fund. His cutting-edge research has advanced to a Phase 2 Clinical Trial. I know that Caroline's family is beyond grateful and so are many other children's families who have also been on Dr. Johnson's trial.
At Rally we think outside the box and fund the best and most promising ideas that have been reviewed and scrutinized by leading experts. We see ourselves as philanthropic seed investors in the next great discovery. We fund early and stick with the research as it makes progress.
We are on the edge of seeing Rally-funded research make more incredible, life-saving breakthroughs.
Because of your generosity, Rally-funded researcher Dr. Gregory Friedman's discoveries for pediatric brain cancer were published in the New England Journal of Medicine (NJM) and Dr. Adam Durbin discoveries for neuroblastoma were published in Cancer Discovery.
Both projects are poised to bring new drugs and treatments to kids fighting the childhood cancer beast. That is because of you. Thank you!
There are many more exciting discoveries on the horizon. Without you, Rally could not make the financial investment into the next great discoveries for these brave kids. Thank you!
So as this amazing year comes to a close and you consider where your funds can make an enormous impact, a world changing and life changing impact, please know that Rally is that place.
Your financial support is critical to Rally continuing to make difference for kids fighting cancer. Please make a donation today #FORTHEIRFUTURE
Thank you and Rally On!