Rally Awards Most Grants Ever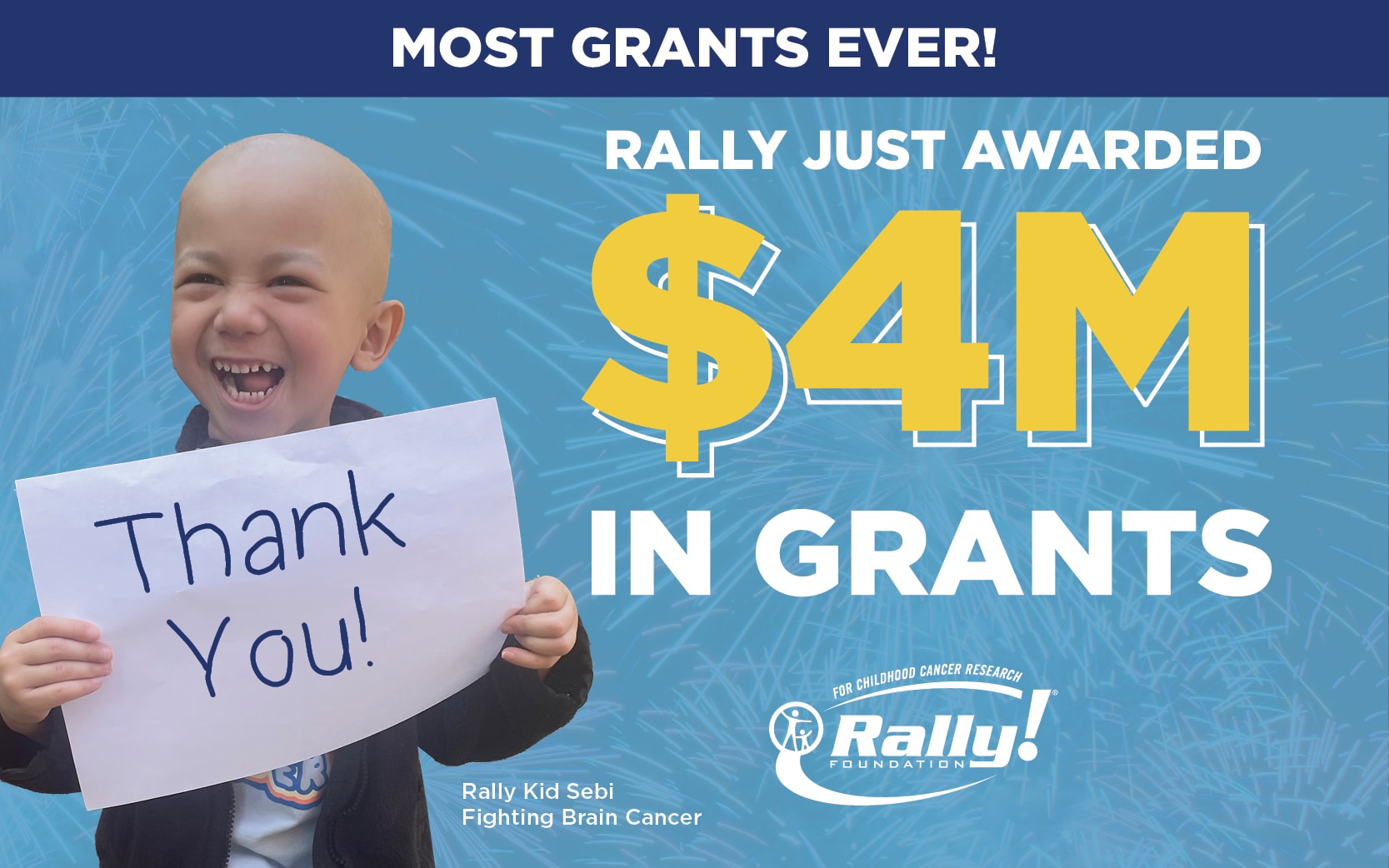 Rally Foundation for Childhood Cancer Research Awards $4 Million in 2023
In 2023, Rally Foundation for Childhood Cancer Research ("Rally") will award a total of $4 million to 57 researchers across 30 institutions worldwide – the largest number of childhood cancer research grants ever to be distributed since Rally was founded in 2005.
"This brings the total amount of research funds that Rally has awarded to $29.4 million – and it is the highest amount we have been able to award in one year," says Dean Crowe, Founder and CEO. "In 2022, we were delighted by the significant increase in funds raised thanks to our grassroot supporters, special events and incredibly generous corporate donors. Our mission speaks to all: to fund the best research wherever it may be to help find better childhood cancer treatments with fewer long-term side effects and, ultimately, cures."
Rally grants are awarded based on a competitive dual peer-review process conducted by Rally's Medical Advisory Board, which is made up of leading childhood cancer experts. The grants fund all levels of research, from science at the bench to translational, and they include fellows, young investigators and independent investigators.
This year Rally will also award its Career Development Award for the second time, a three-year $300,000 grant that supports a promising researcher in recognition of his or her work. The first two recipients of this grant were Dr. Jezabel Rodriguez-Blanco of MUSC and Dr. Benjamin Huang of UCSF.
Rally encourages other childhood cancer organizations to collaborate and co-fund research projects together, and successfully administers Collaborative Pediatric Cancer Research Awards Program. To streamline the application process for researchers and foundations, returning organizations that were part of this year's Collaboration include The Truth 365, Kids Join the Fight, Infinite Love for Kids Fighting Cancer, Luke Tatsu Johnson Foundation and CureSearch for Children's Cancer, while the Mighty Millie Foundation and The Power of Will joined for the first time. Rally is also working with Kids Join the Fight and new partner, CureMEC, for Outside the Box Grants that will be announced in the late summer of 2023.
"We are so grateful to all who have taken the #RallyFit47 Challenge, attended a Rally signature event like Rally On the Runway or the annual Rally Benefit Bash, collected change through 4 Quarters 4 Research, asked for donations in lieu of birthday gifts, or made charitable gifts to Rally through any of our programs," said Crowe. "Every dollar matters. It could just be that dollar that finds the cure!"
Again this year, Rally received a perfect score of 100 from Charity Navigator for financial health and transparency, further encouraging Rally's generous family of supporters who are thrilled that 93 cents of each donated dollar goes to support the mission.
Rally is proud to be funding the best and the brightest researchers. This year's awards include 57 grants given to 14 Consortiums, 16 Independent Investigators, 16 Young Investigators, 6 Fellows and 5 Career Development Awards.
CAREER DEVELOPMENT AWARDS
Funded by Rally Foundation
Columbia University: Dr. Robyn Gartrell for Effect of Radiation and CD47 on Microglia in Diffuse Midline Glioma (DMG)
Dana-Farber Cancer Institute: Dr. Riaz Gillani for a Mechanistic & Computational Interrogation of DNA Damage in Ewing Sarcoma
The Children's Hospital of Philadelphia: Dr. Jennifer Kalish for Pediatric Liver Cancer Formation in Beckwith-Wiedemann Syndrome
Baylor College of Medicine: Dr. Jeremy Schraw for Integrating Epidemiology and Genomics to Characterize Rare Childhood Tumors
Co-Funded by Rally and a Collaborative Partner
Memorial Sloan Kettering Cancer Center: Dr. Michael Ortiz for Clinical Translation of an XPO1 Dependency in Select Pediatric Solid Tumors, co-funded by Rally Foundation and Infinite Love for Kids Fighting Cancer
BRAIN AND CENTRAL NERVOUS SYSTEM CANCER GRANTS
Funded by Rally Foundation
Washington University: Dr. Mohamed Abdelbaki for Natural Killer Cells in Children with Recurrent Malignant Brain Tumors
Children's Research Institute: Dr. Hayk Barseghyan for Deciphering the Structural Complexities of Pediatric Low-Grade Gliomas
The Children's Hospital of Philadelphia: Dr. Adam Resnick for Children's Brain Tumor Network: Accelerating Discovery & Clinical Trials
Co-Funded by Rally Foundation and a Collaborative Partner
Baylor College of Medicine: Dr. Jamie Anastas for Targeting the SAGA Chromatin Regulatory Complex in DMG, co-funded by Rally Foundation and Kids Join the Fight
University of Alabama at Birmingham: Dr. Rintaro Hashizume for Targeted Inhibition of EZH2 and BET BRD4 for the Treatment of AT/RT, co-funded by Rally Foundation and Kids Join the Fight
The Hospital for Sick Children: Dr. Cynthia Hawkins for Integrated Characterization of Disseminated Pediatric Low-Grade Glioma, co-funded by Rally Foundation and Kids Join the Fight
SonALAsense, Inc.: Dr. Stuart Marcus for A Phase 1/2 Study of Sonodynamic Therapy Using SONALA-001 and Exablate 4000, co-funded by Rally Foundation and Kids Join the Fight
Augusta University Research Institute: Dr. David Munn for Novel Combination Immunotherapy for Pediatric Brain Tumors, co-funded by Rally Foundation and CureSearch for Children's Cancer
The Hospital for Sick Children: Dr. Vijay Ramaswamy for New Therapies for Very High-Risk TP53 Mutant Medulloblastoma, co-funded by Rally Foundation and Kids Join the Fight
National Brain Tumor Society: Dr. Kirk Tanner for The DNA Damage Response (DDR) Consortium, co-funded by Rally Foundation and Kids Join the Fight
Dana-Farber Cancer Institute: Dr. Jessica Tsai for Dissecting FOXR2-mediated Oncogenesis in Diffuse Midline Gliomas, co-funded by Rally Foundation and Kids Join the Fight
Co-Funded by Collaborative Partners
University of Michigan: Dr. John Prensner for Oncogenic uORFs as the Next Frontier for Medulloblastoma Target Genes, co-funded by The Truth 365 and Kids Join the Fight
BLOOD CANCER GRANTS
Funded By Rally Foundation
Jude Children's Research Hospital: Dr. Austin Boucher for Investigating the Mechanisms Driving the Myeloid Leukemia of Down Syndrome
University of Michigan: Dr. Mark Chiang for Notch-independent Transcriptional Circuits in ETP-ALL
Rutgers Biomedical and Health Sciences: Dr. Daniel Herranz for the Role of Glutamine Synthetase as a Therapeutic Target in Pediatric T-ALL
Dana-Farber Cancer Institute: Dr. Brigit Knoechel for Interrogating T-cell Subsets and their Role for Treatment Response in T-ALL
The Children's Hospital of Philadelphia: Dr. Susan McClory for Molecular Drivers of Long-term CAR T Cell Response in Patients with B-ALL
Baylor College of Medicine: Dr. Rachel Rau for HTS of the Ig loci for Refined Risk Stratification in Pediatric B-ALL
Yale University: Dr. Xiaolei Su for Engineering High Efficiency CAR Ts for B Cell Cancer
Co-Funded by Rally and a Collaborative Partner
Leland Stanford Junior University: Dr. Mohammad Balood for Evaluation of Neoantigen-specific T Cells in Human Murine Model of AMKL, co-funded by Rally Foundation and the Luke Tatsu Johnson Foundation
Boston Children's Hospital: Dr. Alan Cantor for RNA-based Sensor Treatment of Fusion Molecule Driven Pediatric Malignancies, co-funded by Rally Foundation and The Truth 365
Dana-Farber Cancer Institute: Dr. Jana Ellegast for Exploiting Inflammatory Signaling in Childhood Leukemia, co-funded by Rally Foundation and The Truth 365
Johns Hopkins University: Dr. Linda Resar for Targeting HMGA1 Enhancers in MLL-r Pediatric Leukemia, co-funded by Rally Foundation and the Luke Tatsu Johnson Foundation
SOLID TUMOR GRANTS
Funded by Rally Foundation
Baylor College of Medicine: Dr. Atreyi Dasgupta for Tumor Derived Extracellular Vesicle in Preparation of Lung Metastatic Niche
Children's Research Institute: Dr. Adriana Fonseca for Clinical and Molecular Characterization of DICER1-mutant CNS Sarcomas
Dana-Farber Cancer Institute: Dr. Lindsay Frazier for New Therapeutic Insights into Germ Cell Tumors by Exploring Age Differences
The Children's Hospital of Philadelphia: Dr. Anna Maria Giudice for Investigating the Intersection of CAR T Cells and EVs in Neuroblastoma
Children's Hospital Los Angeles: Dr. Miller Huang for Evaluating the Role of Chromosome 17q Gain in Neuroblastoma
Johns Hopkins University: Dr. Christine Pratilas for Deconvoluting Mechanisms of Resistance to SHP2 Inhibition in NF1-MPNST
Children's Hospital of Pittsburgh Foundation: Dr. Edward Prochownik for A Common Set of Genes that Mediate Transformation in Pediatric Liver Cancer
Jude Children's Research Hospital: Dr. Noha Shendy for Interrogating the Neuroblastoma Chemoresistant Cellular State
The Rockefeller University: Dr. Sanford Simon for Genome Wide Association Studies in Fibrolamellar Carcinoma
Dana-Farber Cancer Institute: Dr. Srinivas Viswanathan for Targeting the Oxidative Stress Response in TFE3 Fusion Cancers
The University of Chicago: Dr. Samuel Volchenboum for Rally HIBiSCus Grant 2022
The Hospital for Sick Children: Dr. Rosanna Weksberg for Early Wilms Tumor Diagnosis by Cell-free DNA in Beckwith-Wiedemann Syndrome
Co-Funded by Rally and a Collaborative Partner
The Research Institute of Nationwide Children's Hospital: Dr. Long-Sheng Chang for Anti-tumor Synergism of Combined eIF4A and XPO1 Inhibition in Osteosarcoma, co-funded by Rally Foundation and The Power of Will
Emory University: Dr. Kelsey Jonus for Optimizing Allogeneic Gamma Delta T Cellular Therapy for Neuroblastoma, co-funded by Rally Foundation and The Truth 365
Johns Hopkins University: Dr. Patience Odeniyide for Identifying Drivers of Treatment Resistance in HRAS-mutant Rhabdomyosarcoma, co-funded by Rally Foundation and Infinite Love for Kids Fighting Cancer
Johns Hopkins University: Dr. Christine Pratilas for Molecularly Targeted Therapies for Fusion-negative Rhabdomyosarcoma, co-funded by Rally Foundation and Mighty Millie Foundation
Dana-Farber Cancer Institute: Dr. Nina Weichert-Leahey for Epigenetic Reprograming of Neuroblastoma Enhances Differentiation, co-funded by Rally Foundation and Infinite Love for Kids Fighting Cancer
The University of Texas Southwestern: Dr. Yanbin Zheng for Ectopic PLAG1 Plus Loss of p53 Drives Rhabdomyosarcoma, co-funded by Rally Foundation and Infinite Love for Kids Fighting Cancer
MIXED BRAIN/CNS, SOLID TUMOR AND BLOOD CANCER GRANTS
Funded by Rally Foundation
University Children's Hospital Wurzburg: Dr. Ignazio Caruana for Restoration of the Autophagy Machinery in Chimeric Antigen Receptor T Cells
Co-Funded by Rally and a Collaborative Partner
The Children's Hospital of Philadelphia: Dr. Erin Runbeck for Targeting PRAME with Peptide-centric CAR T Cells in Pediatric Malignancies, co-funded by Rally Foundation and Infinite Love for Kids Fighting Cancer
SURVIVORSHIP/QUALITY OF LIFE GRANTS
Funded by Rally Foundation
University of Alabama at Birmingham: Dr. Smita Bhatia for Enhancing 6MP Adherence in Adolescents with ALL: Strategy for Dissemination
Fred Hutchinson Cancer Center: Dr. Neel Bhatt for Feasibility and Acceptability of a Return to School Intervention
University Center Hospital Sainte-Justine: Dr. Hallie Coltin for Risk of Adverse Mental Health Sequelae in Fathers of Children with Cancer
Seattle Children's Hospital: Dr. Rebecca Gardner for Prospective Evaluation of Delayed Effects of Pediatric CAR T Cell Therapy
Emory University: Dr. Xu Ji for Assess Neighborhood Deprivation and Racial Segregation for Childhood Cancer
Seattle Children's Hospital: Dr. Brittany Lee for Communication with Caregivers about Tumor Genomic Sequencing
Baylor College of Medicine: Dr. Casey McAtee for Eliminating Abandonment of Pediatric Cancer Therapy in Malawi
Seattle Children's Hospital: Dr. Timothy Ohlsen for Financial Toxicity and Development of a Caregiver-reported Outcome Measure