New RNA Therapies for Glioblastoma from Small Phase 1 Study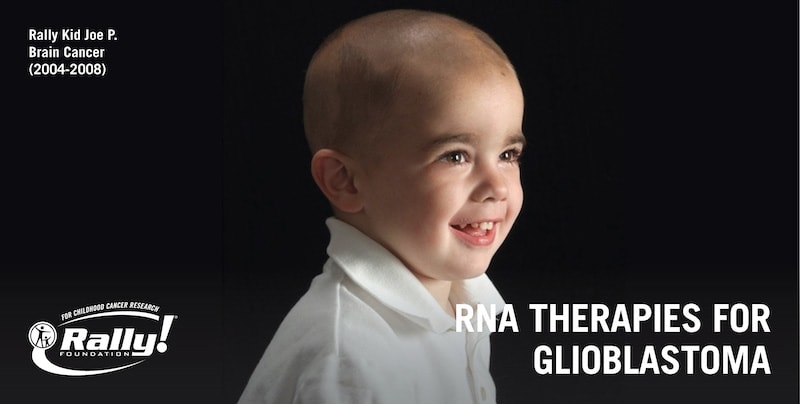 Glioblastoma (GBM) in children and adults is a deadly brain tumor with a poor prognosis.
Current treatment includes surgery to remove as much of the tumor as possible, followed by radiation and chemotherapy.
Unfortunately, most patients still experience tumor growth despite the treatment and have a median survival of less than two years. 
Immunotherapy has shown success in the treatment of other types of tumors, but that success has been elusive with malignant brain tumors, such as GBM.
However, new ribonucleic acid (RNA) based immunotherapy is showing promise in treatment for GBM.
Rally-funded researcher Elias Sayour, MD, PhD, and his team at the University of Florida recently published exciting discoveries focusing on the utilization of RNA dendritic cell (DC) vaccines and RNA nanoparticle therapies in the treatment of GBM.
RNA-based therapies offer clear advantages over other therapies, but there have been historic challenges with administration due to biological instability and resulting harsh side effects to the patient.
Fortunately, recent advances show messenger RNA (mRNA) can now be protected and delivered safely into cells using nanoparticles, with reduced patient side effects compared to previous studies.
Once delivered, the cells build a foreign protein that would normally be produced by a cancer cell.  The protein molecules stimulate an adaptive immune response which prepares and teaches the body to identify and destroy cancer cells.
Dr. Sayour's team finds RNA-pulsed DC vaccines to be safe in a small Phase I clinical trial, and RNA-loaded nanoparticle vaccines will soon be underway in a bigger study for GBM patients.
The study offers great hope in the treatment of glioblastoma. Rally is thrilled to be a funder of this project.