By Kayla Colson, Ewing's Sarcoma Survivor
My name is Kayla Colson. I am a Rally Kid and a realtor in Nashville, and I have joined Rally as a Community Partner in 2017.
In 2010, I was diagnosed with Ewing's sarcoma at the age of 20. Ewing's sarcoma is a bone cancer that occurs most frequently in children and teens. I would undergo several surgeries, chemotherapy and radiation therapy, all while being unable to walk and spending weeks, even months, in the hospital. I have to admit that this would have been just as bad as it sounds had I not been treated at the Monroe Carell Jr. Children's Hospital at Vanderbilt.
One night, just before my tumor resection and limb salvage surgery, a couple came to the hospital to spend their New Year's Eve in the children's cancer wing. They brought pizza and Coke and were kind enough to share both their dinner and their story with me.
A couple of weeks later, that same lady remembered that I was having my surgery, and she came over to the adult side to greet me with soup, flowers and hand-knitted hats to keep my head warm in the winter. The woman's name was Elaine Kay, and her son had survived Ewing's sarcoma a few years earlier. He was actually one of the first patients to undergo the chemotherapy regimen I was on at the time. Her nickname around town is "Saint Elaine," and she is the director of Nashville's chapter of the Rally Foundation for Childhood Cancer Research. She was my door into the world of Rally.
The Children's Hospital at Vanderbilt opened my eyes. You see the commercials for St. Jude and Children's Miracle Network, but you don't really understand the struggles until you see them firsthand. I saw it firsthand, time and time again.
There were people my age in that wing whose babies were undergoing bone marrow transplants. I met a couple that had found a grapefruit-sized tumor in their 1-year-old daughter. There were teens and children in middle school going through the same thing that I was. The journey was hard on me, sure, but I couldn't imagine being taken out of my junior year of high school to do this, or having to leave the 6th grade and all of my friends. How impossible it must be for an 8-year-old to trade her blonde locks for a bald head.
DONATE IN HONOR OF KIDS FIGHTING CANCER
One of the miracles was witnessing how these tiny people handled their diseases like warriors. There was one young girl, who, during one of her toughest stays at the hospital, made me a bracelet to help keep me strong. I still have that bracelet. Every time I see it, it reminds me how lucky I am and how much good there is in this world. These kids made it easy for me to fight. At one point, early on, looking at the bright side came naturally. I wholeheartedly believe that this was because of those kids and the Children's Hospital.
Most people don't know this, but right after graduating with a degree in microbiology focused on genetics, I spoke with a doctor at Vanderbilt Children's with the hopes of working with him on his research. He informed me that he had just been forced to let his lab assistant go because there wasn't enough funding to pay him. Can you believe that? Can you believe that pediatric oncology is one the lowest paid positions you can have as a specializing MD? Childhood cancer research is underfunded not because people don't care, but because people aren't reminded or given simple means to help make changes.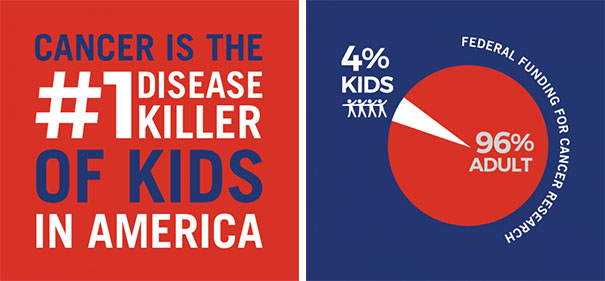 Well, I am doing something about that. In the past year, I've been re-diagnosed with Ewing's sarcoma and have finished my second battle. After this past chemotherapy extravaganza, I was ready to move away from the medical field (I previously achieved my lifelong dream of going to dental school) and wanted to help people in a completely different way.
I am now a Realtor in the Greater Nashville area, and I have honestly never been happier. I've chosen this path so that I can help people find the place they will call "home," the place they will burn their first dinner, raise their children and wake up on Christmas morning. Being a realtor comes with so much responsibility, and I am truly honored any time someone lets me play a part in the purchase of their home.
I am thankful for every opportunity I have to make someone's day better. Everyone has something that they battle. My battle was cancer. I could spend my time dwelling on the past and being worried about what might have been, or I could skip that step. I have all of this energy to give, and I choose to channel that energy into positivity. I do what I can to contribute to Rally in order to make a difference. In the past, I have given my time every chance I get, whether supporting an event or addressing, stuffing and mailing invitations. Now I have the opportunity to make a monetary contribution, and I am taking it!
For every transaction, I will donate $100 of my earnings to Rally – Nashville at closing. In addition, I am inviting my clients to make a contribution as well. My goal at the end of the year is to raise $2,000 for Rally. While I hope that number will grow in the future, I see this as a great start, and I can't wait to cut that check at the end of the year! I plan to send every client a personal letter disclosing the final amount that we were able to contribute towards the fight against childhood cancer. In the meantime, you can track my progress via my Rally fundraising site.
If I can use my career as an outlet to spread awareness for childhood cancer and raise money for Rally, then it's a win-win-win. How perfect is that?! Hopefully this will inspire others to do the same, and we can knock this disease on its bottom! If the children who I have met on my journey had been born 10 years earlier, their chances of survival would be less than they are today. It is because of community involvement in organizations like Rally that research can be funded to improve treatments and find cures for these little humans who are fighting for their lives.
I chose Rally because the organization makes it easy to give back, and they fund the best and most-promising cancer research projects around the globe, including research at Children's Hospital at Vanderbilt, which is so near and dear to my heart. I am enamored by the people and the message behind this organization and will continue to advocate for them in the future. I hope you will considering joining the Rally. Now is the perfect time to get involved, just in time for Childhood Cancer Awareness Month in September.
BECOME A RALLY COMMUNITY PARTNER
If you know of someone looking for a home, or you yourself are wanting some information on buying or selling a home of your own, I would absolutely love to work with you. Together we can find you a home and make a difference for kids fighting cancer at the same time!
Cheers to always finding joy, peace and greatness within ourselves,
Kayla Colson