Pediatric Cancer Dad Discovers a Promising Novel Approach to Wilms' Tumors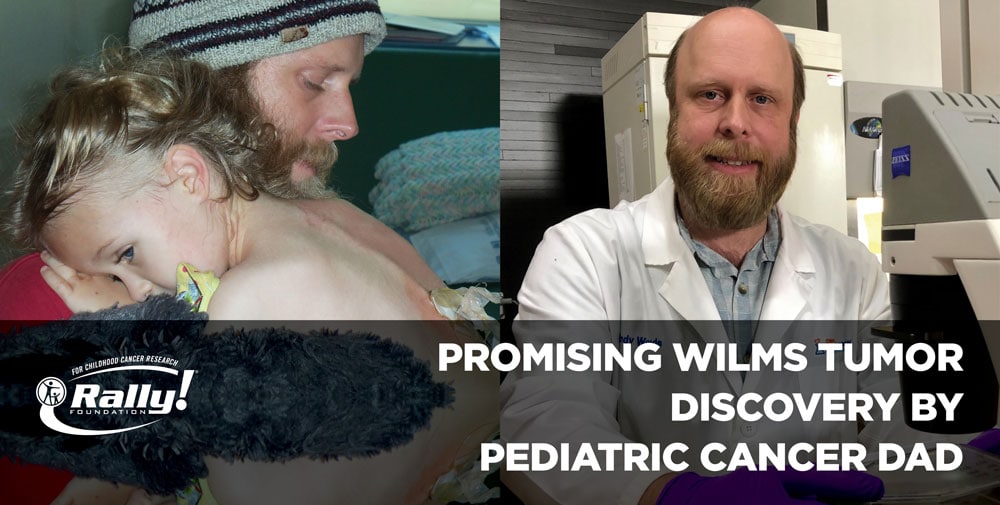 Rally Foundation for Childhood Cancer Research (Rally) likes funding outside-the-box ideas and, at times, funding outside-of-the-box researchers: those who we normally not consider as a scientific researcher.
Rally is thrilled to share recent developments from an outside-the-box researcher and his study of Wilms' Tumor. The study emerges from the Children's Cancer Therapy Development Institute (cc-TDI) in Beaverton, Oregon, in collaboration with Memorial Sloan Kettering Cancer Center.
Rally-funded researcher Andy Woods leads the study published in Pediatric Blood & Cancer (link Pediatric Blood & Cancer).
But first, who is this outside-of-the-box researcher Andy Woods?
Andy Woods is a college-educated stone and tile mason from Montana. He is also a Dad. A dad who heard the devasting words, "Your child has cancer."
When his daughter, Stellablue, was four years old, she was diagnosed with Wilms' tumor, a pediatric kidney cancer. In a recent article, Andy stated, "The thought of losing our daughter threw me into Super Dad mode."
Living in Montana, treatment options were limited, and doctors told Andy he had 24 hours to get Stellablue to a Seattle, Denver, or Salt Lake City hospital for emergency surgery and treatment. So, knowing no one in Denver or Salt Lake, the family headed for Seattle.
On the way to the hospital, Andy reached out to a friend from college. He had not seen her in years but had recently reconnected with her on social media. Andy called her en route to Seattle, and she graciously offered his family her basement, giving them a home base during Stellablue's initial treatment.
During Stellablue's treatment, Andy realized Wilms' tumor treatment protocols and therapeutics were decades old and very harsh on the patients' young bodies.
He immediately began educating himself, pouring over scientific journals and learning cancer terminology. He was determined to save his daughter.
Thankfully, Stellablue's treatment was successful, and she made a full recovery.
However, Andy's quest was not complete. He was just getting started, devoted to finding a more promising, less toxic treatment for kids with Wilms'. To do so, he would need to become a scientist. So, he did just that!
cc-TDI founder and Rally-funded researcher Charles Keller, MD, was impressed by Andy's dedication to pediatric cancer research. Dr. Keller hired Andy as a researcher and provided the tools, grant writing expertise, and professional support needed to launch his Wilms tumor research study.
Andy is now a Senior Research Associate at cc-TDI and a published world expert in the field.
Now that you know his backstory, we are excited to share Andy's published discoveries and a bit more about Wilms' tumors.
Wilms' tumor is the most common form of pediatric kidney cancer. There are two types of Wilms tumors, those lacking anaplasia (favorable histology) and those with anaplastic features (unfavorable histology). Anaplasia describes cancer cells that divide rapidly and have little or no resemblance to normal cells.
Anaplastic cancers can be very unpredictable and challenging to treat. Hence, Wilms' tumor with unfavorable histology does not respond as well to standard treatments, and results in poorer outcomes.
When Andy and his team started their work, they looked closely at the MYCN gene, which is important for cell growth. Abnormalities of MYCN had been identified as a driver in various pediatric solid tumors but had yet to be studied or targeted in Wilms' tumors.
Directly targeting MYCN has been notoriously difficult, so Andy's team chose an indirect approach, focusing on the bromodomain 4 (BRD4) gene to indirectly target MYCN. The study shows BRD4 inhibition successfully reduced MYCN levels in a large cohort of both anaplastic and non-anaplastic Wilms' tumor cell lines and reduced tumor volume in mouse models. The findings validate BRD4 inhibition as a promising new approach to target MYCN-driven Wilms' tumors and encourage further exploration for therapeutic potential.
As for next steps, Andy is continuing his Wilms' studies with cc-TDI. He is also headed to graduate school at Oregon Health & Sciences University (OHSU), where he plans to obtain a Ph.D. in Cancer Biology.
This story is personal and close to my heart because my daughter Gwyneth is a Wilms' tumor survivor. I had the opportunity to meet Andy at cc-TDI in 2017. His knowledge of pediatric cancer and dedication to his family was incredibly inspiring.
Andy is now a friend, and I know his work makes a difference. I am thrilled Rally saw the potential in Andy's work and helped fund his study. As a result of Andy's research and study findings, there is now a pre-clinical foundation for a new therapeutic approach in Wilms' tumor that is incredibly promising for our Wilms' tumor warriors.
Your generous donations to Rally made this possible.
This mom thanks you, as do countless other parents who heard the news, "Your child has cancer."
Please consider donating today so Rally can continue to fund cutting-edge childhood cancer research through its dual peer-review process.