Oh, What a Year!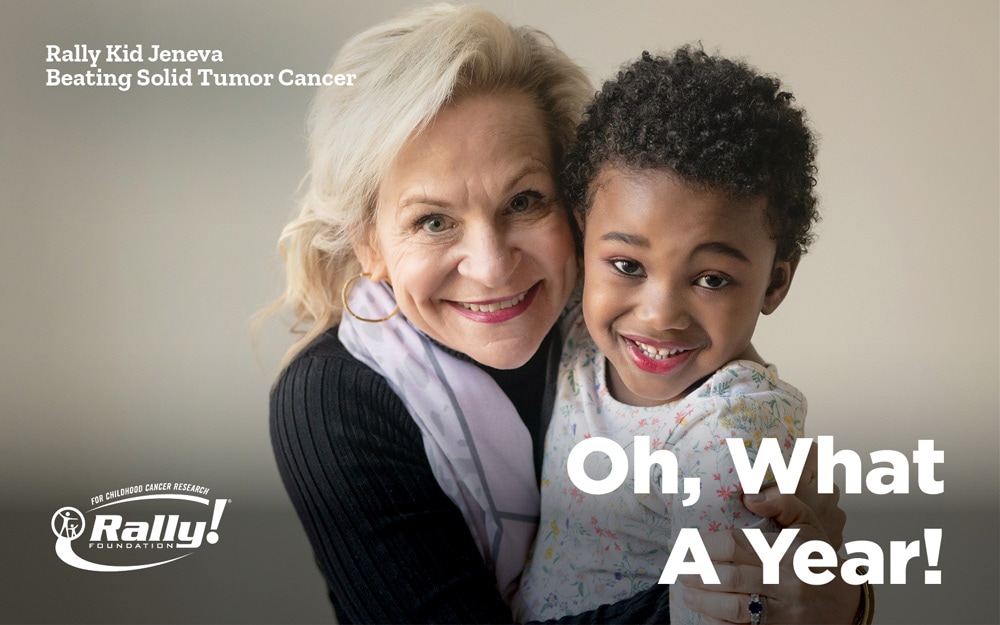 Oh, what a year!
As you know, we take every dollar given to Rally seriously. It could be the dollar that finds the cure for children fighting cancer. And sometimes kids, like Keren, must fight more than one cancer.
Your donations matter. Every dollar matters. Please give today #ForTheirFuture.
Thank you for entrusting Rally with your generous gift. Without you, none of what I am about to share would be possible.
For the second year in a row, Rally has received a PERFECT SCORE OF 100% FROM CHARITY NAVIGATOR. This makes Rally the highest rated childhood cancer charity funding research nationally and internationally and providing family support.
This year through Rally's dual peer review grant process, we granted $3.4 million to fellows, young investigators, independent investigators and consortiums bringing our total to $25.4 million and 457 research projects across the U.S. and internationally.
Rally was honored to be invited to the White House in September for a briefing providing an update on childhood cancer research. Thanks to you, our voices are being heard.
Rally continues to be the national advocacy leader to secure federal funding from the Department of Defense. This effort is possible because of your financial support.
Hello! This year, $53 million in new federal funding from the Department of Defense was paid directly to researchers for eight different cancers that affect children, adolescents and young adults. Thank you.
Rally believes that we are stronger when we work together with like-minded foundations. This year Rally co-funded childhood cancer research projects with seven organizations. We are #GOLDSTRONG united for all kids fighting cancer.
As you know, Rally sees itself as philanthropic seed investors in the next great discovery. And we don't mind thinking outside the box to find the next great discovery.
Childhood cancer is the #1 disease killer of kids in America, and we must think outside the box to find better treatments with fewer long-term side effects and, ultimately, cures.
As you read about these amazing accomplishments, know that they are possible because of you and your continued support. Your generous donations are for their future.
In 2017, after losing three incredible teenagers, all with bright futures, to osteosarcoma (bone cancer), I remembered Dr. Elias Sayour from the University of Florida saying that he thought his promising brain tumor research would also work in osteosarcoma.
I called him and asked him to apply for a Rally grant.
His application was dual peer reviewed, received a favorable score, and he was awarded a $50,000 seed grant for osteosarcoma research.
We continued funding Dr. Sayour because his research was making progress.
Fast forward to October of this year when I received a phone call from Dr. Sayour.
He was ecstatic that 'our osteosarcoma research' received a $3 million grant from the National Institutes of Health for a Phase I clinical trial. Yes, he said 'our research' because without your donations, this research never would have happened. Thank you.
We never forget at Rally that behind each success there is a child and a family fighting the cancer beast.
We were so excited that 6-year-old Ailani  was going to share her story at our largest fundraiser in November.
She has ALL, the most curable childhood cancer. Unfortunately, she has a super stubborn case that is resisting treatment.
Ailani  had to cancel two weeks before the event. Her family had been waiting and received the exciting news that she was going to be admitted to a clinical trial at the Children's Hospital of Philadelphia!
And guess what? Your generous donations helped to fund that trial.
Your donations give tangible hope to parents for their child's future. Thank you.
Your donations allow us to feed families in the hospital through our Rally Good Meal Program. Currently we are serving meals in seven hospitals from Florida to Utah.
Your donations, through the Rally Family Emergency Fund, provide financial assistance to families fighting the childhood cancer beast that not only wreaks havoc on their child's health but also their finances.
Your donations are making a difference today and for their future. We are grateful.
And we are grateful when we see Rally Kids grow up and experience their future. Rally Kid Andrew got married this fall and Rally Kid Lexy welcomed a baby girl. You helped make this possible. Thank you.
As we close the year, and what a year it was, we would be honored and ask that you generously continue your support for kids fighting cancer. Please give #ForTheirFuture to be one of promise and hope.
Rally On!