Give the Gift of Hope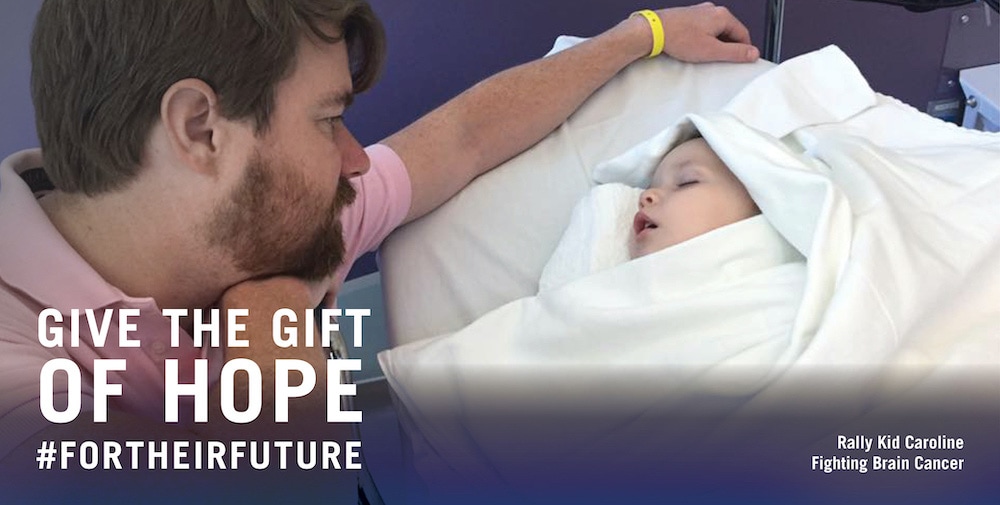 "There's no handbook when your daughter is diagnosed with cancer," sighed Matt, Rally Kid Caroline's Dad.
When Matt and Jamie were starting their family, Jamie gave Matt a book called "How to Be a Dad," which taught him how to change diapers and take care of a baby.
But nothing could prepare him to hear the devasting words: Your 3-year-old daughter has brain cancer.
Cancer is Caroline's norm, it's really all she's ever known. She's grown up in hospitals and greets nurses and Rally staff like old friends.
She has fought cancer five times.
"At first, going to the hospital was a game. But as she's gotten older, she's starting to realize the emotional weight," her dad says. "She's dealing with adult issues. Kids shouldn't have to deal with this."
Today, Caroline is a spunky 7-year-old. She loves goofing off with her brothers, spending time with her parents, and eating her mom's mac and cheese.
Her dad shared that Caroline loves spending time with Rally. She always enjoys the exciting and fun things Rally invites her to do.
She had the honor of completing the first kick at the Atlanta United soccer game.
She's strutted her stuff on the arm of Ben Garland at Rally On the Runway and may have done a flip!
And stood on the field at Mercedes Benz Stadium as Honorary Captain for the Atlanta Falcons.
But mostly, she just loves hanging with the Rally team, running around, and laughing. Her zeal for life is contagious.
But these moments of joy do not outweigh the pain of fighting cancer.
"Treatment hurts," she says, and Caroline misses her family while she's in the hospital.
She'd much rather wake up to the smell of her mom's cinnamon rolls in the morning and force her brothers to play Barbies instead of waking up to the constant beeping of hospital machines.
Caroline has experienced more in her seven years of life than most of us ever will.
Her family is by her side.
Her friends cheer her on.
And Rally is right there doing all we can to fund research for better treatments and cures.
This year, it's more important than ever to donate to Rally.
Childhood cancer research must grow faster than Caroline's tumors.
Donate today to directly impact the life-changing research.  Give now #ForTheirFuture.