Rally Foundation Receives Perfect Score from Charity Navigator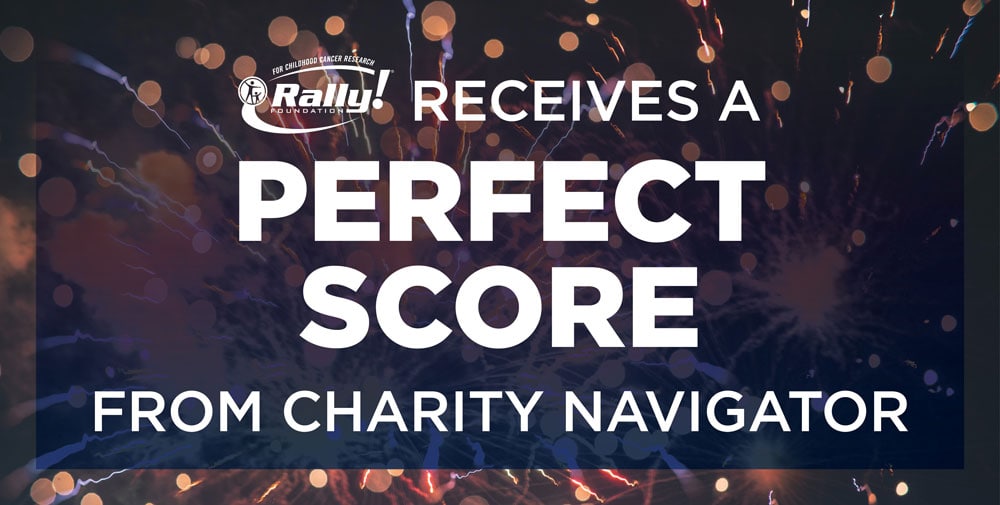 We are thrilled to share that Rally Foundation for Childhood Cancer Research (Rally) has received a perfect score of 100 for financial health and transparency from Charity Navigator, the nation's largest independent charity evaluator and leading donor advocate. Rally is now the top-rated childhood cancer charity funding research in the U.S. and worldwide.
Charity Navigator explains, "Less than one percent of the thousands of charities rated by Charity Navigator have earned perfect scores. We applaud these charities for exceeding industry standards and outperforming other organizations performing similar work."
"To earn this perfect score is exciting! It is the result of our team and Board working diligently to make sure Rally is achieving our mission while paying close attention to our financial health. This includes measures of stability, efficiency and sustainability with a focus on accountability and transparency to ensure good governance," says Dean Crowe, Rally Founder and CEO.
4-Star Rating = Exceptional!
Since 2013, Rally has earned Charity Navigator's highest four-star rating, and this is the first year Rally earned a perfect score of 100.
Rally's Overall Score of 100 is calculated from two sub-scores, Finance, and Accountability & Transparency. This score represents Form 990 data from 2021, the latest year published by the Internal Revenue Service.
Rally is proud of this accomplishment and takes every dollar donated seriously as it could be the dollar that finds a cure. For every dollar raised by Rally, 93 cents goes directly to supporting our mission: to raise awareness and funds to bridge the gap in childhood cancer research funding across the country and find better treatments with fewer long-term side effects and, ultimately, cures.
We are delighted that our strong belief in transparency, accountability and efficiency has been awarded Charity Navigator's highest rating and a perfect score.
We remain committed to working hard to keep administrative and fundraising costs low, so we are able to keep funding more research for childhood cancer.
Thank you for your continued support and confidence!