Brain Tumor Network Guides Patients and Empowers Care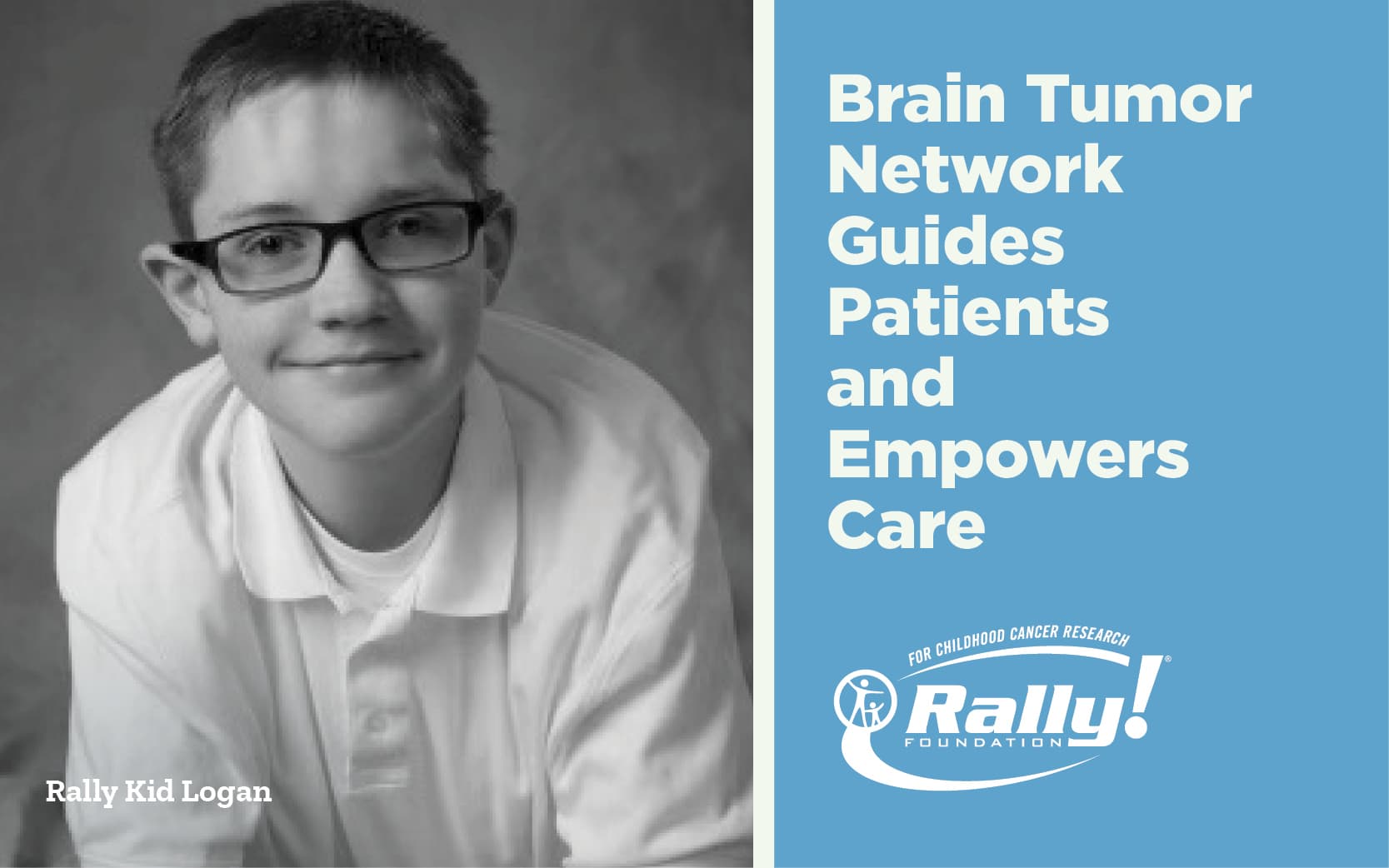 A few months ago, Rally Mom Tiffany shared with Rally Foundation the outstanding support their family has been receiving from the Brain Tumor Network (BTN) for her son and Rally Kid, Logan: "BTN has been a wonderful resource for our family. They are responsive, knowledgeable and compassionate."
BTN is the largest brain tumor patient support organization of its kind in the U.S. Since 2014, BTN has provided free navigation services to almost 2,000 patients.
BTN pediatric brain tumor navigation program provides age-appropriate services for families with children under the age of 18 whose primary diagnosis is a brain tumor.
BTN partners with care teams to meet each individual patient's goal of care.
How BTN Helps
Led by Pediatric Neuro-Oncology Nurse Navigator Jenna Tozzi, BA, RN, BTN's pediatric services include:
diagnosis and treatment options education,
treatment center identification,
facilitation of second opinions with pediatric brain tumor specialists,
personalized, nationwide clinical trial identification and assistance with enrollment,
resources for family support, and
medical records collection and management.
To learn more about BTN's pediatric services and get support, click here.
The Nuts and Bolts
Kendra shared, "People often reach out during one of the most stressful times of their lives, right after a diagnosis, and we are here to offer personalized ongoing support."
"After calling BTN or completing the guest support form on our website, the BTN team will review and assess all needs and assign a nurse navigator. The patients and their families will hear back from a BTN team member within 24 hours. Being able to connect with a person is invaluable. We know that hearing a person's voice, having a human connection, is vital and provides comfort."
"Most importantly, we're here. We help families take this journey step by step, from start to finish. Our team is deeply knowledgeable about brain tumors and can be a guiding force. We understand that sometimes families need a lot of help right in the beginning to get through choppy waters, while others count on our expertise through different stages. We even have a translation service on call to help people for whom English is a second language. BTN can offer bereavement support and can help identify peer and mentor support as well."
Notes Kendra: "We are very fortunate to be able to make an impact without any cost to the patient or his or her family. Our services are provided at no cost to patients, caregivers and healthcare professionals. Additionally, BTN does not receive funding from medical institutions or pharmaceutical companies and does not receive reimbursement or insurance coverage for services, resulting in the ability to provide completely unbiased services."
BTN History
BTN was founded in 2014 as a sister organization of the Sontag Foundation which was launched by Rick and Susan Sontag in 2002 in response to their own experiences.
When Susan was diagnosed with an anaplastic astrocytoma brain tumor, she and Rick wanted to learn as much as possible before saying yes to the usual standard of care.
There was not much information available to them. They felt lost.
Fortunately, Susan was able to get into a clinical trial and lived another 28 years after her serious diagnosis.
"Nobody should feel that lost." – Rick Sontag
During that period, Rick, a successful businessman, started making connections in the neuro-oncology community, especially in the world of brain tumor research and treatments.
Rick and Susan created a family foundation that has become one of the largest funders of brain tumor research, especially seeking out young, boundary-pushing researchers.
Rick's experiences also sparked the inspiration for BTN as he recognized the need to share available resources on a national level, especially since many institutions do not talk to each other.
Starting as a small nonprofit, BTN has grown and has nine adult nurse navigators, one pediatric nurse navigator, and two social work navigators.
"For Rick, BTN is a very personal mission," said Kendra Paabo, Manager, Patient Navigation. "He still comes to the office every day — which is incredibly motivating to our staff. He is a living representation of what BTN and the Sontag Foundation stand for. As is evidenced by the 25% referral rate from health care professionals and providers, BTN is built on twenty years of relationships that he continues to create and foster every day."
To learn more about BTN's pediatric services and get support, click here.