Fund Childhood Cancer Research in Honor of
Rally Kid Gabriel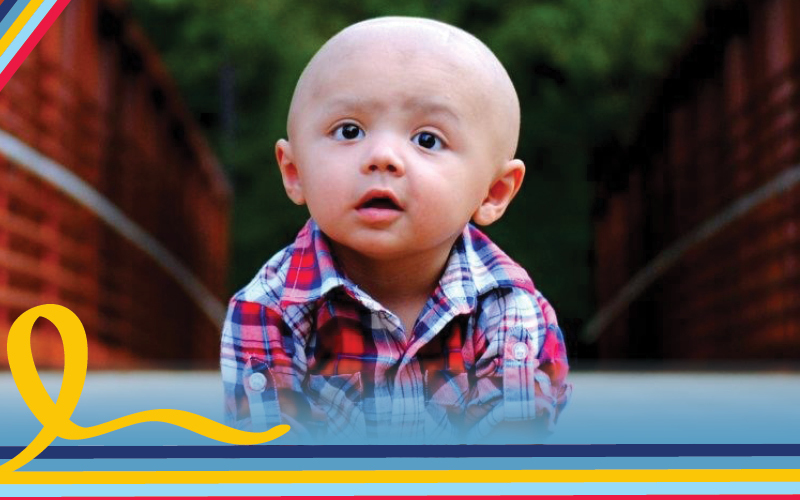 Fund Childhood Cancer Research in Honor of
Rally Kid Gabriel
Gabriel was born February 26, 2010. He weighed 6 lbs and 15 oz. He was 3 weeks early, but completely healthy. Gabriel never had a cold, cough, sniffle, or thrown up. He was always perfectly healthy, extremely happy and laid back.
It all began at Gabriel's 6 month check up. Our wonderful doctor, Dr. Woodhams, told us his growth from his 4 month check up. He was 98% in weight and height, but his head size was off the charts. Dr. Woodhams told us she wasn't concerned because he was a very large baby to begin with, but she thought it would put all our minds at ease if Gabriel got an ultrasound on his head, just to make sure.
I had called our local children's hospital, CHOA Scottish Rite to set up an appointment, but never received a call back from the radiology department. Me and my husband Gilberto decided Gabriel's head was of no concern and that he was just a big boy, and that we wouldn't worry about trying to schedule an ultrasound, But a couple of days later, I called Scottish Rite again to try to schedule the appointment, they apologized for not calling back, and set up an appointment for the following Monday.
September 20th, 2010 we went for Gabriel's ultrasound appointment. They took some pictures, told us they would discuss them with the doctor, and then they came back. "The doctor would like more pictures," the ultrasound tech told us. They took more pictures and went to show the doctor again. When she came back she said "I'm sorry, the doctor needs more pictures." We began to get anxious and nervous. Finally after the 3rd round of pictures, they came back into the room and advised us that Gabriel's ventricles in his brain were much larger than normal, and that it is possible he will need a shunt. They sent us immediately to the emergency room. Several hours later we met the neurologist Dr. Riesner who explained he wanted to do an MRI of Gabriel's brain to get a better look at the ventricles. After Gabriel's MRI, Dr. Riesner said he had pictures he would like us to see. We all went to a computer with Dr. Riesner and looked at the scan of Gabriel's brain. The pictures showed two masses on his brain. They weren't big masses, but something to be worried about. Dr. Riesner said he didn't know what it was, but he wanted to biopsy it in the morning. He said he had moved all his appointments back so he could work on Gabriel first thing in the morning.
And that is when everything started….
Gabriel was diagnosed with ATRT (Atypical Teratoid Rhabdoid Tumor) on September 29, 2010. We were told he had an 11% chance of survival even with treatment. His plan was to undergo 52 weeks of chemotherapy with 6 weeks of proton therapy radiation. His treatment began in October of 2010. After undergoing 11 months of treatment, an MRI in September of 2011 showed Gabriel had two masses grow back in his brain, two possible masses in his spine, and one on his kidney.
We decided what was best for our son was to continue with chemo that was to slow the progression of the tumor, with minimal side effects to Gabriel.
Gabriel passed away on January 27, 2012 just a month shy of his 2nd birthday.
Shop Now
Gabriel's 47 Faces Shirt