Fund Childhood Cancer Research in Honor of
Rally Kid Cody
Fund Childhood Cancer Research in Honor of
Rally Kid Coady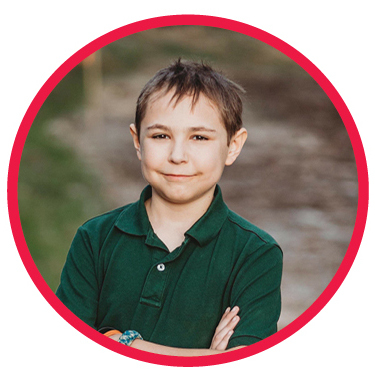 Coady has always walked to the beat of his own drum. He loves being outside, loves to climb trees. He enjoys martial arts and has earned to two black belts. He can take a hit as well as give them.
Getting a cancer diagnosed out of the blue. We thought he had the flu. He came home from school one day extremely tired, with a headache and nausea. He was covered in bruises that we assumed were from martial arts. (He's a fighter in more than one way).
After being sick for a few days we took Coady and his brother to the doctor. The nurse knew something was up and called the doctor who immediately ordered blood work and sent them for labs for more blood work. Within hours his pediatrician called with the news that it was looking like it was leukemia. We were sent to the ER and there it was confirmed he had leukemia and they were not equipped to handle and treat his case. We were airlifted to IF Shands in Gainesville where Coady stayed in the PICU for 5 days and two weeks in the HEMOC unit. There was a lot of tears, frustration, confusion and fear as we all learned what our new normal would include. TCell Acute Lymphoblastic Leukemia. When he was released we stayed at RMH for 2 weeks to finish induction where we learned that we would be allowed to return home and continue treatment in Pensacola. It's good to be treated close to home.
After being out of school all last year, Coady will begin taking courses again in person this fall.
Shop Now
Coady's 47 Faces Shirt