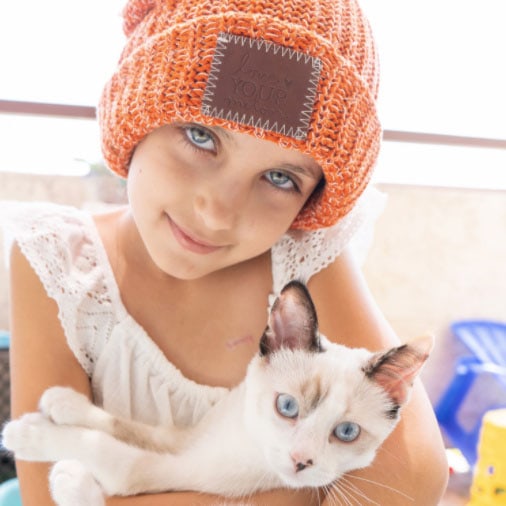 Stella had been an active and social child—doing gymnastics, playing piano, singing and acting—when she started complaining of headaches. Despite going to the doctor a few times, the headaches became more frequent and intense. Seven-year-old Stella was also uncharacteristically fatigued—taking naps and going to bed early.
The morning of April 20, 2020, Stella vomited moments after she awoke. Her mother had already been on the phone with her doctor, who sent them to the ER and recommended an MRI. Upon initial examination, the ER doctor felt that Stella could return home, but he did ask a second doctor to repeat the exam. When the second doctor came into the room and asked Stella to stand, her legs buckled.
The doctor immediately scheduled a CAT scan, which showed a mass in Stella's brain. She was admitted to the hospital and then underwent an MRI. In addition to two tumors at the back of her brain and "sugar coating" over most of it, further testing revealed cancer cells in Stella's spinal fluid and tumor activity at the base of her spine.
Stella was officially diagnosed with stage 4 medulloblastoma. Within a few days, she was headed into surgery to remove the tumors; thankfully, everything went well. Stella was back home a week after finding out she had cancer.
Stella has since undergone multiple rounds of chemotherapy and proton radiation. She experienced many complications and side effects throughout her treatment journey. Eating became very difficult and her weight suffered; at one point, a feeding tube was required. Her incision site became infected, requiring another surgery. Then, she contracted pneumonia and needed seven blood transfusions to fully recover.
With two rounds of treatment to go, Stella and her family are optimistic she will be cured. Recent scans showed her tumors are completely gone, the "sugar coating" is 90% gone and her spinal fluid is healthy. Stella can't wait to get out of treatment and back to all her favorite activities!
Every child who has been diagnosed with childhood cancer inspires us to Rally On to find better treatments with fewer long-term side effects and, ultimately, cures. Please join us in the fight against childhood cancer by making a donation or setting up your own Rally fundraiser today.