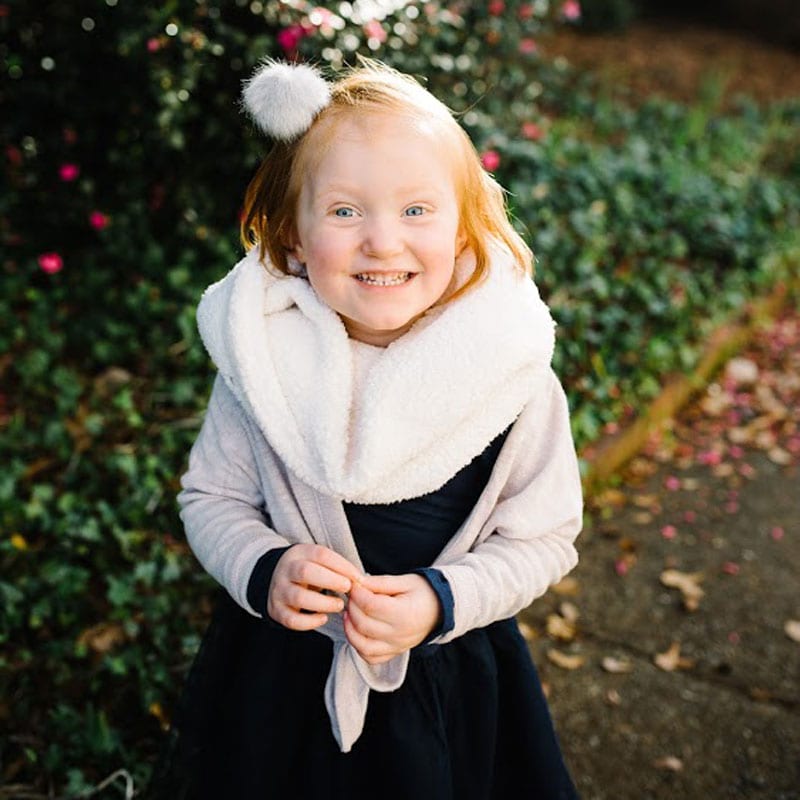 Photo credit: Caroline Singletary
Three-year-old Lillian, or Lily, is described by her parents as an "incredibly smart and vivacious child." They say that, like her red hair, Lily's personality is full of fire and spirit! Naturally outgoing and bright, she loves to make new friends, dance and sing. "She has one of the most stubborn and strong personalities I have ever had the pleasure of knowing," shared her mom, Alicia. 
Their cancer journey began on August 28, 2018, just five weeks after Lily's third birthday. Lily began screaming in pain around dinnertime, and after an ambulance ride and CT scan at Children's Scottish Rite in Atlanta, Lily was diagnosed with a large brain tumor. Lily underwent three surgeries over 10 days, including a 10-hour craniotomy to debulk her tumor. Luckily, Lily recovered from surgery without incident. The surgeon successfully removed about 40 percent of Lily's tumor and pathology revealed that she had a pilomyxoid astrocytoma — an aggressive brain tumor — in the hypothalamic region of her brain. 
Since her diagnosis, Lily and her family have suffered countless setbacks along the way. Lily's cancer metastasized and spread to other areas of her brain and spinal cord. The growth of her tumor resulted in life-threatening hydrocephalus, which meant having emergency surgery to place a permanent shunt. Lily has gone through 27 chemotherapy treatments and experienced a stroke. She has also suffered some vision loss, suffers from anxiety and is generally fatigued from her treatments.
More recently, the family learned that Lily failed her first chemo protocol. After eight months of weekly chemotherapy, her tumor grew beyond its original size and her areas of metastasis grew more prominent. She started a new year-long regimen that will hopefully curb the tumor growth. "We strive to find joy in our days, but this news has been emotionally devastating," said Alicia of their experience. "It seems like every scan brings more bad news about Lily's disease." 
Through it all, Alicia says that Lily has been "amazingly courageous" and maintains her "tremendous spirit of a stubborn, strong redhead and loves to laugh and play." Thankfully, she has not faced any major physical deficit (yet) from her diagnosis and treatment, so she is mostly able to enjoy regular activities like singing, dancing and playing.
Every child who has been diagnosed with childhood cancer inspires us to Rally On to find better treatments with fewer long-term side effects and, ultimately, cures. Please join us in the fight against childhood cancer by making a donation or setting up your own Rally fundraiser today.