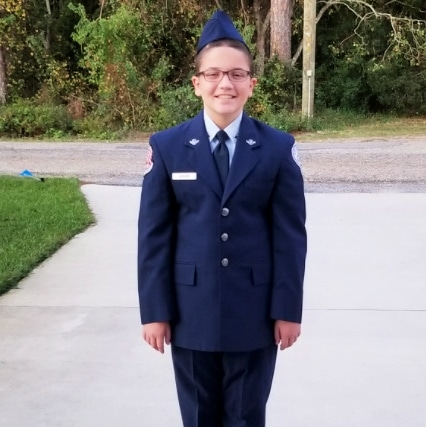 On October 21, 2020, 15-year-old Tyler underwent brain surgery to biopsy a lesion that had been slowly growing for four years. While the surgery went well, the biopsy revealed Tyler had a type of brain tumor called astrocytoma. Unfortunately, the tumor is located on his thalamus gland and cannot be surgically removed.
After weeks of consultations with doctors and lots of research, Tyler began chemotherapy on January 22, 2021. He will have weekly treatments for 14-15 months, followed by brain scans every 3 months and spinal scans every year.
Tyler's mom is in awe of his strength and resiliency. She shared, "He is beyond special and I know that this is not the end of his story, this is just a curve in God's path. One day, Tyler will use his story for something great. Tyler will fight this, and he will WIN!"
When he's not in treatment, Tyler enjoys watching all sports and anything history related. He looks forward to returning to school, the swim team and JROTC.
Every child who has been diagnosed with childhood cancer inspires us to Rally On to find better treatments with fewer long-term side effects and, ultimately, cures. Please join us in the fight against childhood cancer by making a donation or setting up your own Rally fundraiser today.