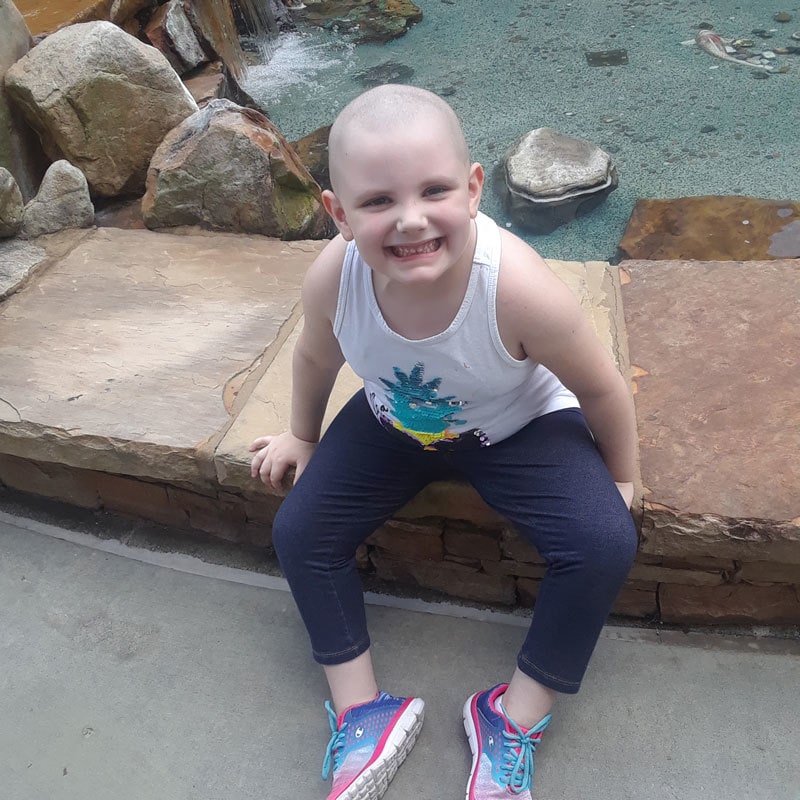 Randi was taken to Urgent Care because of a red, swollen foot. There, she received a diagnosis of cellulitis and was prescribed antibiotics for seven days. When her symptoms did not improve after ten days, Randi's family returned to Urgent Care where they did blood work and x-rays. The doctor recommended an MRI to rule out a deep tissue or bone infection. Because Randi was only four years old at the time, she would need to be sedated for the MRI, requiring an overnight stay at Children's Healthcare of Atlanta – Scottish Rite. Much to her family's surprise, this overnight stay would turn into two and a half weeks.
Prior to Randi's MRI, additional bloodwork was done. Within a couple of hours, a doctor was delivering the devastating news that Randi had leukemia. A Child Life Specialist came in to spend time Randi while her parents spoke to more doctors and called family members. Soon after, they were transferred up to the Aflac Cancer and Blood Disorders Center where they learned Randi had been diagnosed with B-cell Acute Lymphoblastic Leukemia.
That initial weekend in the hospital, Randi had an echocardiogram and received the first of many platelet transfusions. The following Monday she had an EKG, port placement surgery, a bone marrow biopsy, bone marrow aspiration and lumbar puncture with her first dose of chemotherapy into her spinal fluid. Luckily, Randi's spinal fluid tested negative for leukemia.
Randi has already endured three hospital stays—totaling just over a month—in addition to countless needle pokes, lumbar punctures, blood transfusions, platelet transfusions, injections and steroids. She is very sensitive to the chemotherapy and has a fever for two days after every dose of IV chemo. Despite everything, Randi is a strong, brave little girl who always has a smile on her face.
Every child who has been diagnosed with childhood cancer inspires us to Rally On to find better treatments with fewer long-term side effects and, ultimately, cures. Please join us in the fight against childhood cancer by making a donation or setting up your own Rally fundraiser today.