As a freshman in high school, Rally Kid Jack signed up for the cross country team to make friends and gain a sense of community at his new school, Blessed Trinity. As the season progressed, however, so did the tumor that doctors had discovered in Jack's ear. While a team of medical professionals chased a diagnosis, the tumor began to impact his sure-footedness on the trails and, after a few extreme battles with vertigo, Jack had to sit out most of the season.
Ear infections, Meniere's Disease, Bell's Palsy—every test came back negative as a true diagnosis eluded doctors for almost four months. As more common ailments were eliminated and the tumor continued to grow, they finally discovered the cause of the tumor just a few days before Christmas.
Jack was officially diagnosed with Langerhans Cell Histiocytosis in December of 2017 at the age of 15. Langerhans Cell Histiocytosis is a very rare form of cancer that can damage tissue or cause lesions to form in the body. Cases of Langerhans Cell Histiocytosis are quite rare, especially in children of Jack's age. "The good news was the prognosis is typically good," says Jack's mom, Amy. "What makes Jack's case particularly challenging is the location and the original size of the tumor. By the time he was diagnosed, the tumor had grown to about the size of his ear and was buried within, and ultimately shattered, his right mastoid."
Jack began chemo at Children's Healthcare of Atlanta (Scottish Rite/AFLAC Cancer Center) on January 3, 2018 and is currently scheduled to conclude on March 13, 2019. As it stands, it appears the tumor, although smaller and weaker, will still be present once chemo concludes. The amazing team at CHOA is collaborating with a doctor at Emory who specializes in tumors and cancers of the ear. His input, along with the results from a PET scan conducted after chemo, will determine next steps.
When Jack's cross country team learned of his diagnosis, they rallied behind Jack and participated in last year's Cupid Chase 5K in his honor. While a Rally Cupid Chase t-shirt was included with registration, the team decided to go the extra mile, so to speak. The BTXC team mom spearheaded an effort to have a team shirt made for all the runners there to support Jack.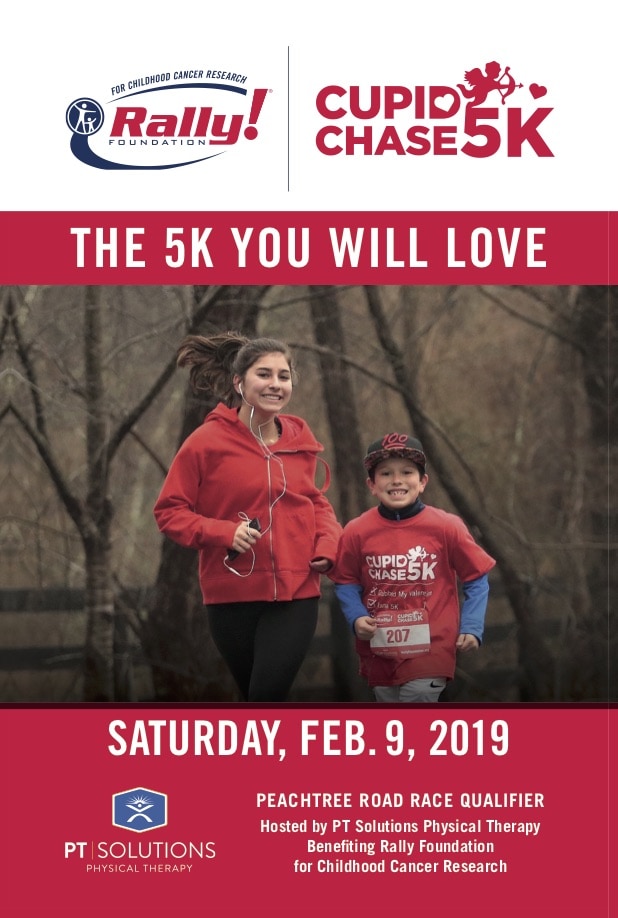 "While it may be just another race day shirt to most, I will cherish mine until my very last day," says Amy. "I will never have the right words to describe the wave of vast emotions that this simple shirt stirs in me. Jack felt incredible love and support knowing there were almost 200 of them spoken for by teammates, friends, family and generous sponsors."
Furthermore, Jack and his family learned that $12,000 had been raised in his honor in an ongoing effort to eradicate childhood cancers. "What a truly amazing outpouring of support!" describes Amy. "Without these donations, research would not be possible. When you donate to reputable organizations like Rally that are dedicated to ending childhood cancers, you are not only investing in research that impacts young bodies—you are investing in their hopes and dreams to thrive in the future."
Want to help raise funds for kids like Jack? Join us for the Cupid Chase 5K Race on Saturday, February 9. For more information and to register for the race, click below:
Rally Cupid Chase 5K