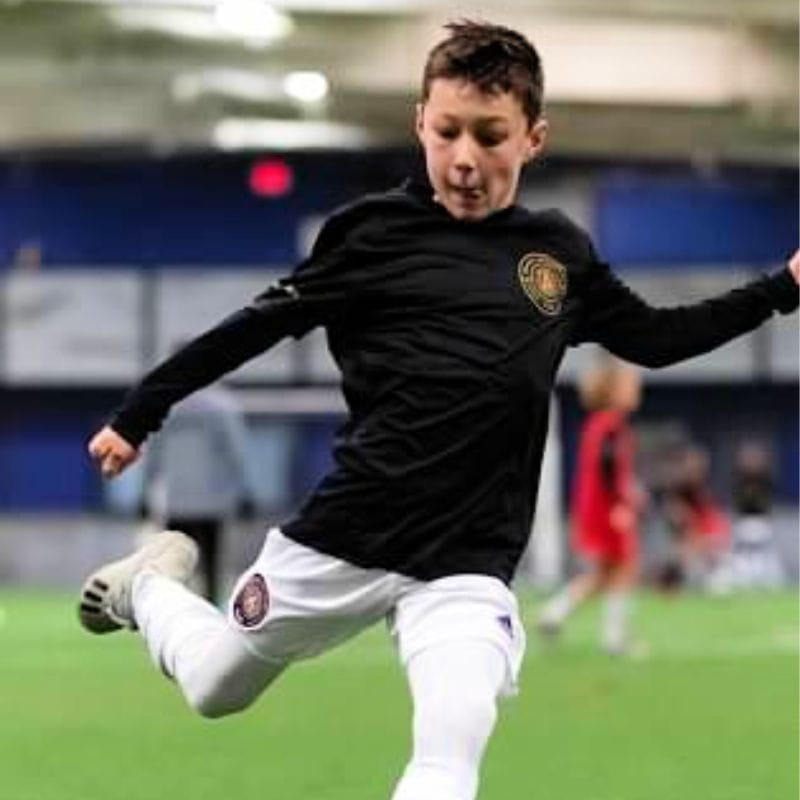 Kellen has been an extremely active and healthy kid all of his life. He was trying to roll over at 2 months, walking at 10 months, and kicking the soccer ball at the age of 3. He has always had a competitive spirit and wants to "play" any chance he can. He and his father are the best of buddies; Daddy has been a big part of Kellen's love for the game of soccer.
In late January of 2020, Kellen began having symptoms of what his parents thought was a virus. He would have stomach pain in the evenings (often during soccer practice) and once a week he would throw up without notice, then feel better. After seeing the pediatrician twice, Kellen's parents were told it was most likely his gut recovering from a stomach virus, based on the food logging they had done to see if there was a relation between his diet and symptoms.
In mid-February, the family took a trip to Vermont for winter break. Kellen had fun but was following a gluten-free, dairy-free, low fodmap diet. So, while he loved the snow, he hated his diet. On day 3 of the trip, Kellen was hit with another episode of throwing up, but this time he didn't seem to recover. He laid in bed the remainder of the trip, feeling ill and having terrible stomach pain. Upon returning home, Kellen's parents immediately went back to the pediatrician who referred them to a GI Specialist.
Kellen saw the GI specialist on February 24th – his ninth birthday. At this point, his stomach pain was more constant, and he was missing school as a result. He would often sleep on a heating pad and he walked doubled over. The GI specialist diagnosed Kellen with a "gut hangover" from a prior stomach virus. Kellen was put on meds to help with stomach acid and told to remain on the special diet to give his gut time to recover. Kellen was in too much pain that evening to have birthday cake.
On February 26th, Kellen's mother found him lying on the shower floor crying in pain, so she rushed him to the ER. The doctors took blood and urine samples, as well as x-rays, and supported the GI specialist's diagnosis of a "gut hangover". Kellen continued to take his medications but saw no real improvement. He returned to the GI doctor, who scheduled an ultrasound and prescribed new meds. Before Kellen could get the ultrasound, the COVID-19 stay-at-home order took effect.
A week after quarantine began, Kellen noticed his right testicle was swollen and he was again taken to the pediatrician. The pediatrician referred Kellen to a urologist, who believed the swelling could be related to his stomach issues and possible appendicitis. Kellen was sent to Children's Healthcare of Atlanta for an ultrasound of his scrotum and abdomen, which revealed inflammation of his appendix. He was immediately scheduled for an appendectomy. While removing Kellen's appendix, the doctors realized things did not look right inside his abdomen and they took samples for pathology. Kellen was then admitted to the hospital for additional tests.
As a result of these additional tests, two masses were discovered – one in Kellen's abdomen and one in his chest. On March 25th, Kellen was diagnosed with Stage 3, Non-Hodgkins Mature B-Cell Lymphoma (Burkitt's Lymphoma). He was moved to the pediatric oncology unit and had a port inserted the following day so he could begin chemotherapy.
Kellen's treatment protocol includes five rounds of aggressive inpatient chemotherapy. Because of COVID, only one parent has been able to be in the hospital with him. His parents are taking turns at the hospital and at home with Kellen's sister. The entire family is trying to stay focused on the positives and take each day one at a time. Kellen is looking forward to getting back out on the field and dominating some soccer as soon as he can.
Every child who has been diagnosed with childhood cancer inspires us to Rally On to find better treatments with fewer long-term side effects and, ultimately, cures. Please join us in the fight against childhood cancer by making a donation or setting up your own Rally fundraiser today.