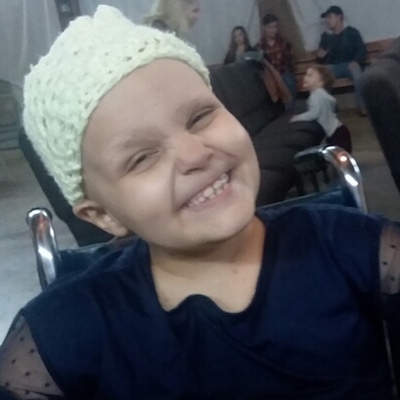 Kayleigh's journey with Osteosarcoma began in May 2018, when she started complaining about her leg hurting. She kept saying that something was wrong with her ankle. Her mom took her to the doctor for X-rays. When she was called to the back of the doctor's office, she fully expected to be told Kayleigh's ankle was broken. In reality, the X-ray showed a mass on the tibial bone. The next week, they went to see an orthopedic doctor and Kayleigh was scheduled for an MRI. The MRI showed that the mass was aggressive and Kayleigh was referred to a doctor at Emory. A few days after their visit to the orthopedist, Kayleigh fell at school twice. Without hesitation, her mom quit her job and drove Kayleigh to Atlanta where they ended up at Scottish Rite by accident. She showed the results from the MRI to the orthopedic surgeon in the ER and the next day Kayleigh had a biopsy done on the tumor. She started treatments about three weeks later. She had a total limb salvage surgery in August 2018 and is still receiving chemo, which she will continue until February 2019.
Kayleigh has two siblings and is in the 2nd grade. She loves to sing and dance! She had talked about starting gymnastics right before she was diagnosed. The doctors wanted her to use a walker before her surgery, and now after the surgery, she will have to learn to walk again. She has been wheelchair bound since her surgery in August, and will begin physical therapy after she has completed her chemotherapy.
Every child who has been diagnosed with childhood cancer inspires us to Rally On to find better treatments with fewer long-term side effects and, ultimately, cures. Please join us in the fight against childhood cancer by making a donation or setting up your own Rally fundraiser today.