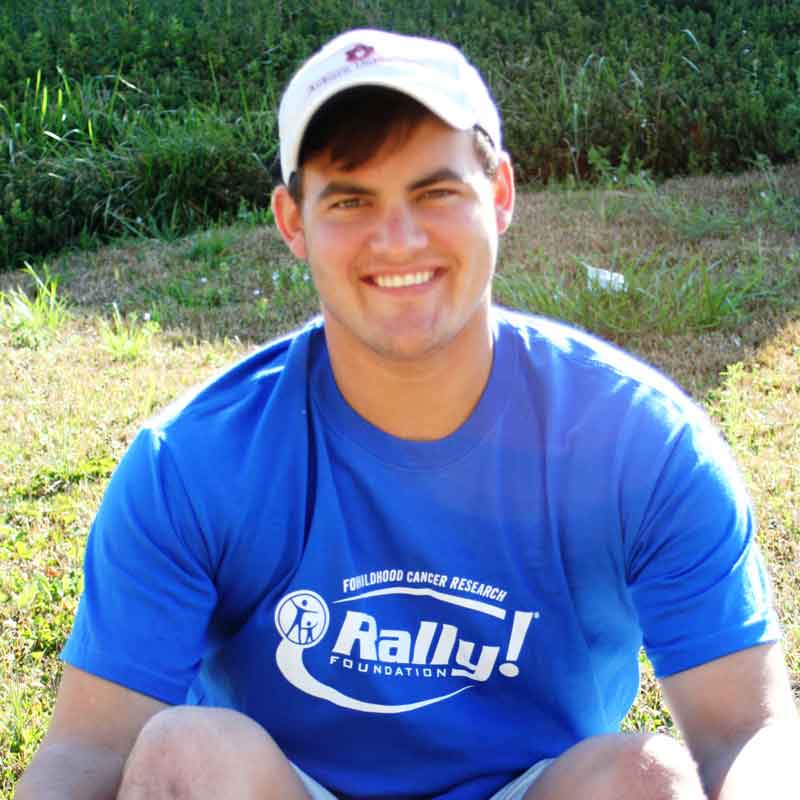 James is a survivor of Ewing's sarcoma of the kidney. This aggressive cancer is commonly found in the bone. It is so rarely found in the kidney that James was #27 in medical history and the first survivor. There is no known cause or risk factor.
The grapefruit-sized tumor was discovered in February of 2005, when James was 11 years old. One evening, he came to his parents with severe pain in his left kidney area. Without delay, his parents insisted on scans. A week later, surgery to remove the tumor took place. During the procedure, the tumor was deemed malignant and James's left kidney was removed. Over the next months, James was successfully treated at a local hospital through a clinical trial just like the research Rally Foundation funds. His treatment involved intense chemotherapy and radiation with short breaks in between treatments.
After all the surgery, radiation, chemotherapy and hospitalizations, James never wavered from his personal goal to get back to playing sports and hanging out with his friends. James suffers minor damage to his remaining kidney and wears a protective covering with high impact activities.
James, his sister, Caroline, and parents, Jim and Elaine, celebrate this miracle of healing daily. Having been in the most dire and difficult of times, they take nothing for granted. "The experience brought our family a new awareness of the critical importance of research for childhood cancer," Elaine says. "I have no doubt that being accepted to this clinical trial saved our son. It's why supporting Rally is a no- brainer – we have to offer the hope research brings for other children!"
Beginning in 2010, the entire Kay family became very involved in Rally, starting the local Rally chapter, giving their time, energy and support to help save kids with cancer. Caroline became a pediatric oncology nurse. Through high school and college, James was a key speaker for Rally in Nashville and Atlanta. He now has a career in private investment partnerships.
Every child who has been diagnosed with childhood cancer inspires us to Rally On to find better treatments with fewer long-term side effects and, ultimately, cures. Please join us in the fight against childhood cancer by making a donation or setting up your own Rally fundraiser today.