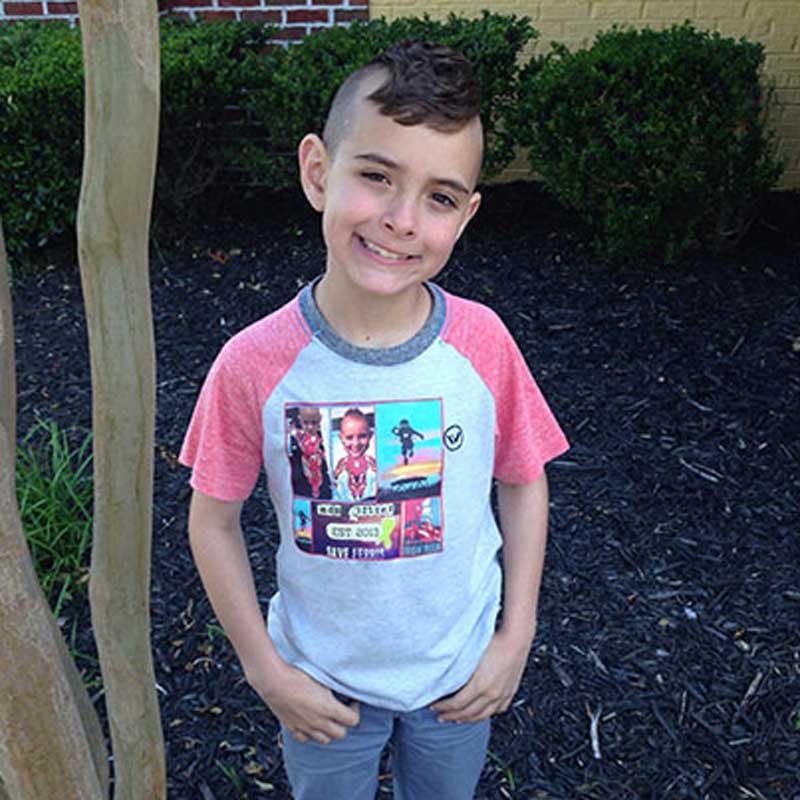 Gideon (AKA Gidster to his family members) was diagnosed on Dec. 13th 2013. His family shares with us, "He looked sick to me but that was it really and he seemed a little less energized. So I made a doctors appointment. On the way we went to look at Christmas trees. We were going to put it on top of the car, go to the appointment and then go home. Luckily we didn't find one we liked because we didn't go right home. The doctor quickly sent us down to the local children's hospital. There were two long walks that day. The first to the consultation room where they would tell us he had leukemia. The next was walking back to the Aflac floor past all the pictures on the walls of cute little bald headed children. That was our world now. It had changed in the space of 6 hours. The first few weeks were hard. We spent Christmas at the hospital but we got to bring him home for New Years Eve. This was really hard on his siblings. His older siblings – Keiffer 16 & Brighton 14 really took it hard but his best friend, his 5 year old sister Harper, was robbed of her playmate for a long while."
"Everyone loves Gideon. I had always likened him to Ferris Bueller so we soon adopted the motto SAVE FERRIS. We like to have fun and he is a huge tease. The first few weeks he kind of disappeared on me, so when we were doing our laps one day at the hospital and he pretended to trip I was ecstatic! He was back.
In the Bible the name Gideon means 'mighty warrior' and that is exactly who he is. He has gone through the most intense part of his chemo like a champ. He is such an example to me. Even when he is in pain or having treatment he is so concerned about others. He looks out for all of us and wants us to be happy. He is our Iron Man. We also adopted Iron man as our Mascot. When we heard some kids call there ports their Iron Man, well let's just say we ran with it. We call his port Tony Stark and everything is about our Iron Man Gidster."
"We are now in the Maintenance phase and will be until April 10, 2017. He has his hair back now but honestly I sure loved my own beautiful bald headed kid. Hair or no hair the Gidster is awesome and is always my mighty warrior."
Every child who has been diagnosed with childhood cancer inspires us to Rally On to find better treatments with fewer long-term side effects and, ultimately, cures. Please join us in the fight against childhood cancer by making a donation or setting up your own Rally fundraiser today.