Dear Hailey,
It's hard to believe that you turn 11 this month, just like it is hard to believe you have been gone for eight years. I remember the first time I met you. Your grandmother, Teresa, was with you at the hospital and you were so tiny in that hospital crib with IVs and who knows what else poking into and sticking out of you. You were fast asleep all snuggly under the covers just like any other baby would be, except you were battling a nasty metastatic brain tumor. I remember thinking how tiny you were and how peacefully you were sleeping.
The next time I met you, your mom was there. You were wide awake and full speed ahead. Poof went the image of the snuggly sleeping baby. You were busy, fun, funny, smart, stubborn and loved to laugh. I loved you immediately and loved getting to know your family—your parents, your big sister, your two brothers and of course, Aunt Jenny who you affectionately called Yenny. Life was quite busy at your house with four kids under 6 years old and one with brain cancer. The next two years were quite the roller coaster ride filled with scans, ICU stays, new treatments, surgeries, feeding tubes, transplants, radiation, ambulance rides and a plane ride to take you to your favorite surgeon.
You defied the odds and lived past your second birthday, making you the oldest living survivor ever of metastatic ATRT. How crazy is that? You were only 2 years old. You had the whole world praying for you, doctors seeking new treatments and an ocean of love surrounding you. You became Hailey Bailey to me although for the life of me I can't remember why. I loved when you saw me that you stuck out your hand and wanted my red cell phone. I love that you gave me sloppy pucker kisses and blew kisses to me. I love that your parents let you live and enjoy life. You went to Disney and loved the Pirates of the Caribbean and Minnie Mouse. You loved the beach and the pool. And you loved to go shopping at Target with Aunt Jenny.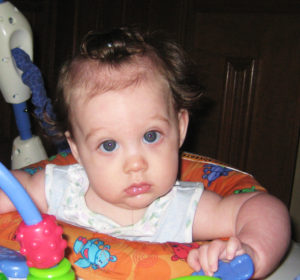 I will never forget being there with your mom, dad and Aunt Jenny when the decision was made to stop treatment. It took more courage than imaginable for your mom and dad to say, "Enough. Hailey has let us know that she is done." And you were. You had fought hard, lived large and defied the odds. And you were tired.
I remember exactly where I was when your mom called crying, more like scream-crying, all those years ago on a Sunday morning in November. All that she could cry-scream was, "She's gone. She's gone." Literally. We knew you were not going to make it, but when I heard those words, I could not process that you were gone from us and now living, breathing, playing and giving pucker kisses all over heaven. Not for a lack of faith, but because forever we were going to be missing you here on earth. I love you Hailey Bailey and am forever grateful for the hope of heaven.
Sometimes people say they can't believe what I do. They say that it must be terribly hard and sad. They are right. But it is also very rewarding. I know that every single parent who has had a child diagnosed with cancer would give up everything to have their baby cured from this brutal disease and living life to the fullest. Rally is making progress towards that goal. Not as fast as I'd like—it is slow and hard, but we are making progress. Hailey Bailey your life continues to impact people, and they give to Rally so we can fund the research through a dual peer-review process. And it is working. To date we have given $13.7M in childhood cancer research grants and below is what we did in 2018.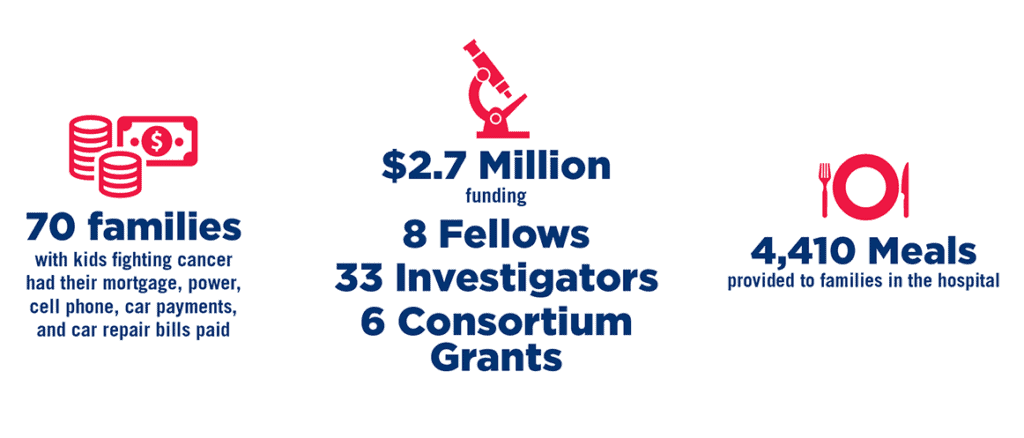 Although I'd rather be giving you a pucker kiss and taking you to get chocolate chip pancakes for your 11th birthday, I give this gift instead that all Rally supporters have helped make possible — progress in childhood cancer research. A recent survey of our Rally-funded researchers revealed: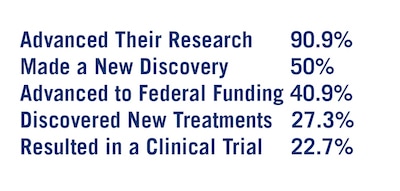 I just wanted you to see it. And if you will show it to all the other Rally Kids and cancer kids up there with you, that would be great. Your lives mattered and your lives are what inspire us all to Rally On!
Hailey Bailey, I still have our red cell phone which of course is in your hand in the picture above. It is on a shelf across from my desk. Sometimes I get up and just hold it close to my heart and feel like I am holding a little of you. And while a tear may sneak down my cheek, a smile is always on my face.
Happy 11th Birthday Hailey Bailey. I miss you baby girl!
Love,
Dean
Learn more about the Rally Foundation and see how you can get involved to help fund childhood cancer research:
Learn More