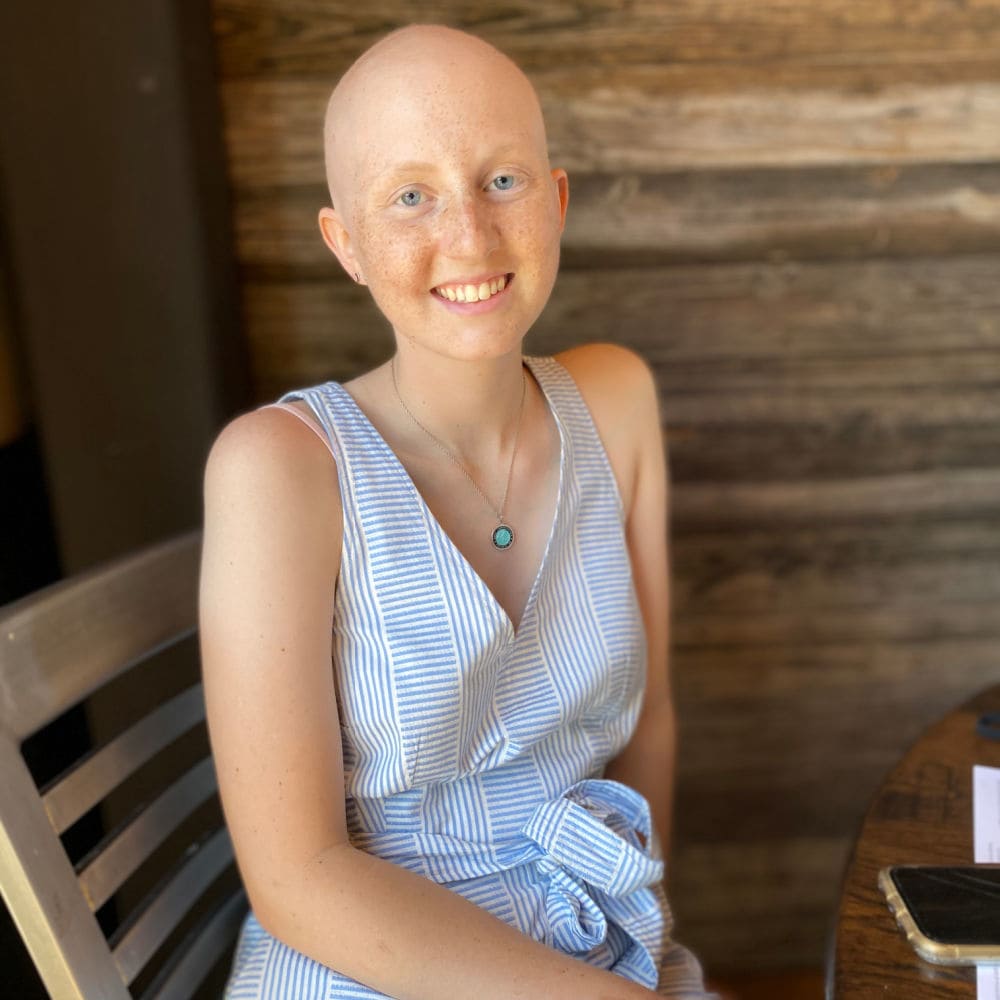 In the summer of 2017, Rally Kid Campbell began having muscle pain in her left calf. As a competitive ski racer who was training in the gym daily, her coach assumed she had pulled a muscle. But after Campbell's pain continued for two months, it finally came to a head after ski camp. Upon returning home, she headed to the doctor for an MRI, where they discovered a tumor. Campbell was promptly sent to Children's Hospital Colorado, where she had a biopsy performed.
"My surgeon knew from the immediate pathology report that my tumor was cancerous," shared Campbell. "They thought it was Ewing's sarcoma or rhabdomyosarcoma. They sent my biopsy cells to Memorial Sloan Kettering for additional testing and it came back for an extremely rare sarcoma—so rare its name is only random numbers and letters: CIC-Dux4 Sarcoma. There is no standard treatment plan, so most oncologists use the Ewing's sarcoma protocol. I started treatment exactly one week after I was diagnosed."
After the diagnosis, Campbell's world came crashing down. She considered dropping out of school, and her athletic plans were put on hold. Not only was her cancer rare, but it was also aggressive—initially, Campbell had 14 rounds of chemo, 31 doses of radiation to her calf, 10 doses to her lungs and a rod placed in her left tibia to compensate for radiation damage. From there, things only got harder.
Campbell relapsed seven months after completing treatment and had major surgery to remove the soleus muscle in her calf, a lung resection, six more rounds of chemo, fertility preservation and egg retrieval and a stem cell transplant on March 11, 2019.
"The month I went through transplant was the absolute worst of my life," she said. "I was allowed back home three weeks before high school graduation and graduated on May 31, 2019, with treatment finished and my recovery process beginning once again."
During her fight with cancer, Campbell learned an important lesson that she carries with her to this day: "I learned to embrace a different role, something I never saw coming. Being diagnosed with cancer put life in a whole different perspective. I had to make myself happy without doing the thing I loved most: ski racing. Luckily, I found something that kept me involved with my friends and committed to my team through coaching."
Sadly, Campbell passed away in February 2021 after relapsing more than a year prior. She was a selfless advocate for childhood cancer research who fought for #MoreThan4 in federal funding for kids like her.
Campbell's family wrote, "One thing she would want to tell you is that cancer is NOT a win or lose battle and that is because no child chooses this fight. It's not a competition and so you can't lose to cancer. Campbell rose to this challenge and figured out a way to grow and spread joy and passion like ripples across the water."
Campbell will be dearly missed, and her positive outlook will inspire us to Rally On every day.
Every child who has been diagnosed with childhood cancer inspires us to Rally On to find better treatments with fewer long-term side effects and, ultimately, cures. Please join us in the fight against childhood cancer by making a donation or setting up your own Rally fundraiser today.