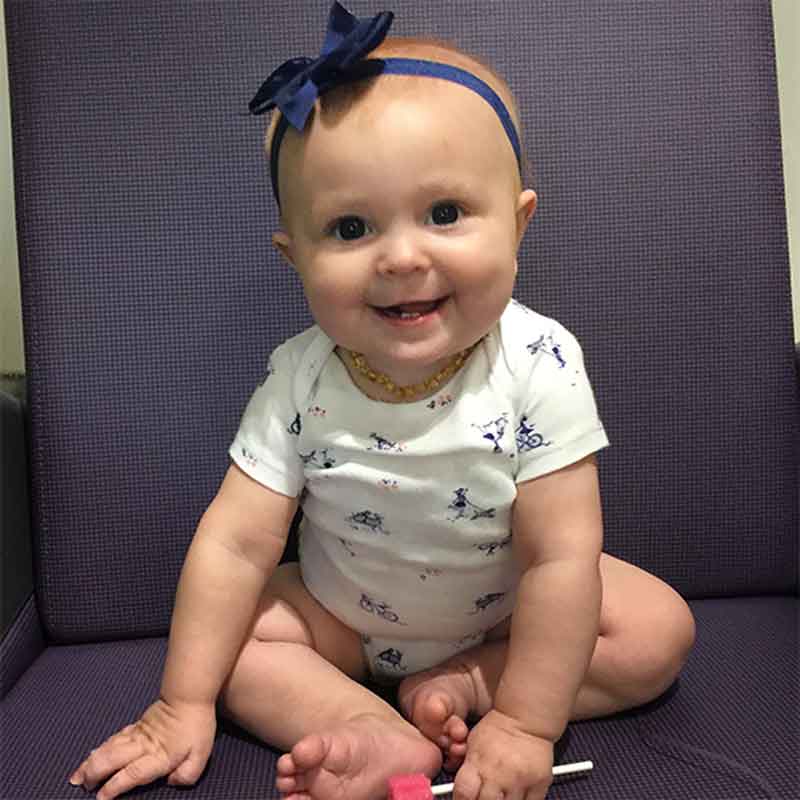 In July 2016 Bria had just turned 3 months old and we were enjoying life as a new family of four. We had recently taken a beach trip and Bria had stuck her little toes in the sand for the very first time. We were so blissfully happy. Then on July 20th our world came crashing down around us when we heard the devasting news that Bria had leukemia. 
Bria had developed spots on her skin that were brownish-purple in color, raised, and resembled mosquito bites. After noticing one on her left shoulder and then more and more come up over a period of about a week, we took her to her pediatrician who referred us to a dermatologist for a skin biopsy. Believing the spots to be the result of an auto-immune disease, the dermatologist did the biopsy and we awaited the results. Labs were also drawn. About a week later, we received a call from our pediatrician. Bria's original biopsy had come back positive for monocytes, a type of white blood cell, and her white blood cell count on her blood work was also elevated. These two things combined were worrisome for leukemia. 
Two days later, July 20th, ended up being the worst day of our lives as we found ourselves at CHOA with the idea that Bria was going to be getting a bone marrow biopsy to "rule out" leukemia. Instead we ended up admitted and Bria underwent a bone marrow biopsy and repeat skin biopsy on one of her lesions. The doctors were fairly sure she did in fact have leukemia but were unsure of what type until these results came in. AML leukemia was confirmed the next day on July 22nd. 
We were actually able to go home after receiving our diagnosis because the oncologists believed we caught the leukemia extremely early since all of Bria's labs were in normal range except for her white blood cell count which was only slightly elevated. One oncologist told us he had been treating AML patients for 40 years and had never sent a patient home the day of diagnosis but he had never seen a patient newly diagnosed with ANL look as good as Bria did. 
3 days later we presented to Egleston to begin our intense inpatient chemotherapy. On August 26th, following her first round of chemo, we received the wonderful phone call that Bria was 100% in remission and was negative for any minimal residual disease. 
Currently we are in the middle of round 3 of chemo with one more round to complete. Our sweet girl is now 6 months old and has defied all the odds by continuing to thrive and gain weight even while receiving chemotherapy. She had endured 3 rounds of chemo, 3 lumbar punctures, 3 bone marrow biopsies, a central line placement, countless dressing changes and needle sticks, and has already been inpatient over 70 days in the hospital with many more still left to go through. She has went through all this with a beautiful smile on her face and such a bubbly, loving personality. 
We give God all the glory for our precious miracle Bria. We also are so thankful for the wonderful doctors and nurses who have worked so diligently to cure our baby girl. Bria still has a long road ahead of her but we know with God's grace we will emerge on the other side victorious with our little survivor!
Every child who has been diagnosed with childhood cancer inspires us to Rally On to find better treatments with fewer long-term side effects and, ultimately, cures. Please join us in the fight against childhood cancer by making a donation or setting up your own Rally fundraiser today.