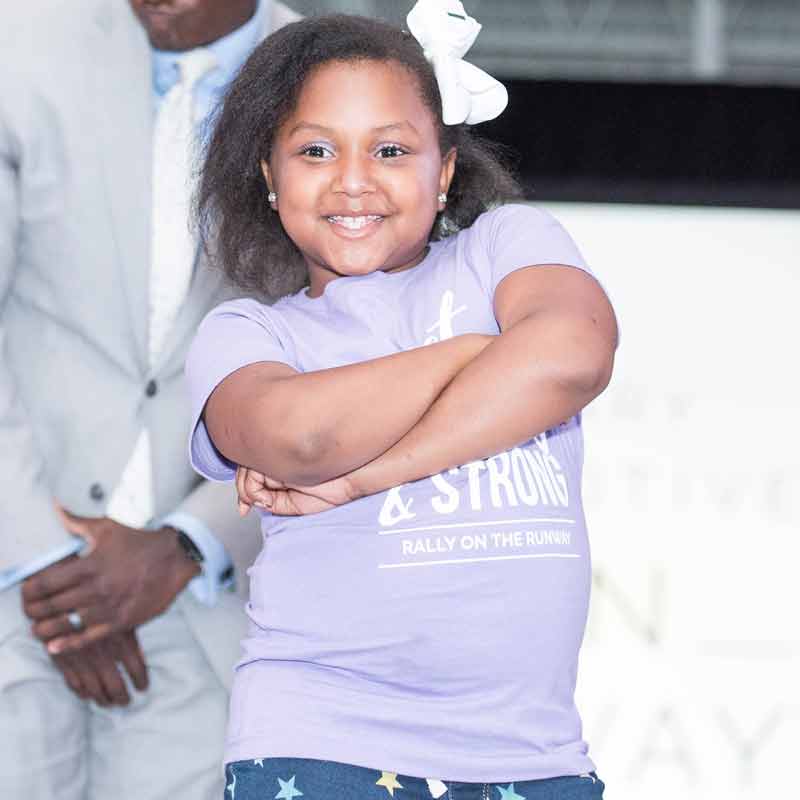 Ailynn Macie Chaney was born on an eventful day, can you believe it was Friday May the 13th! With 2 older sister siblings, Ailynn seemed to thrive and develop with the typical infant milestones quickly. Her goal must have been to get ahead early. She was a beautiful and energetic baby. With those characteristics, it was seemed obvious to her daily caregiver and family members that around 8 months old, she began to change drastically. The little girl with a robust appetite for anything but baby food and formula, who had already started to pull up and stand literally turned into a rag doll in a matter of weeks. Her color was too pale, her eyes weren't bright, appetite diminished and she seemed sleepy all the time. Soon the fevers came on, sometimes, 2 or 3 within a week. After weeks of returning to her pediatrician with no answers it seemed that all the life was slipping away from her body. A traumatic scare with a fever of 104, sent us to an urgent care. Preliminary thoughts were meningitis and she was sped away to Egleston in an ambulance. This had turned into a nightmare for our family. But after 1 week in the hospital and a clear spinal tap, her diagnosis was a simple cellulitis and infection and she was released to go home. She looked great after 2 weeks of medicine and antibiotics. We thought it was all over. To our dismay in less than 30 days all her symptoms had returned. Our wonderful pediatrician was floored. She immediately ordered blood tests at Egleston the same day we took Ailynn in for a sick visit. The results of those test beat us home. While driving home, we received that phone call that no parent ever wants to hear. It was the hematologist, and he was pretty sure, that Ailynn had cancer. In just a few hours, we were back at the hospital admitted and Ailynn was in PICU. This was the worst night I can remember as a parent. All the poking and proding of a tiny little defenseless baby is simply heart wrenching. But the thought that your child may not recover, is simply torture. She had many setbacks and illnesses along the way. All the typical things that happen to a cancer patient. Weight loss, hair loss, head and body aches, vomiting and nausea that seemed to never end. It's remarkable that our family is still intact. With little to no family in the city, childcare and financial responsibilities almost destroyed us. Ailynn being an infant, meant she had to always have someone with her. Ailynn's sisters ages 5 and 3, suffered greatly. They were swept away by family and friends for days and sometimes weeks at a time. Mom and dad continuing to work became impossible and we literally moved into the hospital for an almost 3 month stay before Ailynn's initial discharge.
How did we survive? It was all because of Ailynn and her spirit to thrive. She smiled when she had no reason too. She played when there were no playmates and almost every day when she was allowed, she wanted to be outside. I feel as though she fought for her life. Her laughter was contagious and her energy was superhuman. It was hard to understand but we let her lead and she won her race. Our family and friends were inspired by her and they all chipped in to help her on this journey. Her strength during surgeries and weekly chemotherapy appointments and her courage to just be a kid, let us know that cancer was only a part of her life. But that Cancer was NOT the end of life. So with that energy, Ailynn thrived! She never met a stranger, and quickly made friends of other patients and families on the AFLAC floor. After more than 2 years, Ailynn completed all of her treatment in May of 2014!
Now, Ailynn and her family works as much as they can to spread awareness about pediatric cancer telling her story as much as they can. Ailynn has recently appeared in the public service announcement for the Caps for Cure campaign in the Henry County Public Schools. She was also an honored hero appearing on the poster for Pennies for Patients in the state of Georgia. Our hope is that Ailynn will grow up and use her story to help spread awareness, encouragement, and financial support for research to find a cure for cancer. Ailynn's life reminds us every day, that nothing is impossible!
Ailynn loves to swim, ride bikes, cheer and roller skate.
Every child who has been diagnosed with childhood cancer inspires us to Rally On to find better treatments with fewer long-term side effects and, ultimately, cures. Please join us in the fight against childhood cancer by making a donation or setting up your own Rally fundraiser today.