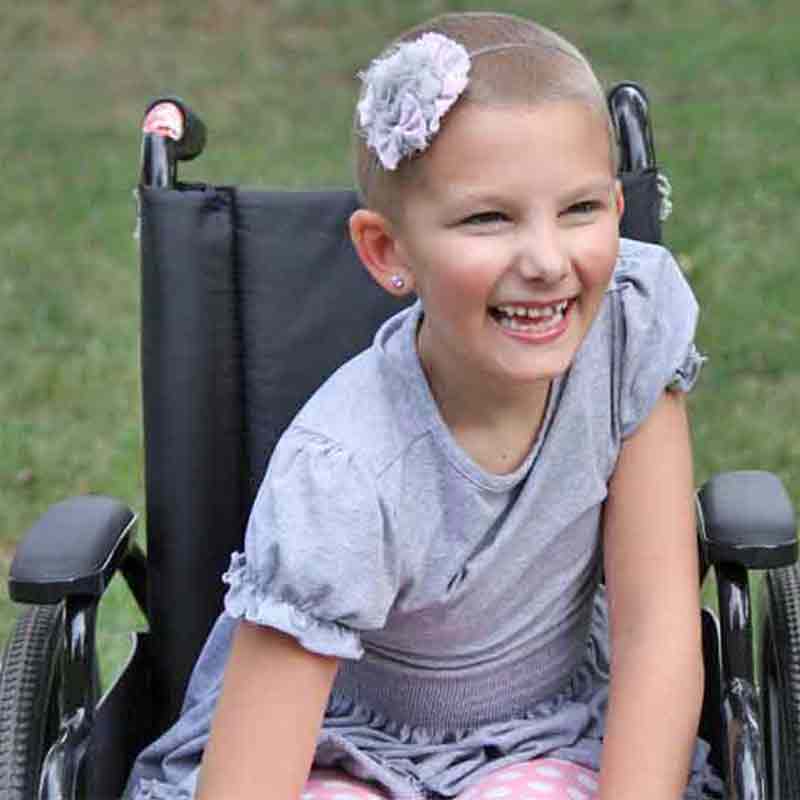 Addi was your typical active and healthy six-year old. She started Kindergarten in the fall of 2014 and soon after, began complaining off and on of leg pain. She quickly developed a limp, extreme fatigue and restlessness at night. After about three weeks of these symptoms, we took her in for an x-ray. On October 2, 2014, our biggest fears came to life. Our precious girl was diagnosed with Osteosarcoma, bone cancer, in her femur. Osteosarcoma is very aggressive and rare in kids Addi's age. The treatment for it is demanding with ten weeks of chemotherapy, surgery to remove the tumor, followed by eighteen more weeks of chemotherapy. Life as we knew it, came to an abrupt stop. We were quickly forced to learn about all things Osteosarcoma, chemotherapy, tests, scans, blood values, surgery options, etc. Our focus was doing whatever it took to get this "beast" out of our baby.
Addi got through the first ten weeks of chemotherapy and on January 5, 2015, had limb salvage surgery. They removed seven inches of her femur and replaced it with a cadaver bone. She finished her chemotherapy on June 16, 2015. Addi still has miles of physical therapy left to go. We are so thankful for Addi and her amazing older brother, our loving family, friends and community who have gotten us through this storm of life. God has shown us the good in so many people and placed many angels among us along the way. We look forward to the day when we come out of this storm to see our beautiful rainbow on the other side!
Addi loves gymnastics, dancing and singing. She loves the 3 P's: anything pink, puppies or princesses!
Every child who has been diagnosed with childhood cancer inspires us to Rally On to find better treatments with fewer long-term side effects and, ultimately, cures. Please join us in the fight against childhood cancer by making a donation or setting up your own Rally fundraiser today.