Dear Rally Community,
Thank you for caring about kids with cancer. Thank you for giving to Rally For Their Future.
Every school day 46 families hear the devastating news that their baby has cancer. And all 46 families ask the doctor the same question, 'What are you going to do to make my baby better?"
Last year, Rally Kid Grace told us, "Courage is not letting fear eliminate hope." Your generous financial gifts allow Rally to fund the best childhood cancer research which in turns allows doctors to give the parents answers that are full of hope. Thank you.
Raising money and funding childhood cancer research is hard and at times overwhelming because the battle these kids fight is long and difficult. And not all kids make it. Cancer is the #1 disease killer of kids in America.
Kids with cancer need you. Rally needs you. Thank you for your financial gifts which give us courage and hope even when facing our greatest fear—losing another precious child to the cancer beast.
But even in the midst of all this, you know where we draw so much strength and courage from? From the Rally Kids like Austen who is beating cancer, and like Grace, that do not make it. There are days it would be easier to quit than watch another child suffer or die. On those days we hear Grace say, "That is why what Rally does is so important." Grace is right. And we could not do what we do without your donations. Thank you.
Because of YOU and your generous support this year:
Rally gave $2.7 million to fund 47 dual peer-reviewed, cutting-edge research projects in the U.S. and beyond. Thank you.
Rally provided 4,410 meals in the hospital. Thank you.
Rally helped 70 families in 19 different states pay their mortgage, power, cell phone, car payments and car repairs bills. Thank you.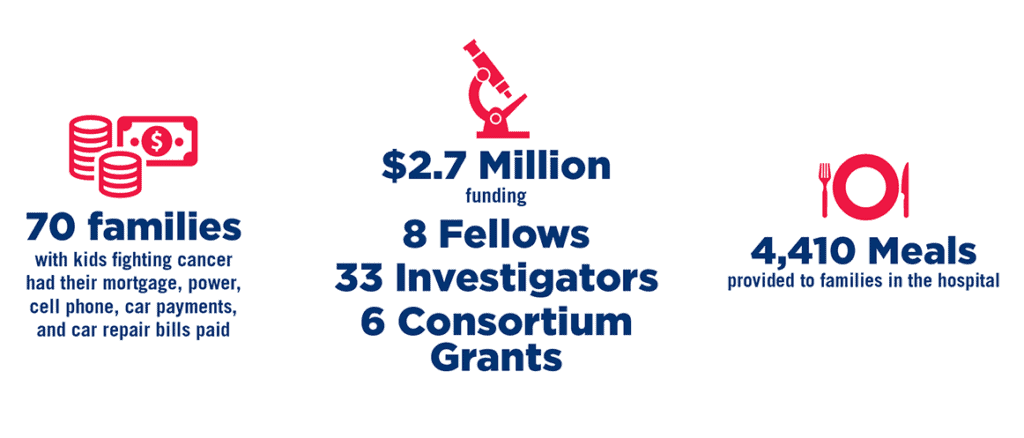 Rally sees itself as philanthropic seed investors in the next great discovery. We fund early and keep funding as long as progress is being made. We could not do this without you. Thank you.
Rally surveyed our researchers and our peer-review process is working.
ADVANCE IN RESEARCH 90.9%
NEW DISCOVERY 50.0%
FEDERAL FUNDING 40.9%
NEW TREATMENTS 27.3%
CLINICAL TRIAL 22.7%
Rally's mission is to raise awareness and funds for childhood cancer research. Your donations allow Rally to raise awareness and lead advocacy efforts on the national level. This is so important because less than 4% of the National Institutes of Health (NIH) cancer budget goes to support childhood cancer research.
This year Rally's National awareness and advocacy efforts included:
Leading hundreds on a march to the U.S. Capitol, letting Congress know that our kids are worth more than 4%.
Rally led advocacy efforts for the inclusion of cancer research for children, adolescents and young adults (AYA) from the Department of Defense (DoD) medical research program. These efforts resulted in $10.4 million in funding for cancer research for children and AYA. Your support made this possible.
Rally, along with The Truth 365, launched the #GoldStrong™ campaign and more than 100 organizations agreed to use #GoldStrong™ as a unifying battle cry for the childhood cancer community.
There is much work left to do. Kids get different kinds of cancers than adults and therefore different research is required. Your gifts allow us to fund that research For Their Future. This is why we will not give up. Our Rally Kids and their families inspire us to continue fighting to fund more research to find better treatments and ultimately, cures for all kids fighting cancer. Your generous donations make it possible. We need your help.
Please give to Rally today For Their Future.
Together, We are #GoldStrong.
Rally On!
Dean Crowe, Founder and CEO
Rally Foundation for Childhood Cancer Research
You can help fund life-saving research for childhood cancers. Give, for their future:
Make a Donation